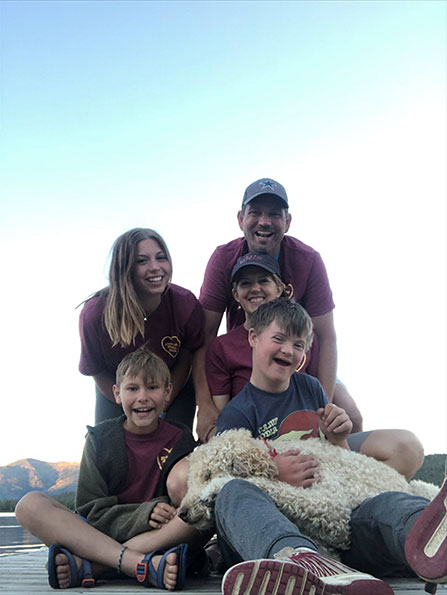 Spring
Spring is a mentor for parents caring for a child with Down syndrome, autism, Hirschsprung's disease, sleep apnea, and congenital heart defects. She also has experience with a child that is non-verbal. She offers mentorship related to developmental pediatrics, gastroenterology, cardiology, pulmonology, and pediatric rehabilitation care services; and has experience with other children's hospitals throughout the country.
I am a parent of two sons and two daughters. My third child, Kyle, has special needs. I treasure and cherish him. I have found more joy with him than I could imagine when, prior to his birth, prenatal testing showed his body was not forming correctly. I fearfully embarked on this journey of parenthood. It has left me and the rest of my family permanently changed. While I spent much of the first eight years wrestling with my new reality, those years lead to incredible amounts of growth. It has been both terrifying and wonderful; I've been filled with dread and delight. I believe that my family and I have been changed for the better!

With Kyle, we have faced over 35 separate diagnoses and multiple major surgeries. These include but are not limited to: Down syndrome, congenital heart defects, metabolic disorder, hearing loss, and feeding/bowel issues.

I am a registered dietitian (RD) and my husband is a physician. We have extensive experience as both health professionals and parents.

I have learned a great deal about myself through the ups and downs. I was angry at how a very different life was forced on me due to Kyle's needs, and I was terrified of losing him. Those were very hard, dark years. I barely recognized my life and had to adjust everything to meet the challenges we faced. Learning to balance Kyle's needs and my professional pursuits, my other children, and my marriage is tricky, but possible. I think it's very important to know that through persistence and patience, Kyle and our family have found joy, peace, and happiness together. We didn't give up who we were, we evolved.
Kyle now skis and swims on his own. He reads at a third-grade level and has a delightful sense of humor. To see him now, you would never know how many challenges he has overcome because he looks so "normal."

I am willing to share what I've learned to help anyone with their journey. Courage and devotion will help you adjust to the situations you face. The path of special needs parents leads to a very different but beautiful life.