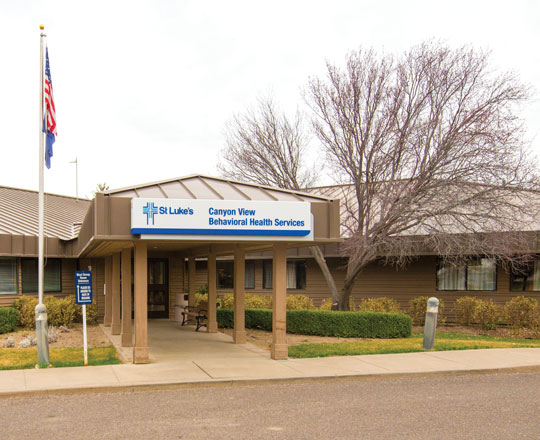 Behavior Response Team Improves Patient Care at St. Luke's Canyon View
The need for delivering care to hospitalized patients at risk for injuring themselves or others continues to escalate. Nurses working at Canyon View Behavioral Health Services, St. Luke's 28-bed inpatient psychiatric unit in Twin Falls, had an urgent need for immediate resources. Evidence suggested a behavior response team (BRT) could help identify risk and enable staff to intervene with patients before situations escalate to behavioral emergencies.
Over a three-month period in 2021, baseline information from code gray debriefings was collected and analyzed. The information demonstrated a need for improvement with staff safety and patient outcomes.
St. Luke's Canyon View Nurse Manager Sam Fife, BSN, RN, and Assistant Nurse Manager Courtney Sant BSN, RN—assisted by Clinical Educator Vibecke Thompson, MSN, RN, and Kofi Bonnie, DNP, RN, and with the support of Dr. Mark Murphy, DO, JD, and Nurse Director Andrea Bunn, DNP, RN—designed simulation-based training and implemented a BRT at Canyon View. The interdisciplinary team effort, in collaboration with Clinical Learning and Student Services, security, Canyon View's operations leadership and all staff, fostered the establishment of the BRT.
The BRT has contributed meaningfully to the de-escalation of challenging behaviors and has provided a well-coordinated interdisciplinary team response to code grays. It has also aided the therapeutic milieu, decreased the chance of staff injuries or burnout, and positively impacted equitable health outcomes.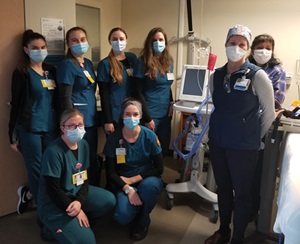 Jessica Garner (front right in photo), MSN, RN-BC, ACNS-BC, APRN, working as a student resource nurse with a group of students.
Nurses Demonstrate Transformational Leadership by Volunteering to Lead Students in New Model
During the COVID-19 pandemic, a difficult decision was made in many organizations, including at St. Luke's, to omit students in the hospital setting for clinical practicum. Reasons included increased exposure risk to the virus that causes COVID-19, increased foot traffic on inpatient units and strain on nursing staff to precept/teach. The decision left nursing schools challenged to provide meaningful learning opportunities to support students' readiness for practice.
To support student learning and provide additional resources at the bedside, St. Luke's created the student resource nurse (SRN) model. The model enabled students to perform core nursing cares, receive unique learning opportunities, interact with the interdisciplinary team and add hands-on help to the units. The model was facilitated by volunteer nurses not traditionally working at the bedside: clinical nurse specialists, educators and others who promoted learning opportunities and assisted with patient cares alongside students to teach the art of nursing. Staff discovered that students and SRNs also provided an added resource for tasks such as call light response.
Students had multiple opportunities to practice interpersonal communication and foundational nursing cares. They learned they could perform multiple care items with a single interaction in a patient's room and discovered that caring for patients looks different every single day. SRNs were able to teach the "why" behind every task, medication and disease process.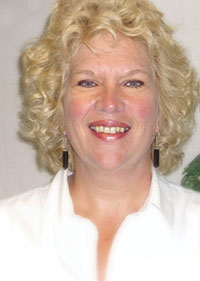 Spirit of Nursing Conference: 10 Years of Honoring Dana Gulbranson
The Spirit of Nursing Conference celebrates nurses, advances nursing practice and leadership, and re-centers participants in relationship-based care: caring for self, colleagues, and patients and families. The conference, which marked its 10th year in 2021, was established to honor the spirit and memory of Dana Gulbranson.
Dana came to St. Luke's Boise in the early 1980s as a new graduate nurse from South Dakota. Her career advanced from clinical nurse to nurse educator to nursing director of the telemetry departments. She was a relationship builder by nature with a gregarious personality. Her early work and partnerships with the cardiology department were foundational to the success of the heart and vascular service line. Dana was an outstanding nurse leader. She had vision and the ability to see complex projects through to their conclusions.
The most important aspect of Dana's legacy is the impact she made in the lives of her colleagues. She hired and mentored many nurses who are now prominent nurse leaders and practice experts at St. Luke's, and in turn they continue to share their expertise, growing new leaders and practice experts.
Dana died in 2011 after a courageous battle with cancer. To honor her work and phenomenal spirit, an endowment, the Spirit of Nursing Fund, was created through St. Luke's Health Foundation by her loving colleagues. The conference is supported by this philanthropic fund and continues to celebrate nursing practice and enhance the spirit of all nurses. Information about how to contribute to the Spirit of Nursing Fund can be found at stlukesonline.org/give.