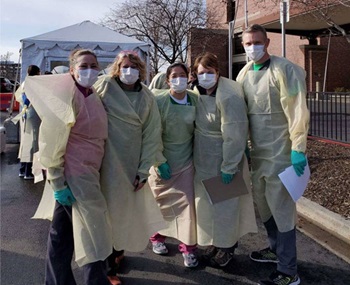 From left to right: Jennifer Riha, BSN, RN; Kadie Anderson, BSN, RN; Kyan McKeever, BSN, RN; Kelli Reed, BSN, RN; and Cullen Anderson, BSN, RN, support the testing tents. Not pictured, as they were at other testing tent locations, are Alicia Young, MSN, MBA, RN; Stephanie Reichert, MSN, RN; Jamey Slayden, MSN, RN; Allison Burns, BSN, RN; and Marni Parry, BSN, RN.
Transformational Leaders Develop and Implement Testing Process for COVID-19
The nursing spirit pushes St. Luke's Health System nurses to provide the best care for our communities. This was demonstrated the week of March 16, 2020, when the ambulatory nursing leadership team was tasked with the daunting responsibility of developing a plan for COVID-19 testing sites across the hospital network. This team stepped up: in less than 24 hours, they created unprecedented workflow plans for drive-through registration, outdoor testing and patient education, which began at St. Luke's Meridian and St. Luke's Wood River on March 17.
Extensive collaboration between departments—including nursing, lab, registration and information health technology—made the success of this operation possible. By the end of the first week, two additional testing sites were opened in Boise and Twin Falls. Despite blustery weather, an earthquake and ever-changing workflows, the St. Luke's team came together to screen and test thousands of community members. For the ambulatory nursing leadership team, learning to depend on and support one another, despite working through this pandemic, only strengthened their dedication to nursing and their bonds with each other.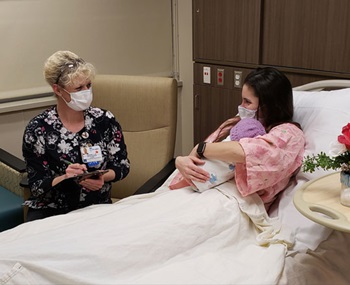 Consistent Rounding Leads to Improved Patient Satisfaction at St. Luke's Elmore
St. Luke's Elmore's senior leadership, including Chief Operating Officer/Chief Nursing Officer Lisa Melchiorre, MS, RN, NEA-BC, CNOR, and assistant nurse managers, have implemented consistent weekly rounding on the inpatient units. During rounding, the leaders facilitate conversations with patients on how St. Luke's Elmore could improve care as well as address any concerns they might have during hospitalization. Using a step-by-step process, nursing staff also completes hourly rounding to address any patient needs and safety issues.
As a result, St. Luke's Elmore has seen a significant improvement in their patient satisfaction score for "Likelihood to Recommend." This demonstrates what consistent rounding can do for a unit and a hospital. During regular huddles at the teamwork board where they can see the improvements, staff deservedly celebrate their continued success.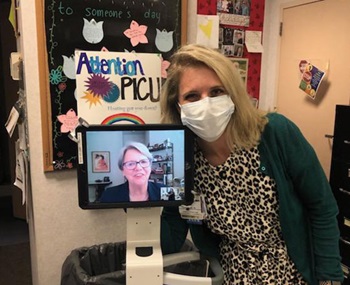 Magnet Ambassador Ashely Wadsworth, BSN, RN, guides a Magnet appraiser through the Boise Pediatric Intensive Care Unit
St. Luke's Treasure Valley Earns Fifth Very Prestigious Magnet Designation
St. Luke's Treasure Valley, which includes the Boise and Meridian hospitals, local ambulatory clinics and, for the first time, the Boise Inpatient Rehabilitation Unit, submitted a fifth consecutive Magnet document to the American Nurses Credentialling Center (ANCC) in August 2019. After revision, the document was confirmed successful in 2020 and St. Luke's Treasure Valley was scheduled for a site visit with Magnet appraisers.
The site visit, originally scheduled for June, was delayed due to the COVID-19 pandemic. With everything in constant flux due to quickly changing and evolving pandemic information, St. Luke's, in conjunction with ANCC, decided to utilize technology and perform a virtual site visit. The date was set for mid-August, so plans could be developed for the virtual visit to ensure the safety of all involved.
The St. Luke's Magnet team immediately connected with Integrated Health Technologies (IHT) to implement the innovative technology needed to make the virtual visit successful. The IHT team built rolling tablet stands that enabled the Magnet site appraisers to visit any place remotely that they would have gone to in person. Magnet ambassadors—clinical nurses who guided each appraiser remotely—were paired with nurse leaders who served as Microsoft® Teams representatives, ensuring that meetings connected and all video technology was working as needed. These duos were key to the successful execution of the site visit. The nurses engaged fully with the appraisers and demonstrated the commitment of St. Luke's to Magnet.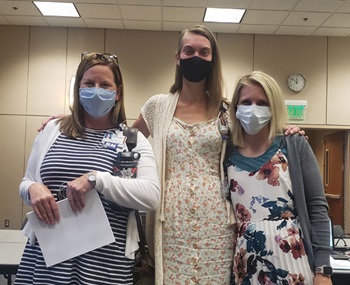 In preparation for the virtual site visit, the Nursing and Patient Care Center of Excellence Magnet team released a toolkit and hosted bootcamps to refresh knowledge around the Magnet document. In addition to the standard Magnet refresh, the nature of the virtual visit necessitated additional preparation. To ensure that every area had appropriate audio and video capability, a team of Magnet ambassadors physically went to each location and tested the connections. This involved crawling behind televisions, managing cables and opening cameras. The ambassadors were laser-focused, diligent and completed the mission. The Magnet team also conducted technology practice sessions with more than 30 different units, clinics and interprofessional groups to ease technology worries, allowing nurses to shine and tell their stories. Even through a screen, it was clear St. Luke's provides top-notch nursing care.
There was a lot to celebrate on October 13, 2020. Even behind masks or remotely on a webcam, the elation was clear: St. Luke's Treasure Valley received the official call from the Magnet Commission, announcing that a fifth designation had been awarded. The Magnet program recognizes organizations worldwide for nursing excellence; fewer than 25 hospitals in the United States have earned the honor five or more times. Special recognition was given by the Magnet Commission to the St. Luke's Treasure Valley Home Health team for their exemplary work with the high acuity team, which was first highlighted in the Magnet document and has since continued to demonstrate excellence.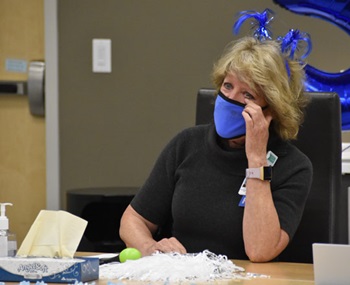 Recently retired Vice President of Patient Care Services/Chief Nursing Officer Cy Gearhard, MN, RN, NEA-BC, gets teary after hearing the Magnet Commission's news of a fifth consecutive designation.
To finalize the celebration of the fifth designation, St. Luke's anticipates sending a delegation to the ANCC Magnet conference in November 2021, where St. Luke's will be honored along with other hospitals designated in 2020 for their accomplishments. Meanwhile, the Magnet team continues to develop Magnet education, including a new leader toolkit and monthly highlights called Magnet Microbursts, which will be deployed through care councils, to help keep the Magnet spirit alive and prepare additional sites for the Magnet journey.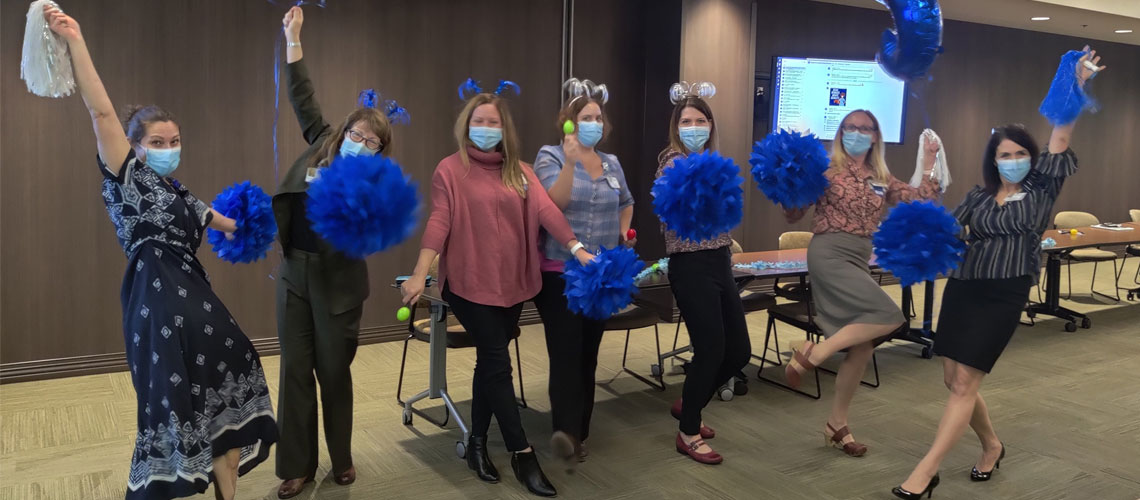 Nurse leaders at St. Luke's Meridian celebrate the fifth Magnet designation announcement.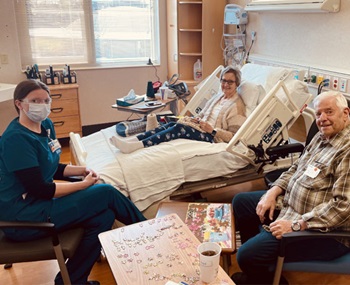 Assistant Nurse Manager of the Inpatient Rehabilitation Unit Amanda Macho, BSN, RN, CRRN, meets with a patient and the patient's husband during leader rounding
Transformational Leadership Guides Boise Rehabilitation to Improved Retention
In early 2020, nursing turnover at St. Luke's Boise Rehabilitation (SLR) was trending around 50%, necessitating the use of 17 travel nurses to fill vacant positions. The turnover was potentially due to instability and leadership changes in 2019. Then, nursing director Jo Phillips, MSN, RN, NEA-BC, stepped in and provided transformational leadership along with Brett Gustafson, BSN, RN, who was promoted into the SLR nurse manager position. Phillips and Gustafson knew they needed to make changes to stabilize the nursing workforce; the staff was fatigued from the constant turnover and change. Together, the leaders put a plan in place to reduce the number of travel nurses. Vacant positions were filled with nurses who both fit the SLR culture and wanted to focus on elevating rehabilitation nursing.
To decrease turnover, Philips and Gustafson utilized consistent leader rounding and mid-year checks to ensure that staff felt supported and were aware of all progress. Transparency with the staff was key in changing the culture. Updates were communicated weekly in huddles, monthly at staff meetings and on the teamwork boards. Staff recognition and feedback became a priority, specifically with the Care Out Loud program and 1:1 coaching using the Just Culture Model.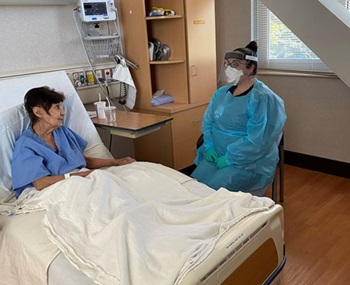 Efforts by the SLR nurse leaders proved successful. By September 2020, all but two travelers had been replaced with permanent staff and the turnover rate was down to about 20%. In October, the Inpatient Rehabilitation Unit participated in its first ever Magnet site visit and impressed the appraisers with their unity, knowledge and commitment to rehabilitative care. Currently, turnover rates continue to decrease. Pulse Poll data also shows improvement, with 90% of respondents answering in the positive. Nurses were engaged and more than ready to take on the next big event: the Commission on Accreditation of Rehabilitation Facilities (CARF) process in March 2021.