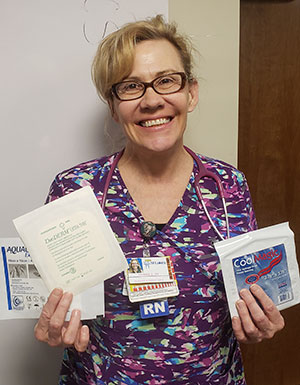 Katrina Southworth, BSN, RN, St. Luke's Elmore nurse, demonstrates products for wound care and prevention.
Nursing and Patient Care Center of Excellence Leads Systemwide Hospital Acquired Pressure Injury (HAPI) Prevalence Survey
In 2019, St. Luke's Nursing and Patient Care Center of Excellence coordinated and executed the first systemwide hospital acquired pressure injury (HAPI) prevalence survey. Held quarterly, the three-day survey led by nurses helps identify pressure injury prevalence by examining a selection of hospitalized patients. Findings from the survey allow St. Luke's to benchmark at the national level, and more importantly, allows clinicians to engage in continuous performance improvement to influence patient outcomes. Specially selected nurse surveyors who participate in the study also serve as champions for pressure injury reduction for their respective units and are eligible to receive Continuing Nursing Education credits for completing specialized training.
Prior to 2019, only Boise, Meridian, Magic Valley and Nampa hospitals participated in the HAPI survey. Recognizing that focus on nursing sensitive quality indicators such as HAPI rates should be systemwide, St. Luke's leadership committed to including all St. Luke's hospitals in the survey. In this spirit, Center of Excellence leaders, including Dr. Teresa Stanfill, DNP, RN, NEA-BC, RNC-OB; Erica Yager, MSN, RN, NEA-BC; Anna Quon, BSN, MBA HM, RN; and Kandace Turner, BSN, RN, NE-BC, RNCMNN, designed, planned, implemented and sustained execution of the survey across the health system. In May 2019, St. Luke's Jerome and St. Luke's Wood River executed their first survey, and in September 2019 the first systemwide survey occurred when St. Luke's Elmore and St. Luke's McCall participated.
The new systemwide process required rigorous planning, thoughtful use of resources, streamlined communication cascades, partnership with the Clinical Support Units and Wound Care teams, development of standardized training and tracking tools, enhanced patient data security and governance, and use of targeted surveyor recruitment and retention strategies.
Study results are now shared with unit managers and directors, senior nurse leaders, chief nursing officers and members of the Magnet Community of Practice and Nursing Community of Practice. In addition, a new HAPI dashboard and playbook are in development to assist leaders in measuring performance and identifying opportunities. In 2020, Turner and Quon will be completing a comprehensive evidence review to identify best practices in recognizing and documenting pressure injuries, further highlighting the commitment to provide the highest quality care to the patients St. Luke's serves.


St. Luke's Elmore Adoption of HAPI Survey Process Teaches Nurses Additional Skills
Chrissy Mason, BSN, RN; Katrina Southworth, BSN, RN; and Rebekkah Nichols, ADN, RN, are supporting St. Luke's Elmore as skin care nurses by completing the HAPI survey training. St. Luke's Elmore recognized a need for wound and skin care for their patients, and the HAPI training is just a starting point for these nurses. Leaders are supporting additional training that will continue over the next two years, proving the nurses the skills and knowledge to become certified in wound and skin care.
"I am excited about all the positive changes that have been made at Elmore, especially regarding wound care," Southworth said. "In the past few years, we have obtained a tablet for photographing wounds as well as received training on staging and documenting wounds. I was asked to be a part of the HAPI Survey here at Elmore and received training through our national vendor. I was also asked if I would be interested in becoming wound care certified. I am excited to begin the learning pathway to achieve this goal. I believe there is a great need and look forward the serving our community."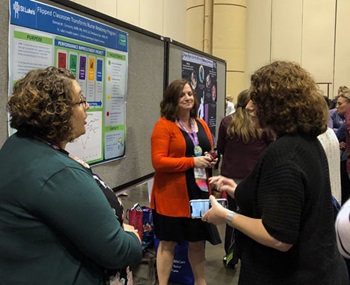 Christiana Sipe, MSN, RN, NEA-BC (left) and Denise Camacho, MSN, MAOL, RN (center, in red) talk with conference attendees during their poster session.
Magnet Conference 2019 – Caring for Self and Colleagues through Shared Learning Experience
The annual Magnet conference was held October 10-12 in Orlando, Florida. St. Luke's Health System was able to send 21 nurses in preparation for the Treasure Valley's (Boise and Meridian hospitals and ambulatory) drive for a 5th Magnet designation and to guide other sites across the system on their Magnet journey. The conference featured dynamic keynote speakers including American Nurses Association (ANA) President Ernest Grant, PhD, RN, FAAN, who announced the exciting news that in honor of the 200th anniversary of the birth of Florence Nightingale, the World Health Assembly officially designated 2020 "Year of the Nurse and Midwife."
The conference featured selected poster presentations for attendees to learn about innovative programs and approaches to nursing and health care, including two posters from St. Luke's. Diana Meyer, DNP, RN, NEABC, FAEN and Laura Tivis, PhD, CRRP, from St. Luke's Nursing and Patient Care Center of Excellence, were selected to present a poster celebrating the creation and ongoing success of the Center, which was originally known as the Center for Nursing Excellence. Denise Camacho, MSN, MAOL, RN and Christiana Sipe, MSN, RN, NEA-BC presented a poster about St. Luke's new graduate nurse residency program's successful incorporation of a flipped classroom approach.
Throughout the three days, more than 80 concurrent sessions were offered. Session topics were divided into the key components of the Magnet model: Transformational Leadership, Structural Empowerment, Exemplary Professional Practice and New Knowledge, Innovations, and Improvements. The combined Magnet conference experience with keynote speakers, poster presentation and concurrent sessions provided the opportunity for the St. Luke's team to learn how other Magnet facilities from all over the world are elevating nursing practice and celebrating excellent outcomes.