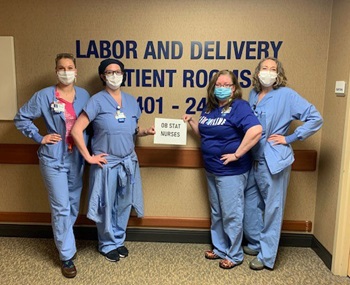 Enhancements to the Boise Obstetric Stat Team Improves Response Time
In 2016, leaders and staff in St. Luke's Boise's Labor and Deliver (L&D) Unit created a dedicated obstetrics (OB) Stat Team to respond to OB emergencies similar to a code team. The OB Stat RN was a nurse with a patient assignment who would report in for the emergency, leaving someone else to watch over the patient. In 2020, staff who acted as OB Stat RNs voiced concern about being pulled from their assigned patients, especially as the number of emergencies, as well as the complexity of situations, increased.
These nurses took the idea of creating a dedicated OB Stat RN to the Unit Based Care Council; the position was approved for pilot in November 2020. Data that was collected on 68 out of the 70 pilot days indicated positive findings, including decreased rate of response time to the emergencies, increased availability of the charge nurse for other staff and unit needs, and overall staff satisfaction with the role. Based on the data and feedback gathered during the pilot, a proposal for additional funding for staffing was submitted and approved at the beginning of 2021, allowing the dedicated OB Stat RN position to become a permanent role in the L&D staffing model.



Amy Stukenholtz, BSN, RN, CCRC, and Michelle Hancock, BSN, RN, CPON, presented a poster with their findings during the Nursing Research Fellowship celebration
Research Fellowship Participation Aids in Understanding Parental Barriers in Reporting Fever
Amy Stukenholtz, BSN, RN, CCRC, and Michelle Hancock, BSN, RN, CPON, are nearing completion of their research study "Caregiver Perceived Barriers to Notifying Oncologist at Onset of Fever Greater Than 101°F Among On-Treatment Pediatric Oncology Patients." They developed the study while participating in the Nursing Research Fellowship program (2019) and collected data during their senior fellowship year in 2020. The study's purpose is to better understand caregivers' perceived barriers to immediate notification of providers when a child, currently on treatment, has a fever greater than 101°F.
Neutropenic fever is a leading cause of morbidity/mortality in pediatric oncology patients. Caregivers of pediatric patients treated at St. Luke's Cancer Institute are educated about the necessity of notifying their provider immediately if the patient has a temperature above 101°F. Why do they sometimes fail to do so?
"Through the interview process, we identified consistent themes of negative past experiences, lack of support for family members and seemingly conflicting information as barriers to immediate notification," says Hancock.
Stukenholtz adds, "Our goal is to develop a QI and possibly a PI project centered around improving the education that nurses provide to families at the time of cancer diagnosis and throughout treatment."
Stukenholtz and Hancock are preparing a manuscript about the study for submission to a peer-reviewed professional journal.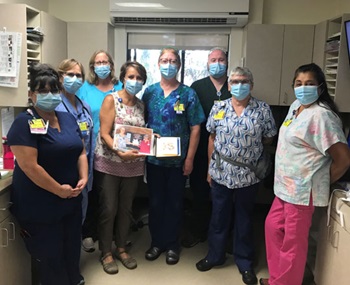 Innovations in Critical Access Hospitals During the COVID-19 Pandemic
Sayings like "it takes a village" or "all hands on deck" are often used when it's important that all are involved in achieving a goal. From the onset of the COVID-19 pandemic and through the continued spread of the coronavirus, it was the absolute reality in St. Luke's critical access hospitals. While staff at all sites experienced flexing to implement safety procedures and optimize care of patients, in critical access hospitals, where there is far less personnel to rally, it was truly an impressive feat. Exceptional teamwork enabled them to succeed. Below are just a few of the examples.
St. Luke's Jerome Demonstrates Relationship-Based Care and Teamwork
When the COVID-19 pandemic surge hit St. Luke's Jerome (SLJ), staff from all departments joined forces to meet the high volume of continually changing needs. Even though SLJ did not admit suspected COVID-19 patients, the pandemic challenged the team to evaluate workflows, set new priorities and change the status quo. Staff took on new roles and additional responsibilities as well as shouldered a heavy burden to meet not only the facility's needs, but personal challenges related to the pandemic.
SLJ demonstrated relationship-based care, St. Luke's professional practice model, by practicing self-care and care for coworkers. The team not only collaborated, but went the extra mile: taking on extra shifts and turning 12-hour shifts into 16-hour work days. One weekend, 100% of the nurses scheduled for the night shift in the emergency department were unable to work. The next weekend, 100% of the obstetric nurses scheduled during the day shift couldn't be there. Staff changed personal plans, traded shifts, stayed over and came in early—all with the attitude of "just tell me what you need, and I will help." Associate chief nursing officer Jill Howell, BSN, RN, also went above and beyond in rounding and recognizing staff. As a result, the Magic Valley Health Foundation recognized the team's sacrifices and hard work.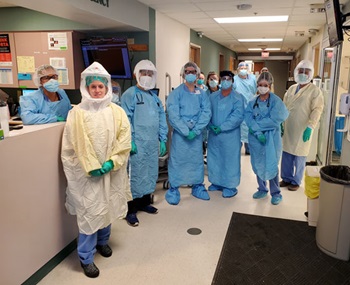 The team at St. Luke's McCall in their personal protective equipment.
St. Luke's McCall Cares for Colleagues and the Community through Collaboration
Not everyone stayed home during the COVID-19 pandemic. St. Luke's McCall (SLM) typically serves a population of around 10,000 people, but in 2020, with people traveling or relocating to second homes in McCall for seclusion, fresh air and nature, the community saw a significant increase in residents. While SLM witnessed around normal volume in surgeries and deliveries, there was an increase in trauma cases and emergency department patients.
The team quickly recognized the need to change workflows and processes to contend with the influx of patients. One significant change to workflow, which proved to help keep patients safe from coronavirus infection, was treating all symptomatic patients in a separate section of the 15-bed medical/surgical unit. The team converted a portion of the space into an isolation unit, separate from the surgical patients and the mother-baby population.
In accordance with SLM's shared governance model, team members with years of experience in rural nursing continually contributed ideas and input. Involving every department at SLM in decisions not only optimized patient care, but enhanced patient and employee safety. Nursing workflows changed significantly and the team stepped up to the challenge by being flexible with assignments. Collaboration, dedication to each other and the community, relationship-based care and the SLHS professional practice model were the keys that kept SLM running at capacity while also maintaining a safe workplace.
Everyone Just Said "Yes": St. Luke's Wood River Responds Quickly to the COVID-19 Pandemic
The COVID-19 pandemic was an event that touched everyone at St. Luke's Wood River (SLWR). The extraordinary challenge inspired everyone to say "yes" to whatever it took to meet the challenge head on. As the first site in the system to get hit by the pandemic, the SLWR team pulled out all stops to make sure the community stayed as safe as possible.
Led by educators Amber Weber, MSN-Ed, RN, RNC-NIC, NPD-BC, and Hazel Thorn, ADN, RN, nursing staff from inpatient and ambulatory teams were cross-trained, first to cover the emergency department (ED) and later to staff testing tents and inpatient areas outside their normal areas. St. Luke's Director of Clinical Learning and Student Services (myStLuke's/Epic) Paula Lewis, BSN, MBA, RN-BC, was instrumental in paring down the courses on charting in the electronic health record, usually two to three days of learning, to just hours to meet the extreme needs of SLWR. By early summer, testing tents were in full swing and workflows had adapted quickly—and continued to change. Ambulatory manager Allison Burns, BSN, RN, played a significant role in ensuring that cross-trained staff were aware of the ever-changing situations.
The third wave hit in the fall; this time the inpatient areas were impacted. Without missing a beat, the educators set up two four-hour skills fairs. The entire SLWR team again stepped up to manage this challenge and it would not have been possible without staff just saying "yes" to whatever was asked of them in the midst of unprecedented times.