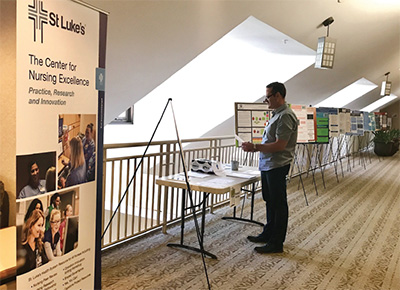 Jonathan Edwards, BSN, RN, Wood River PACU, viewing the traveling poster show in Wood River.
System Nursing Research Council Promotes Traveling Poster Show
Teaching About Research and Evidence-Based Practice
With the goal of expanding system-wide knowledge of St. Luke's nursing research programs and related opportunities, the System Nursing Research Council (SNRC) developed a traveling poster show highlighting research, evidence-based practice (EBP) and quality improvement initiatives, and displayed it throughout the Health System. With the help of nurse educators and other partners, the show was placed on display over late spring and summer in 2017 at seven SLHS sites from Nampa to Wood River. More than 100 employees viewed the posters and completed a short quiz to receive continuing education contact hours. Several partnership posters were also part of the show to emphasize the importance of interdisciplinary collaboration. Opportunities, including the Nursing Research and EBP Fellowship program, the Operation Innovation: Writing Workshop, and membership on the SNRC were also highlighted. Consistent with project goals, more than 95% of attendees reported they had increased understanding of research activities around the system and its importance as related to their work caring for patients. Further, 100% reported they could use content from the poster show in their work and more than 90% said their interest in research activities and opportunities had increased after attending the show. Plans are underway for the 2018 show with goals of expanding it to more locations for even greater participation.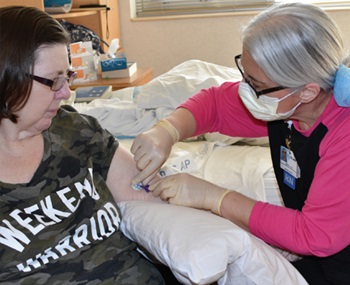 Vascular Access Team (VAT) Serves as Sentry in Boise and Meridian
A new service was launched in April 2017 at the Boise and Meridian hospitals to provide the opportunity for patients to have a peripherally-inserted central catheter (PICC) at the bedside. The VAT, a team consisting of RNs specifically hired and trained for the role, is the initial expert consultation for adult inpatients requiring a PICC and determination if placement can occur at the bedside. The VAT also places midlines and performs dressing changes for all VAT line placements, including dressing changes on patients who have been transferred to St. Luke's Inpatient Rehabilitation.
Since the team placed their first line in April 2017, improvements have been measured in wait time from order to insertion and reduction in imaging costs to patients. Anecdotally, staff and patients express gratitude for the decreased wait times and that the service is provided where they are. While operating seven days a week, the VAT hopes to expand staffing to cover after-hours needs, and to purchase a second device to prevent delays when two or more PICCS are ordered in a day.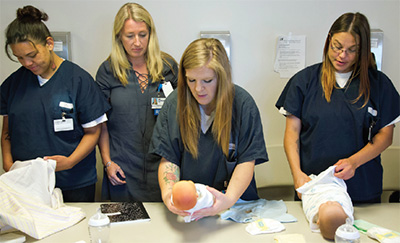 Jeanette McCown, BSN, BEd, RN, Patient Educator, teaching swaddle techniques.
Classes for Pregnant Inmates
Caring through Collaboration
To provide better care for pregnant inmates and their newborns, St. Luke's Boise's women's service line and the local correctional facility formed a stakeholder group to better understand the roles of the partners. Stakeholders analyzed the current care processes, policies and protocols to identify challenges and opportunities for improvement. Alignment tactics included comprehensive education to the Health System and the correctional facility, which covered sensitivity training, care approach strategies and obstetrical triage. It was recognized that pregnant inmates had limited knowledge of birth processes and anxiety related to birth, postpartum care and plan of care for the newborn, resulting in increased visits to the correctional health clinic and unnecessary transports to labor and delivery for labor checks. This initiated the launch of birth and parenting classes taught by women's service RNs to pregnant inmates to empower them by building a strong parenting foundation and knowledge to prepare for labor and delivery.
Providing an infrastructure to support care during a stressful time in a woman's life translated to a positive environment for pregnant inmates to gain understanding of prenatal changes in their bodies, maintain dignity during childbirth and allow time to be with infants in the hospital setting.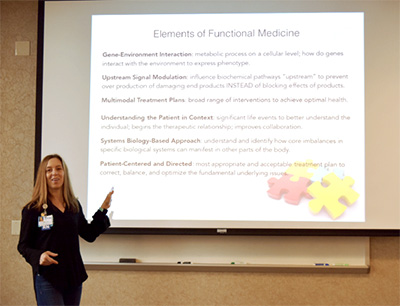 Boise Inpatient Rehabilitation Brown Bag Lecture Series
Nurses as Teachers
Tamra Geryk, BSN, MS, CHES, CHC, a Boise Inpatient Rehabilitation Unit RN, attended a conference in the spring of 2017 to learn about a cutting-edge model for improving health of patients and staff. The conference was an intensive training combining the functional medicine model, clinical nutrition and integrative nurse coaching to promote healthy lifestyle change for patients.
Giving back to her colleagues, Ms. Geryk was featured at the December 2017 Rehabilitation Brown Bag Lecture Series. She introduced the new paradigm in health promotion and disease prevention focused on identifying the root cause of illness, restoring balance and optimizing body system function. She reviewed functional medicine's guiding principles, the seven common pathways of disease, and nutrition as the core modality within functional medicine practice. The presentation was received extraordinarily well with more than 30 engaged staff in attendance. Attendees were invited to participate in a month-long Institute for Functional Medicine dietary protocol to eliminate inflammatory foods to address underlying causes of symptoms. The information was so well received that 18 of the 32 in attendance opted to participate in the new protocol. The group asked many questions which Ms. Geryk answered until the lunch hour was over, prompting a request for a second presentation to be scheduled in 2018.