Professional Development Leads to International Webinar for Lactation Consultants
St. Luke's Center for Nursing Excellence provides nurses with various professional development opportunities and programs, including the System Nursing Research and Evidence-Based Practice Fellowship and Operation Innovation Writing Workshop. Participation in these programs helped Meridian-based Lactation Consultant Betsy Ayers, BSN, RNC, IBCLC, through conducting a research study in 2013 to publication in a national journal in 2015. This past year, Ms. Ayers, along with her Fellowship mentor Jane Grassley, PhD, RN, IBCLC, RLC, and colleague Kristen Koprowski, BSN, RN, were asked to present a webinar for the International Lactation Consultant Association on their published research article that appeared in Clinical Lactation titled "Pilot Study of Breastfeeding Support on the Night Shift."
The team designed a presentation which identified reasons for supplementation of the newborn, challenges for the night shift in maintaining exclusive breastfeeding and recommendations to improve exclusive breastfeeding during newborn hospitalization immediately following birth. In August 2016, the one-hour live webinar was attended by over 30 healthcare professionals, and it was recently selected to be one of 12 webinars that will be available for the next three years for continuing education credits for lactation consultants.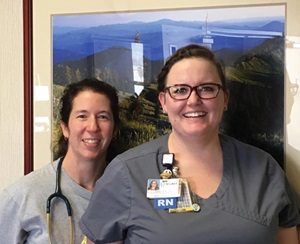 Meridian ICU Implements Early Palliative Care Referrals
Danielle Nicholas, BSN, RN, PCCN, and Dawn Swick, BSN, RN, CCRN, critical care nurses in the Meridian Intensive Care Unit (ICU), have spent countless hours caring for patients nearing the end of life. As sentries to these fragile patients, they are keenly aware of the need for transitional services, frequently well before orders are placed for palliative care (PC) referrals. As a result of this, they embarked on an evidence-based project around PC.
The overarching goal of the project was to increase the number of early PC referrals within the ICU. This goal would be realized by accomplishing the following objectives:
Identification of the best tool to objectively assess the need for a PC referral
Implementation of the identified tool
Measurement of change in PC referral practices
Hardwiring of the new process (i.e., use of the tool) in the Meridian ICU
During a three-month trial period, nurses completed the identified PC screening tool for intensivists' patients and families, leading to some early PC referrals. Results of this project were positive, and the process was hard-wired in the Meridian ICU. During 2016, Ms. Nicholas and Ms. Swick participated as Senior Fellows, mentored by Kim Martz, PhD, RN, in the Nursing Research and Evidence-Based Practice Fellowship program.