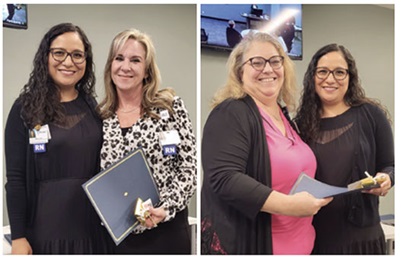 Aimee LeGoffe, BSN, RN, and Kim Mills, MS, PT, celebrate with mentor Anna Quon, MBA HM, BSN, RN, AMB-BC, NEA-BC, during the Nursing Research Fellowship Celebration.
Home Health Team Leads Research on Nurse Practitioner-Led Care Models
Aimee LeGoffe, BSN, RN, area manager of St. Luke's Home Health and Hospice in the Treasure Valley, and Kim Mills, MS, PT, manager, enrolled in the 2021-2022 Nursing Research Fellowship to explore the effect of a nurse practitioner-led home health model on inpatient hospitalization days.
In 2019, Home Health and Hospice introduced NPs into the home health care team. This was a shift from a traditional interdisciplinary team model to an NP-integrated team model for managing patient care needs. LeGoffe and Mills reviewed the literature, which indicated a gap in exploring NP-integrated home health delivery models.
They designed a retrospective chart review research study to analyze hospitalization data, before and after NP-integration, for older adults receiving home health services in the Treasure Valley area. A strong collaboration with the digital and analytics team and mentorship from Anna Quon, MBA HM, BSN, RN, AMB-BC, NEA-BC, supported LeGoffe and Mills in completing their study.
LeGoffe and Mills also participated in a St. Luke's writing workshop to develop a manuscript, and the results of their study were disseminated via a poster presentation at the annual Nursing Research Fellowship Celebration. Most impressively, these leaders displayed an unwavering commitment to their professional development and to ensuring St. Luke's continues to offer innovative services for patients.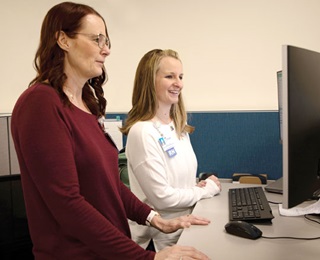 New Workflow in Ambulatory Addresses Staff and Patient Concerns
The COVID-19 pandemic forced teams throughout the system to swiftly reexamine how they deliver care to the communities we serve. Health care organizations are continuing to face the residual impacts of the pandemic— staffing shortages, increased demand on resources, and emotional and mental health strain felt by health care workers and patients, just to name a few.
In early 2022, St. Luke's Ambulatory's centralized clinical resource team kicked off a pilot program to support front-line clinicians, who continue to face these impacts: the in-basket resource team. It is an innovative approach to workflow, leveraging virtual technologies to both support Idaho's growing population, who may experience fragmented care, and address some of the stressors on front-line workers.
The team started with Klista Hameed, MSN, RN, AMB-BC, with St. Luke's Clinic – Payette Lakes Family Medicine in McCall, and Betty Movius, BSN, RN, with St. Luke's Clinic – Family Medicine in Hailey. The goal was to tackle all the in-basket work—such as ordering prescription refills, reviewing lab results and answering patient messages—at both of these locations so patient-facing teams could have more one-on-one time with their patients.
The project also created a coordinated, timely response process for patient inquiries, which offers an improved patient experience. The pilot is being adopted around the system.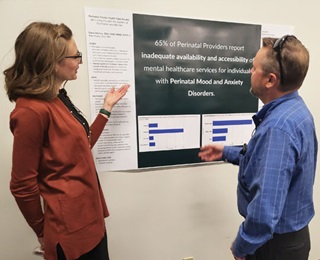 Dana McKee, MSN, RNCMNN, PMH-C, shares her study findings during the Nursing Research Fellowship Celebration.
Identifying Provider Perceptions of Perinatal Mental Health Care Access: A Nursing Research Fellowship Study About Facilitators and Barriers
Dana McKee, MSN, RNC-MNN, PMH-C, a nurse on Boise's mother-baby unit, entered the Nursing Research Fellowship Program with an idea: to conduct a research study about perinatal mental health.
Through her research, McKee found that, "Perinatal mood and anxiety disorders (PMAD) are the most common pregnancy-related complication and are one of the leading causes of morbidity and mortality of perinatal individuals, costing approximately $31,000 per untreated dyad in the first five years postpartum."
With the guidance of the fellowship program and her mentor, Kim Martz, PhD, RN, McKee aimed to identify providers' perceptions of facilitators and barriers to mental health care access for women in the perinatal period and, more globally, to identify facilitators and barriers across geographical and practice settings.
Through a survey to obstetrical providers, McKee learned providers want education about PMAD and greater access to mental health resources. Other findings included the perceived need for patient, family and public education to decrease stigmas surrounding mental health care and to enhance understanding.
"McKee is a natural-born, curious researcher and mentoring her was so enjoyable," Martz said.
McKee recently completed her MSN in psychiatric mental health and is working toward certification and licensure as a psychiatric mental health nurse practitioner.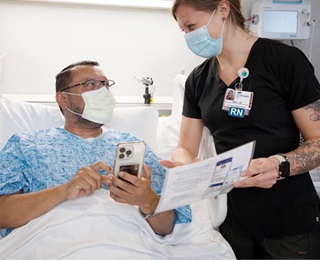 Boise Rehabilitation Hospital Pilots MyChart Bedside, Improves Patient Satisfaction
KSt. Luke's Rehabilitation Hospital in Boise was a trial site for MyChart Bedside, leading the way to bringing health records to the patient's fingertips. MyChart Bedside allows patients in the hospital, and their approved family members, to view, in real time, information on their vital signs, laboratory results, medical procedures and medications.
Nursing staff at the hospital were the first in the system to use the new technology. To prepare for the pilot, nursing staff learned about the program though online education, in-person staff meetings and day-of staff huddles.
On admission, bedside nurses use a laminated handout to introduce MyChart Bedside to patients. They help patients download the app and use it to view their information on the care they're receiving. Team members promote the use of MyChart Bedside through encouraging language and by reiterating the amazing benefits of the technology.


Improved Patient Experience
Nurses Kept You Informed