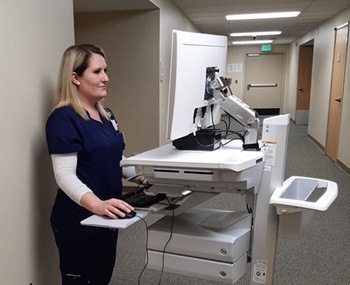 Kelly Ford, ADN, RN, using the new WOW on the unit.
St. Luke's Magic Valley Canyon View Implements Healing, Patient-Centered Care Model
A practice change was implemented on the inpatient unit at St. Luke's Canyon View Behavioral Health Services to improve the culture of safety and patient satisfaction. The Recovery Model for Milieu Management (RMMM) project began in October 2019.The RMMM is an evidence-based practice model for patient-centered delivery of care. This guideline directs the process of care into the recovery model, including multiple principles that emphasize hope with a strong belief that people with mental illness can regain a meaningful life, despite persistent symptoms.
Within this framework, the nurse-patient interactions utilize an "ICARE" hourly rounding tool, which is essential to patient-centered care in the psychiatric inpatient milieu management. This ICARE tool helps the nurse always be aware of the patient's mental state for their individual safety and the safety of others.
The ICARE hourly rounding tool includes:
Introductions – Nurses build rapport with their patients at the beginning of the shift.
Caring attributes – Nurse/patient-centered interactions and compassion are the focus.
Assessment – Done throughout the shift for thoughts of self-harm and depression, for increased engagement with patients and to give them a sense of the safe and stable environment they're in.
Reassurance – Contributes to a positive patient relationship and improved patient outcome.
Environment – Nurses are mindful of the environment during each rounding interval to ensure it's safe and patient needs are being met.
It is imperative for nurses to be present in the environment to implement a proactive plan for treatment and behavioral management of patients, rather than being reactive to the environment of care. With this in mind, workstations on wheels (WOWs) were implemented to embed nurses in the milieu, increasing visibility and presence of staff, meeting the essential goal for RMMM. In addition, the WOWs enhance the efficiency of nursing staff, providing a mobile work surface that allows for point of care services. Implementation of the new model has increased the interaction between nurses and patients, improving relationship building and enhancing patient-centered care.



St. Luke's Library – Partners in Evidence-Based Practice
The St. Luke's library is making rapid progress toward realizing their vision of meeting St. Luke's information needs proactively, creating streamlined experiences for and building strong relationships with users. The library's goal is to partner with nurses and all staff to increase evidence-based practice at St. Luke's. In 2019, the library did this by:
Performing 527 in-depth, librarian-mediated literature searches.
Delivering 6,208 full-text articles.
Providing platforms for staff to find the evidence they need—in 2019 alone, there were 80,238 searches and 59,584 full-text downloads at St. Luke's.
That's a lot of published evidence being reviewed! Regular use of information to define practice and support patient care decisions is clearly the norm at St. Luke's. In 2019, St. Luke's library laid the groundwork for new initiatives by launching several user-focused platforms, which will allow for continued improvements in 2020. New projects will include:
Support for online journal clubs.
An evidence-table repository developed in partnership with the Nursing and Patient Care Center of
Excellence.
Piloting the feasibility of an embedded librarian in a project team.
The library's resources and services are continually expanding to meet St. Luke's information needs, and the librarians look forward to continuing to partner with staff on these and future projects.
"Thank you so much for the incredible turnaround time on our literature review requests! Excellent demonstration of the core value of excellence, and the results you produced were spot on! The project team was able to have a much more robust dialogue today as we were able to reference evidence-based best practices. Thank you, thank you, thank you!" – St. Luke's staff feedback after receiving their librarian-mediated literature search results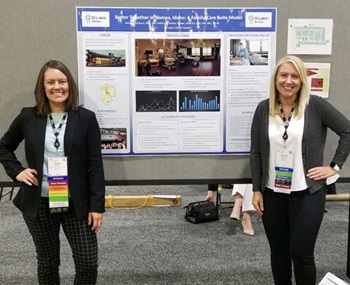 Amber Weber, MSN-Ed, BSN, RNC-NIC, RN-BC, and Amanda Erickson, BSN, RNC-MNN, present at the AWHONN conference in Atlanta, Georgia.
St. Luke's Nampa Creates a Healing Environment with Unique Family Care Suite Model
Amanda Erickson, BSN, RNC-MNN, and Amber Weber, MSN-Ed, BSN, RNC-NIC, RN-BC, had the opportunity to showcase St. Luke's Nampa's unique Family Care Suite (FCS) Model at a conference in Atlanta, Georgia, in June 2019. The labor and delivery, recovery and postpartum unit includes seven family care suites, which are maternal postpartum couplet rooms with an embedded neonatal intensive care unit (NICU) area within the same room.
There are also eight single patient rooms for NICU patients within the unit. The goal in this new model of care is to improve patient and nurse satisfaction by keeping the mother and newborn together with a family-centered care emphasis, whether a healthy newborn or a newborn admitted to NICU.
The unit has been very successful. The model was evaluated by obtaining metrics comparing length of stay for NICU patients cared for within the FCS model versus national data and data within the system. Data from patient experience measurements, performance analytics, and comments collected from nurse leader rounding reflecting on family-centered and developmentally supportive care were also used to demonstrate the impact. Identified successes included removing the physical barriers of family separation, supporting parents to be the primary caregiver within a multidisciplinary team, promoting holistic and nurturing care, and improving nurse and family satisfaction.
NICUs are increasingly adopting family-centered care models through NICU single patient rooms, couplet care, and family care suites. Presenting this poster at the Association of Women's Health Obstetric and Neonatal Nurses (AWHONN) conference provided a platform to highlight St. Luke's Nampa's progressive approach to care, engage in thoughtful conversations, and share learned successes and areas of opportunities to care for both postpartum mother and NICU patient together. This unique model of care is supporting a positive nursing culture and improving patient and family satisfaction in St. Luke's Nampa's Family Birth Center.



Treasure Valley and McCall Hospice Collaborate with Pharmacy to Improve Patient Care
St. Luke's Hospice Clinical Manager Kendra Tietz, MSN, RN, identified safety and quality deficits with use of outside pharmacy vendors preparing and delivering medications to hospice patients. In alignment with Strategy 2020 and system goals, Tietz worked closely with St. Luke's Home Care and Hospice leaders and pharmacy leaders for a cost-to-benefits analysis, which demonstrated the benefit of bringing hospice pharmacy services in-house.
A project manager was assigned, and the team started to develop an internal pharmacy solution specific for all hospice patients in the Treasure Valley and McCall. Key stakeholders worked closely and intensely together for many months. The work required an electronic health record build, workflow solidification between the hospice/pharmacy departments, and significant training to the hospice staff. A go-live date was set for October 2019, when all hospice patients would be migrated from the outside pharmacy vendor to the internal St. Luke's pharmacy.
There were many challenges encountered throughout the project, including a sudden unplanned absence of the lead hospice nurse stakeholder that required Nicole Hawk, BSN, RN, Hospice Quality Nurse, and Belinda Troxell, BSN, RN, Hospice Supervisor, to refocus priorities to this project the week before go-live. Together with pharmacy, hospice providers, Home Care and Hospice leadership and nursing, the team persisted toward the goal and successfully managed the transition of more than 100 patients to St. Luke's internal pharmacy. The change in workflow from external pharmacy vendors to a single internal pharmacy improved both the quality and safety for hospice patients. The collaborative effort decreased drug costs and improved medication safety with more efficient and accurate medication reconciliation.



Improved Workflows Increase Efficiency and Nurse Satisfaction in St. Luke's Transfer Center
St. Luke's Transfer Center (TC) is a system department whose purpose is to connect providers for consults, transfers, admissions and placement of patients to the appropriate care area. When St. Luke's went live with an electronic health record (EHR) in 2016, there was no TC module and the health system had to quickly develop a homegrown version that met operational needs. Most of 2017 was focused on creating documentation standards that accurately described the work done in the TC, which also provided qualitative feedback to the staff. Once documentation standards became more hardwired, Katy Alexander, MSN, RN, NE-BC, Nurse Manager of the TC, and her leadership team were able to work even closer with TC staff to reduce options for documenting TC actions for each call. The number of documentation tabs was reduced by 31%, going from 13 down to 9. This reduction allowed staff to be more efficient, handle more calls, and most importantly, realize department expectations and documentation standards as clinicians and as a team.
Additional benefits of this work were clear in early spring of 2019, when the TC collaborated with the HER team to build a fully integrated TC module. The new module went live in June 2019 and leveraged lessons learned with the homegrown version. Staff participated to develop and embrace documentation standards and suggested operational tweaks. Each improvement minimized staff's requirement to memorize what goes where when documenting the patient care story. Visual warnings and hard stops were appreciated, resulting in met operational best practices, documentation standards and improved staff satisfaction. Real-time accurate charting improved the TC's reputation as a highly reliable department, as the TC describes the patient's story from point A to point B.