The research team included (from left to right) Principal Investigator Anna Quon, MBA HM, BSN, RN, AMBBC; Wendy Vanderburgh, MSN, RN, NREMT-P, FP-C; and Kimberli Munn, MSN, RN. The team was mentored by Andi Foley, DNP, RN, APRN-CNS, EMT, ACCNSAG, CEN, TCRN, FAEN.
Nursing Research Fellows Investigate Support Strategies for Emergency Department Nurses
The COVID-19 pandemic has placed a tremendous burden on health care workers. Emergency Department (ED) nurses face significant risk for stress-related issues, but there is limited empirical evidence on how to support them best. As part of the 2020-2021 Nursing Research Fellowship program cohort, a team of current and former ED nurses launched a study to address the research gap.
The team included Anna Quon, MBA HM, BSN, RN, AMB-BC, as principal investigator; Wendy Vanderburgh, MSN, RN, NREMT-P, FP-C; and Kimberli Munn, MSN, RN. They were mentored by Andi Foley, DNP, RN, APRNCNS, EMT, ACCNS-AG, CEN, TCRN, FAEN. They conducted a Delphi study aimed at gaining expert consensus from St. Luke's ED nurses on the most effective and accessible support strategies. Results showed ED nurses:
Preferred employee-led self-care activities to enhance

Social well-being (i.e., establishing new/enhancing pre-existing relationships with peers, friends and family).
Emotional well-being (i.e., practicing stress management, relaxation, mindfulness and reflective writing/ journaling).

Preferred in-person supports.
Did not prefer any support activities led by their employer.
The team's work, ED Nurse Consensus on Most Effective and Accessible Support Strategies During COVID-19: A Delphi Study, highlights the need for organizations to work with staff to understand their support preferences. The team submitted a manuscript to the Journal of Emergency Nursing and will present the study at the University of Iowa National Evidence-Based Practice Conference in April 2022.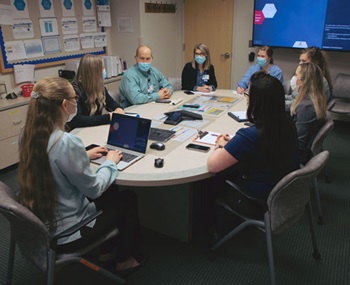 Meridian Case Management Optimizes Workflows
Two new operational innovations were accomplished by Case Management in 2021. Both were optimizations to workflows proposed by clinical nurses and had significant positive impacts for the team.
The case management assistant (CMA) role was established to lessen non-clinical tasks for the RN CMs in conjunction with changes implemented by the larger Emergency Department and Inpatient Utilization project. In preparation for the role, the team developed an onboarding plan that included creating standardized work, smart phrases and workflows. With the improvement in workflows due to the addition of CMAs, the RN CMs were able to expand their role, support the social work team and add coverage to the Emergency Department.
In November, with the improved staffing from traveling nurses and reduced time-off requests, the team was able to operationalize an idea that had been percolating but had not previously launched due to a lack of resources. The team realized that the RN CMs were focusing first on discharging patients that could easily transition out to help manage throughput. This meant the more complex and difficult-to-place patients were remaining in the hospital longer than necessary.
The team took the opportunity in November to reorganize workflow using experienced CM Victoria Dietz, BSN, RN, CCM, to be the primary care nurse for four of the most complex patients. These patients had multiple barriers preventing their discharge, including comorbidities and a lack of open community resources related to staffing and the COVID-19 pandemic. Without having to manage discharge for these complex patients, the other RN CMs had more time to focus and improved efficiency of discharge for their remaining patients. The four patients placed with the high-acuity CM RN were ultimately discharged earlier than anticipated. The communication between St. Luke's and the community agencies to facilitate those discharges was a demonstration of collaboration and creative problem solving.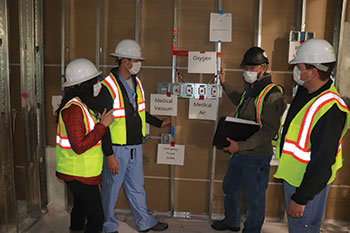 From left to right: Katherine Kerner, BSN, RN; Sam Wells, BSN, RN; McCall Facility Manager Tim Wilcox; and Nurse Manager Karl Linzmeyer, BSN, RN, during a walkthrough.
Frontline Eyes Make a Difference for St. Luke's McCall Hospital Plans
Work progresses on the new hospital build in McCall with a tentative opening date of April 2023. Clinical nurses and representatives of other disciplines have been involved with the design team from the beginning.
The team from McCall had the benefit of touring the Nampa hospital prior to providing input on designs for McCall, which helped them visualize the space's needs. Nurse Manager Karl Linzmeyer, BSN, RN, also completed a walk-through with Assistant Nurse Manager Eric Ostensen, BSN, RN, and clinical nurse Sam Wells, BSN, RN, which allowed them to provide suggestions in addition to the initial input based on the team's Nampa tour. They were instrumental in making changes to the position of the garage door and in evaluating the safe room. Assistant Nurse Manager Katherine Kerner, BSN, RN, was also asked by the construction team for feedback and, when she was satisfied, to sign off on the layout in the inpatient settings for Labor and Delivery and the medical/surgical unit.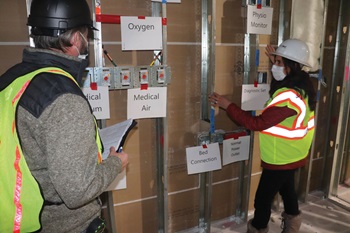 Kerner, who has worked at other facilities, knows that it takes many sets of eyes to ensure everything is just right. She wanted more clinical nurses to have a say in how the rooms would function. During another team walk-through, Danae Robinson, BSN, RN, noted that all the electrical outlets were behind the head of the bed and out of reach. Robinson suggested they be moved up in height so that they would be at a safer level for staff and save their backs. With that suggestion, all electrical outlets have been moved to arm level.
The input from team members will make a difference to St. Luke's McCall employees and patients.