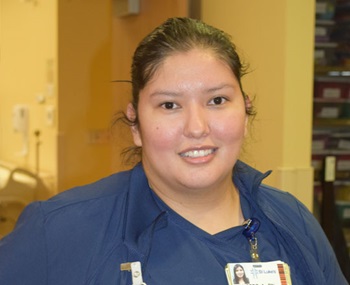 Small Acts of Kindness by a Magic Valley Nurse Provides Healing Experience for a Patient
Lucero "Lucy" Arteaga, ADN, RN, a nurse at St. Luke's Magic Valley, is known for her contagious laughter and bright smile. Arteaga was caring for a severely ill COVID-19 patient who, after weeks of treatment, was not showing signs of improvement and declining despite the team's best efforts. Isolation and language barriers had complicated treatment and left the patient depressed and lonely.
When the patient's birthday arrived, Arteaga was determined to make it special as well as provide some needed comfort. Arteaga taught the staff to sing "Cumpleaños Feliz," then she coordinated with the patient's family so they could participate in the sing-along via video. Tears and smiles filled the room and hallway surrounding this patient. For a moment, burdens were lifted.
After speaking with unit leadership and determining the patient's prognosis was not looking good, Arteaga coordinated another special moment: a quick visit by the patient's spouse. The comfort, love and familiarity given to the patient made a difference. Later that night, the patient's spirits lifted, oxygen demands decreased and the patient began turning the corner. Arteaga's small acts of kindness created long-lasting effects.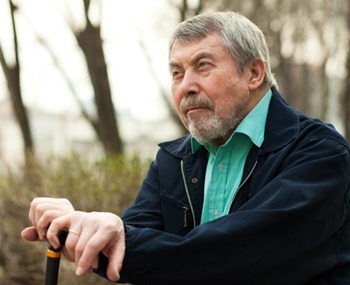 When home health providers strive to meet patients where they are, they can make a big difference in patients' health and lives.
Home Health Collaborative Care Plan Improves Patient Outcomes
Home health care providers often face complex situations as a result of social determinants. The ability to meet patients where they are is a key component to making a difference. One example of this is the story of a recent patient who had several medical conditions and a complex history. He entered the service with multiple issues, including open wounds on both of his legs. However, he lived in an RV with no running water; his environment was not optimal for health and healing.
The St. Luke's Home Health team collaborated with Dr. Ashley Whitaker and the St. Luke's Wound Clinic to determine a care plan specific to the patient's needs. The team proceeded with treatment while also taking care to maintain his dignity. The St. Luke's Home Health social work team also helped him to locate, apply for and furnish an apartment.
The patient's health stabilized, his wounds healed and he was discharged after meeting all his health goals. He is now enjoying a beautiful view of the Boise foothills with his loyal dog by his side.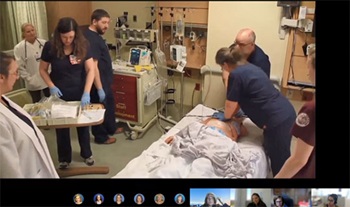 Collaboration and Quick Changes Meets the Needs of SLHS During COVID-19 Pandemic
When the COVID-19 pandemic hit Idaho in March 2020, all in-person education was suspended to protect employees from the spread of the disease. This included New Employee Clinical Orientation (NECO), essential classes such as CPR and ACLS, and Supporting Transitions and Relationships (STAR) new graduate nurse residency classes and simulations.
Clinical Learning and Student Services leaders, course coordinators and education specialists across the system quickly assessed which classes were essential for patient safety. For classes requiring skill validation (in-person), new safety measures were implemented, meeting all COVID-19 standing protocols with social distancing and cleaning. Microsoft Teams® was instrumental for instructor communication and aided in ensuring that the required classes were continued.
NECO and STAR Immediately Adapted to Safely Onboard New Clinicians
Course coordinators and education specialists across the system immediately collaborated to address NECO, which could not continue completely in-person due to safety concerns related to the coronavirus. Twenty hours of in-person content was converted to a virtual platform using evidence-based best practices. A NECO update/support group, including site leads, NECO instructors and support staff, was created to guide conversation and keep everything on track. The team had to create engaging alternative solutions for all three days of instruction. In just two weeks during March 2020, the group accomplished the following:
Collaborated and combined resources across the system to assess the need for, then develop online content from existing in-person classes.
Researched best practices for utilizing innovative online dissemination principles and incorporated adult learning principles to provide a quality onboarding experience.
All didactic content became virtual so both St. Luke's Twin Falls and Boise, the two locations that traditionally host NECO for the entire system, could attend together. Pooling resources resulted in fewer instructors needed to teach these classes.
Quickly learned and began utilizing the Microsoft® Teams platform. NECO was one of the first St. Luke's classes to hold large scale Teams meetings for instruction (up to 65 students per class).
Recognizing this was an especially challenging time for new nurses, the STAR facilitators, Christiana Sipe, MSN, RN, and Liz Clabaugh, MN, RN, NPD-BC, transitioned the program to a virtual setting while considering their specific needs. Microsoft® apps, including Teams, Teams Breakout Room, Stream and Sway, were all used to replicate in-person activities. Sipe created a virtual escape room to teach interprofessional collaboration, delegation, time management and resource utilization. A WebQuest created by Clabaugh used Forms to present information and collect answers related to topics such as value-based care and nursing sensitive indicators; she also utilized breakout groups where participants could share their answers with the larger class.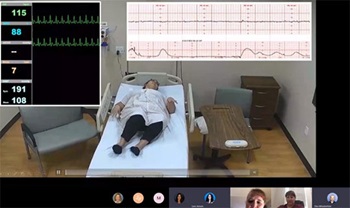 Colleen Weeks, MSN, RN; Heather Knapp, BSN, RN; Dani Boespflug, MSN, RN; and Lexi Jensen, BSN, RN, participate in a CPR simulation via Teams, viewing a recording made prior to the COVID-19 pandemic.
Clabaugh and STAR presenter Jean Richardson, BSN, RN, realized residents would miss the in-person review of a crash cart and its contents, so they used a cell phone to film Richardson reviewing a crash cart. Digital media coordinator Michael Hobson edited the video and posted it to Stream so it could be viewed during online STAR classes. Finally, the Nursing and Patient Care Center of Excellence created a video highlighting the resources they offer and providing information about next steps, so this could be shared online during class.
Although the STAR facilitators still prefer the in-person classes, especially to better support the relationship aspect of STAR, they were delighted to provide high-quality transition-to-practice support for STAR residents in an online setting.
Simulation Adapted for Virtual Sessions
The St. Luke's simulation team developed alternative modalities to meet the needs of learners within the system. Under the direction of Pam Springer, PhD, RN, ANEF, NEA-BC, and Tammye Erdmann, BSN, RN, MSEd, BScIT, CHSE, the simulation team built evidence-based virtual modalities; using technology, they achieved the educational objectives related to both the cognitive and affective domains of simulation. Cognitive domains reflect the intellectual skills related to the material while the affective domain connects to the way people react emotionally as well as their awareness to the feel of the situation. Key simulation adaptions included:
A Teams meeting modality that incorporated a PowerPoint with video clips, which can be debriefed to allow learners to reflect on built-in challenges.
A Teams meeting modality where groups of learners can interact with a standardized patient to improve communication skills with the patient and within the team while hardwiring clinical practice.
A self-paced, independent, computer-based activity where a learner can move through presented scenarios and reflect on choices made within the scenario.
Feedback from participants about the new model indicated that key objectives of critical thinking, resource identification, use of clinical protocols and communication were met with the adapted simulation format. Virtual simulations can be done safely when the need arises and will be adopted as a permanent offering.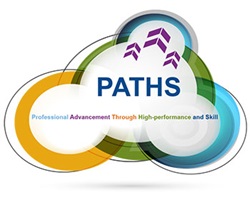 PATHS Program Demonstrates Exemplary Professional Practice and Transformational Leadership in Action
Professional Advancement Through High-performance and Skill (PATHS), St. Luke's professional development program created to empower and engage clinicians, supports clinical staff in developing leadership skills through project-based activities. Clinical staff identify professional development goals based on system strategic priorities, then leaders guide participants by supporting their visions, removing barriers, acting with purpose and making the staff their priority.
Clinical staff participating in the program are achieving both their professional goals and project goals. Participants like Sara Palma, BSN, RN, CCRP, have moved into leadership positions following involvement in the PATHS program. Leadership skill development is enhanced when participants are supported by transformational leaders, including Jody Acheson, DNP, RN. Acheson says of her experience with one former PATHS participant, "I really feel that [participant] has grown professionally as she now looks at a problem and evaluates all of the parts and gathers all of the information before jumping to conclusions. She is much more likely to come to the table with potential solutions and ideas." Leaders also gain valuable lessons from the experience of mentoring and guiding participants.
PATHS is celebrating its fourth year. The program accepts applications from clinical staff twice a year, in the spring and fall. In 2020, 15 clinical staff completed projects and were awarded a bonus of up to $3,000 based on project quality, outcomes and effort.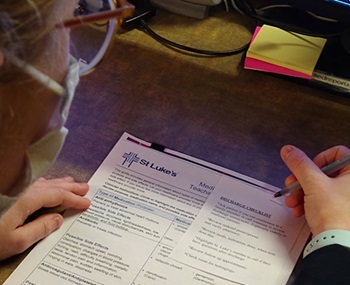 A Meridian telemetry nurse works through the new discharge checklist.
Meridian Telemetry Improves Patient Discharge during COVID-19 Pandemic
St. Luke's Meridian Telemetry experienced a noticeable increase in discharge call-backs from patients and family members, needing additional information and instructions, in the spring of 2020 due to restrictions on visitors during the COVID-19 pandemic. Telemetry technician Cindy Cardozo expressed surprise at how many of these calls she was getting and noted that the people often sounded upset. It was clear that patients and families were not getting the information they needed prior to discharge. These frequent call-backs also disrupted the staff's workflow as they worked to find answers for patients and their families.
With support from the Meridian Telemetry Care Council and with assistance from Steve Grant, BSN, RN, and Cardozo, Rhe Perdue, BSN, RN, led a project to address the volume of call-backs. They found the majority of calls were from family members asking for information on prescriptions and next steps because they were not allowed in the hospital, so they were not receiving the information they needed to support patients after discharge. After an evidence-based practice literature review, the team created and implemented a discharge checklist to address the identified concerns. The checklist, attached to all after-visit summaries, contained the following points:
Ask the patient if you can conference in a family member or call someone to review discharge instructions, especially elderly or confused patients.
Review ordered prescriptions and verify pharmacy.
Review medications, indication, dose and when next dose is due.
Highlight St. Luke's phone number to call if they have questions after discharge.
Review all follow-up appointments.
Check the room for belongings.
This project was a success: discharge call-backs were reduced by 42%. The needs of patients and their families were met, and staff were able to return to their normal workflow.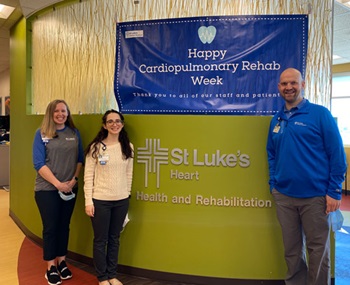 PATHS Project Leads to Improved Goal Discussions at St. Luke's Cardiopulmonary Rehabilitation in Meridian
Cardiac and pulmonary rehabilitation patients are not always aware of their specific program goals of risk-factor reduction, such as improving lifestyle and biometrics. Sara Palma, BSN, RN, CCRP, and Kameron Barnett, MSOT, OT/L, CCRP, at St. Luke's Cardiopulmonary Rehabilitation in Meridian, realized that patients' understanding could be improved by making some needed changes.
Palma started a PATHS project, with the support of leaders, to determine how to better coordinate goals discussions between staff and patients, and also among staff, to eliminate duplication. This project led to a coordination of efforts between providers, social workers and case managers: by taking advantage of unused tools in the electronic health record to set and reassess goals, the team developed a new approach for patient education regarding goal setting and recognition of barriers to progress. In the midst of the COVID-19 pandemic, this project also provided guidance for communication with patients during hybrid and telehealth operations.
Patient outcomes data showed surveys on quality of life indicators had similar increases from 2019 to 2020; a staff survey demonstrated a self-reported increased understanding of the importance of goals in cardiopulmonary rehabilitation. Through completion of this work, Palma hopes to see improvement in patient experience and engagement as well as a pathway to providing remote services to patients in rural areas who need education to improve their lifestyles and reduce morbidity/mortality.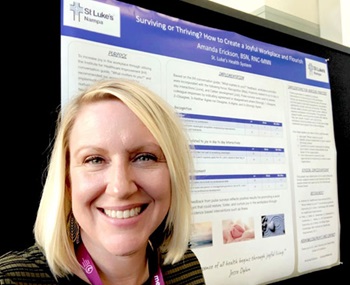 Amanda Erickson, BSN, RNC-MNN, presented a poster that highlights data on joy in the workplace.
Sparking Joy in the Workplace at St. Luke's Nampa
Amanda Erickson, BSN, RNC-MNN, wanted to boost feelings of joy in the workplace at St. Luke's Family Birth Center and Neonatal Intensive Care Unit. The Institute in Healthcare Improvements (IHI) 2019 conversation guide recommended joy-assessment tools to help implement strategies that could restore, foster and nurture joy in the workplace. Utilizing the IHI guide, Erickson's first step was to engage colleagues in conversations around "What matters to you?" and identify unique impediments to joy in work using an electronic questionnaire. Focusing on workplace joy and satisfaction, pulse surveys were conducted monthly. Erickson analyzed the data from the initial survey for quantitative and qualitative content as well as evaluated emerging themes that contributed to joy in the workplace.
The three major themes—factors that boosted joy in the workplace—that emerged were recognition, positivity related to joy in day-to-day interactions and career development:
Recognition: Activities that contributed to nurses feeling recognized include nurses' appreciation week; peer-to-peer feedback comments displayed in break room (lifesaver board); the breastfeeding advocate superstar board; and the weekly newsletter that included the recognition of staff members.
Positivity related to joy in day-to-day interactions: Activities that contributed to increased positivity in daily interactions include leadership emphasizing positivity in daily shift/joy huddles and sharing of patient feedback comments during nursing report.
Career development: Activities that contributed to the joy in the workplace through career development included leadership purposefully rounding with staff and a professional advancement opportunities presentation from the Nursing and Patient Care Center of Excellence.
Joy in the workplace is possible. When you have joy, it allows others to feel it, too. Although future exploration is needed to evaluate additional interventions aimed to improve joy in the workplace, Erickson's work provided a strong model of how to assess current practices and implement changes.