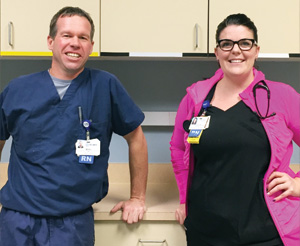 Wood River LEANs into Eliminating Waste in the ED
In a collaborative endeavor between nurses, management and physicians, Wood River's Emergency Department (ED) implemented a LEAN project to decrease the number of supplies being stocked in the ED. Led by Brittany McFarland, BSN, RN, the goals for the project were to: eliminate waste by decreasing supply costs and time spent stocking and checking outdated supplies, improve safety, increase quality in stocking consistencies and improve interdepartmental morale.
The first stage of the project was to inventory, evaluate and organize the supplies in patient rooms using 5S methodology. A "core stocking" list with par levels for all materials was created with input from MDs, RNs, CAPs and management. In stage two, the replenishment cart was inventoried and materials were cross-referenced with the core stocking list for patient rooms. The cart was reconfigured to meet the needs of the department, and par levels for the replenishment cart were created.
The next step for this ongoing project will be to utilize the same methodologies to implement similar processes in the main supply room. The Wood River ED LEAN project has been a true collaboration, resulting in a well-organized department and decreased stocking variability. Additionally, the LEAN project led to a 2.8% decrease in general supply costs in 2016, even as the department experienced a 12% increase in patient volume.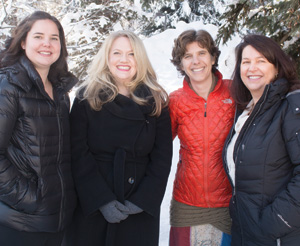 McCall's Care Coordination Team (left to right): Mallorie Getto, Community Health Worker; Lindy Carr, Patient Access Navigator; Shannon Nelson, RN, Care Coordinator; and Diana Robinson, RN, Care Coordinator.
Nursing, Patient Assistance Team Collaborate to Provide Life-Changing Care
McCall's Patient Assistance and Care Coordination program had an especially rewarding experience with a patient in 2016. "Matt" (name changed to protect privacy) was older, had no living relatives, and had health issues making basic tasks of living independently difficult for him, including remembering to take his medications and filling out applications.
Lindy Carr, Patient Access Navigator, has been working with Matt for a few years, helping him in a variety of ways. This past year, Ms. Carr was instrumental in assisting Matt, who had been homeless, with the paperwork to obtain his own apartment. With an outpouring of generosity from the McCall community, the apartment was furnished with everything Matt needed to be successful. After settling into his apartment, Dianne Robinson, RN, Care Coordinator, was scheduled to be present with Matt when a Medicaid nurse came to assess his need for homemaker services.
While waiting for the Medicaid nurse to arrive, Ms. Robinson noticed that Matt started stumbling over his words, and then had a grand mal seizure. She called emergency medical services and Matt was taken to the hospital. The seizure was caused by not taking his medication correctly, and after several days in the hospital with a regular medication routine, Matt was ready to go home. The Care Coordination Team worked with a local drug store to provide Matt with medi-sets to help him take his medication more consistently. Matt knows he has been the benefactor of this wonderful teamwork and during a recent follow-up visit he commented, "My doctor, well, he's okay and I'm sure he knows what's going on, but patient assistance, now that's where it's at. You girls are good for my constitution!"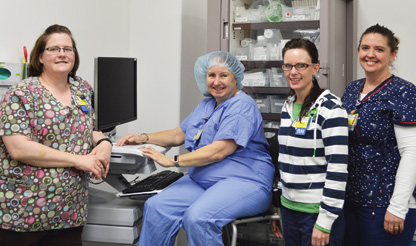 Jerome "Growing Our Own" OB Circulating Staff Through System Partnerships
Recruiting operating room (OR) staff is challenging nationally and across the system, especially at critical access hospitals. Following an increased OR diversion in November 2015, including obstetric (OB) diversion, it became apparent a new strategy was necessary for Jerome to maintain OB services. Jerome has approximately 150 births a year, 25 of which are C-sections, making availability of these services desirable by the community and physicians alike.
With the assistance of Dixie Weber, MS, RN, Administrator of Women's Services, Claire Beck, MN, RN, RNC-OB, System Clinical Educator, and Jessica Biggs, BSN, RN, RNC-EFM, St. Luke's Magic Valley Clinical Educator, Jerome began the journey of "growing our own" C-section circulating team in December 2015. Requirements, competencies and an education/training plan for the circulator role were developed. Education included perioperative classes at St. Luke's Treasure Valley locations, hands-on experiences in both the Magic Valley and Treasure Valley, and simulations/orientation in the Jerome OR—all while completing various certification courses.
Five RNs have completed the education plan, three staff are in the process, and nursing leadership has a goal to orient all OB staff in circulation. Completing orientation has taken longer than projected, but with steadfast diligence and support from the St. Luke's family, Jerome has circulator coverage to maintain C-section services, and OR services have not been on divert since March 2016.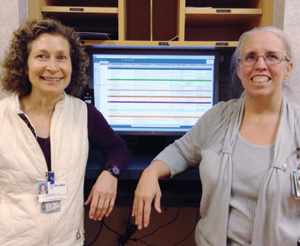 Katie Callanan, PT, MS, GCS (left), and Julie Carr, MSN, RN, with the electronic version of the SAAS.
Staying Active After Stroke Resource Guide Developed
Julie Carr, MSN, RN, and Katie Callanan, PT, MS, GCS, collaborated to develop a resource guide, "Staying Active After Stroke (SAAS)," to aide healthcare providers with referring patients to community resources. Stroke is the leading cause of disability in the United States, and many stroke survivors are at risk for deconditioning and falls after their stroke, predisposing them to additional health complications. To prevent these complications, the American Heart Association (AHA) recommends that stroke survivors get 60 minutes of cardiovascular exercise weekly in addition to general strengthening, flexibility and balance exercises.

Ms. Carr and Ms. Callanan surveyed therapists at St. Luke's Rehabilitation Hospital and found that although many therapists were aware of the importance of encouraging physical activity for stroke survivors, they were not aware of the specific AHA recommendations. They were also unsure of the evidence-based community exercise classes offered locally. The SAAS, available in 2017, will help therapists and other healthcare professionals to easily select, customize and direct their patients to the most appropriate, evidence-based community exercise programs after they are discharged from inpatient or outpatient therapy. The SAAS was created from information gathered for an evidence-based practice project during the 2016 St. Luke's Nursing Research and Evidence-Based Practice Fellowship under the mentorship of Julie Swanson, MN, RNC-NIC.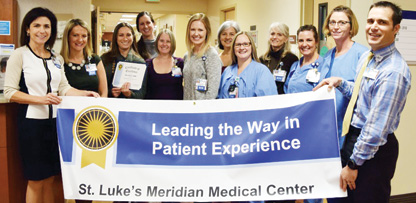 Meridian Patient Experience Team Boosts Scores and Morale
Patient experience was front and center across the system this past year. Meridian gained momentum with this work by the strengthening of the Meridian Patient Experience Team. The team, led by Meridian CNO Rene Pallotti, MSN, MBA, RN, NEA-BC, and Patient Experience Manager Meredith McGowan, BSN, RN, consists of nursing directors, HCAHPS Physician Lead Dr. Margaret Nunley, interdisciplinary department managers and patient experience and performance improvement coordinators.
Focusing on improving patient satisfaction (HCAHPS) scores, the team had several accomplishments in 2016, including the launch of the Meridian Patient Experience Award and their contribution to myStLuke's patient experience preparedness. Determined to ensure patient and family experiences were not negatively impacted during Go Live, the team provided recommendations on how staff could effectively communicate with patients during this time of transition to the myStLuke's Communication Team, who in turn incorporated the recommendations into the system-wide Patient and Family Communication Toolkit. The Meridian Patient Experience Award was implemented to celebrate departments that are ensuring exceptional experiences. This award has been a hit and has improved staff morale tremendously as they feel their hard work and dedication are recognized. The culmination of staff dedication to patient experiences and the drive of the Meridian Patient Experience Team have resulted in Meridian surpassing all FY2016 HCAHPS targets.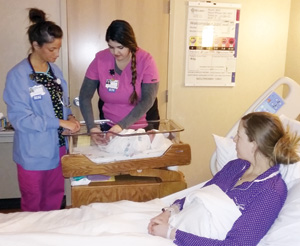 Nurses Kandace Turner, BSN, RN, RNC-MNN (left), and Kayla McInerney, BSN, RN, perform identification double-check on a newborn patient while engaging mom.
Boise Mother/Baby Care Unit Focuses on Safety
To benefit the community, Boise's Mother/Baby Unit (8E) implemented a new plan of care focused on building family units, which is best accomplished by initiating family bonding immediately after birth. Boise's 8E adopted a family-centered model of care to achieve this goal. They strive to keep parents and infants with each other throughout their visit, which means babies spend their hospitalization primarily in the rooms with their mothers. The goal is for physicians and nurses to provide all infant care at the mother's bedside. This establishes a trust relationship between the patient and the care team, and allows for a deeper level of education for families.
In 2016, 8E also focused on infant security. They became a locked unit to protect their precious population, and initiated new protocols to provide the opportunity to double-check infant identification with two staff members upon any transfer or separation, as well as at discharge. Boise's 8E has been working on a multidisciplinary project to establish a security system throughout units that house children. In January 2017, the Boise campus will initiate the project and provide extra security for Mother/Baby, Labor and Delivery, NICU, PICU and Pediatrics. The safety of babies at SLHS is our top priority.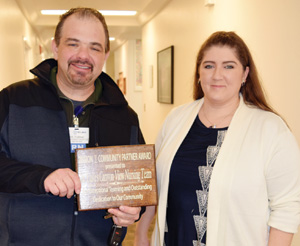 Canyon View Nursing Staff Recognized for Excellent Collaboration
In December 2016, the nursing staff at St. Luke's Canyon View Behavioral Health Services in Twin Falls received the Community Partner Award from the Idaho Department of Health and Welfare, Behavioral Clinic – Region V. The Canyon View team, led by Bill Fulmer MSN, RN, Director of Nursing and Patient Care, was selected for the award based on outstanding communication and collaboration during complicated multidisciplinary patient interventions.
The Canyon View nursing staff supports Region V Behavioral Health in many areas. They coordinate involuntary hold processes and state hospital placements, and collaborate to find placement for other difficult-to-place patients in Region V. The coordination they provide takes expert collaboration and commitment. In addition, Canyon View nurses assist Region V with postdischarge care planning. This comprehensive approach includes outpatient appointments, formulation of safety plans and acquisition of medication and equipment. The Canyon View nursing staff excels at supporting the community.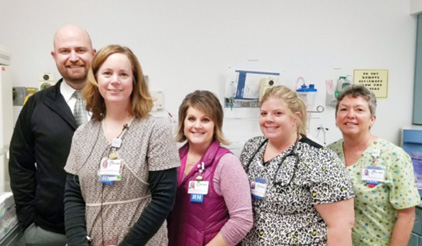 Participants in the on-site training include Administrative Supervisors Ryan Sigler, BSN, RN, and Tiffany Mederios, ASN, RN, and nurses Lara Mott, ADN, RN, Michelle Hall, BSN, RN, and Nina Hafner, ASN, RN (left to right). 
Elmore's Expanding OB Program
St. Luke's Elmore has been working diligently to align their obstetric (OB) policies, procedures and nursing practices with the Treasure Valley's program to ensure mothers and infants in their region receive the same high-quality care throughout St. Luke's Health System. Nursing leadership conducted a workforce assessment which identified a need for additional registered nurses as well as more on-site training and leadership for current staff members' professional development. The assessment allowed for the recruitment of seven highly qualified RNs to join the team since July 2016. Current RNs participated in an on-site clinical skills day and continue to hone their competencies with monthly OB skills days. Another major accomplishment in Elmore was upgrading their fetal monitoring system to be consistent with other SLHS sites.

In preparation to expand the OB service line over the next two years, administration, physicians and nursing staff have worked closely with the System Perinatal Affinity Group to identify the strengths of the OB program and continued opportunities for improvement. Elmore is currently recruiting for experienced labor nurses for a dedicated Mother/Baby Unit set to open in Spring 2018. The unit will have two triage bays, two labor rooms, two postpartum rooms and a nursery.
|
Home Care: What a Difference Six Weeks Can Make
Nathan was an energetic, enthusiastic 17 year old with a passion for baseball when a life-threatening car accident changed his life. After almost a month at the University of Utah Medical Center, Nathan was finally able to return home. Within 24 hours, his St. Luke's Home Care team arrived and the hard work to recovery began. Nathan had multiple internal injuries, extensive wounds that had become infected, and major orthopedic complications from fractures, dislocations and nerve injury. He was in a hospital bed initially and unable to perform basic maneuvers, which made meeting goals of getting out of bed, walking and getting into a vehicle seem
impossible.

Home Care nurses Betsy Brunelle, BSN, RN, and Robert Acker, BSN, RN, worked diligently to get Nathan's abrasions healed and his abdominal wounds closed. Through creative treatment from physical therapists Jill Steinmetz and Scott Vermeer, other goals were gradually being reached. The ultimate achievement was when Nathan was able to get into a car and travel to Utah for a physician appointment. Mom Jo Ann, a nurse at St. Luke's, was in tears when Nathan was successfully discharged from Home Care. She raved about the life-changing care from St. Luke's Home Care—from nursing to therapy—and how amazing everyone had been. She couldn't believe how far her son had progressed in just six weeks.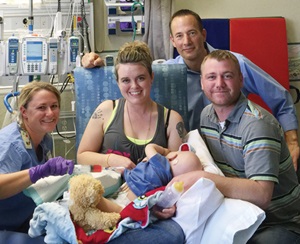 Boise's BMT Program Expands to Pediatric Autologous Stem Cell Transplant
St. Luke's Blood and Marrow Transplant (BMT) Program has performed more than 400 autologous stem cell transplants for adults since it started in 1993. In 2014, it was decided to begin offering pediatric stem cell transplants at St. Luke's Boise. Under the lead of Dr. William Kreisle, BMT Program Medical Director, Dr. Nathan Meeker, Pediatric Oncologist, and Jody Acheson, BSN, MPH, RN, OCN®, BMTCN®, BMT Program Manager, a planning committee of more than 20 nurses and staff met for over a year to write policies and procedures, and to develop training for staff. Six nurses, Kelly Graff, BSN, RN, Monica Bachman, BSN, RN, CPON®, Kate Olson, BSN, RN, CPN®, CPHON®, Michelle Hancock, BSN, RN, CPN, CPHON, Leslie Singelyn, BSN, RN, and Kelly Hofstra, BSN, RN, OCN, went to Children's Hospital Colorado in Denver to observe their pediatric apheresis and stem cell transplant unit. These nurses returned as leads and experts for the Boise pediatric transplant program.
On May 23, 2016, the first pediatric autologous transplant was performed on a 10-month-old patient. The patient spent over six weeks in the hospital, being cared for by exceptional BMT-trained nurses. Currently, St. Luke's Boise is the only hospital in Idaho providing pediatric autologous stem cell transplant. The patient's family was extremely grateful for the care they received, and the ability to receive this service locally as opposed to having to spend three to six months in Salt Lake City or Seattle. The BMT Program will expand again in 2018 to offer adult allogeneic stem cell transplant, with a large team already meeting to plan for this new service line.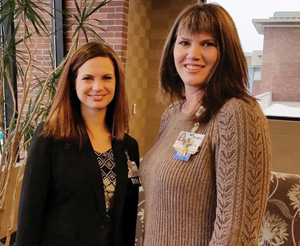 Nampa CNO Misty Thomas, MSN, RN (left), with new nursing hire Chanette Fretwell, MSN, RN, Women's Services Director, in the Nampa facility.
Building a Highly Qualified Team for New Nampa Hospital
St. Luke's Health System has made a commitment to bring care closer to home with the addition of a new hospital in Nampa. While the beautiful new building and state-of-the-art technology are critically important to providing care in Canyon County, SLHS recognizes that a healthcare organization is only as good as the people working within it.

Leading the work of developing a nursing operations team is Chief Nursing Officer Misty Thomas, MSN, RN. Ms. Thomas' excitement to build a world-class team for the Nampa facility is what attracted her to move from Texas to become part of SLHS. The 87-bed hospital will open with support from 330 full-time equivalents (FTEs). With a goal to provide the greatest level of patient experience, highly talented and motivated individuals who have compassion, a commitment to excellence and a desire to serve the local community will be selected to fill the FTEs. Ms. Thomas will collaborate with leaders/sites to ensure internal employee transfers will not compromise any SLHS facility. As construction of the building and the formation of the team advances, Ms. Thomas and the leaders at St. Luke's Nampa look forward to improving the health of the community and having a positive impact on those they are fortunate enough to serve.
Nursing Sensitive HCAHPS and Indicators
We're proud of the HCAHPS scores we receive from patients, as well as the indicators that demonstrate our commitment to high quality care. And, we're dedicated to continual improvement.
HCAHPs Data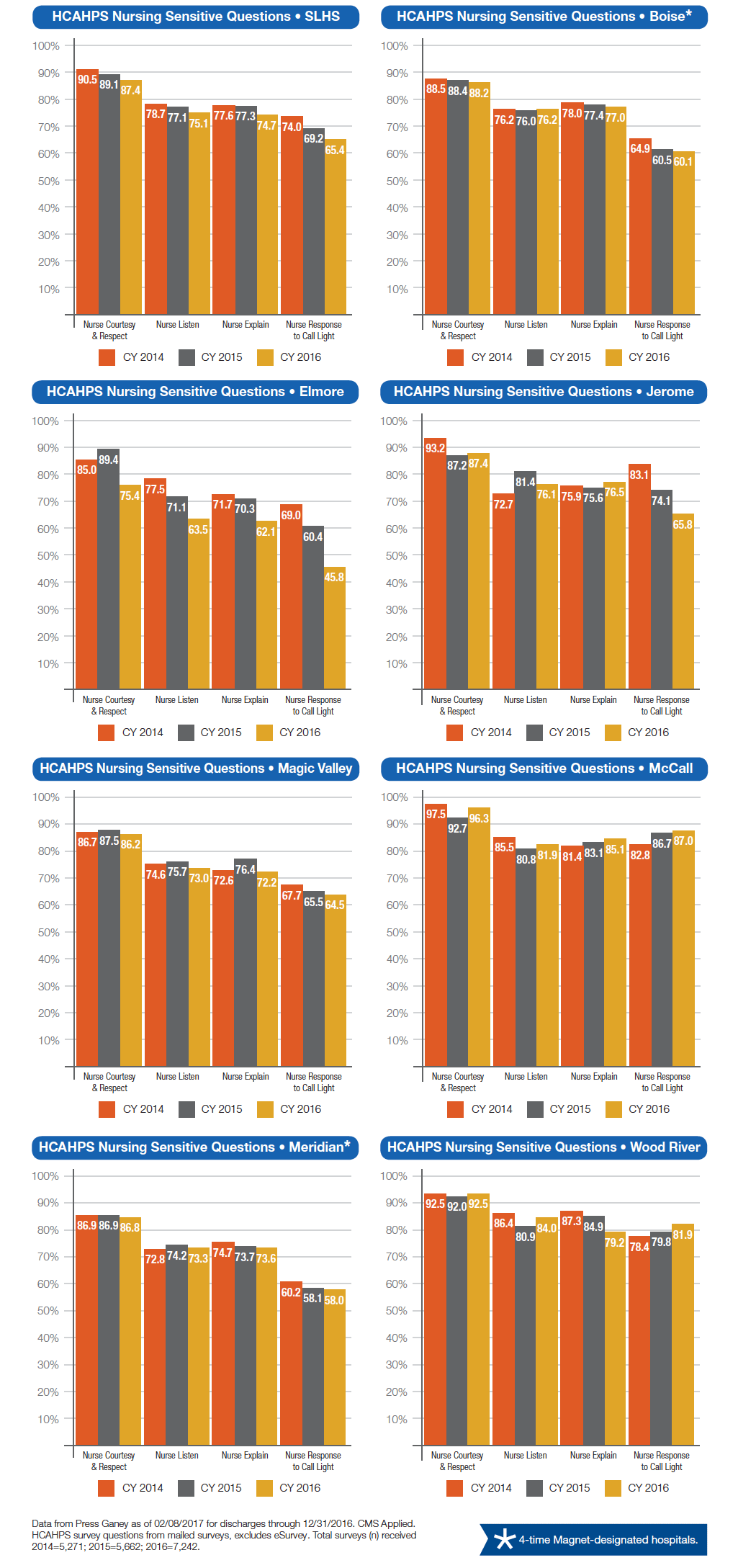 Nursing Sensitive Indicators for CY16 January-September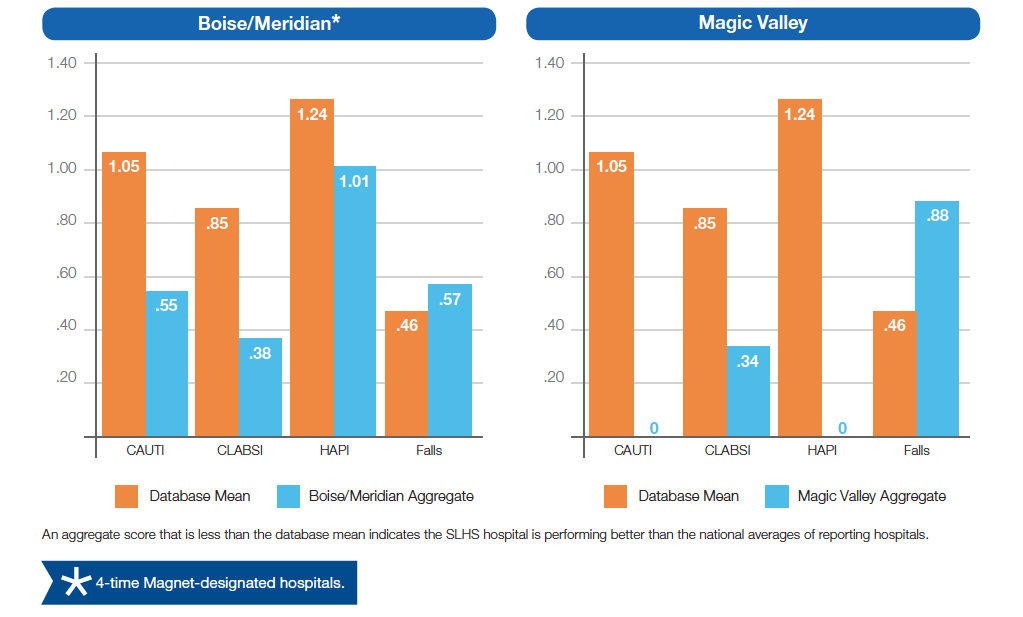 Certification