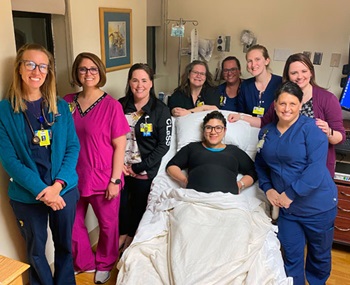 St. Luke's Critical Access Hospitals Teach Nurses Expanded Skills to Care for Obstetrical Patients
It is crucial in St. Luke's critical access hospitals that teams are prepared to provide specialized care for obstetrical (OB) patients, especially during low volume/high risk OB emergencies. St. Luke's Jerome and St. Luke's McCall implemented focused training for nurses and staff to grow their skills to provide the best care possible for OB patients in their own community. The training was made possible through collaboration with St. Luke's tertiary hospitals and system support.
St. Luke's Jerome Collaborates with St. Luke's Magic Valley
In Fall 2018, the decision was made to begin supporting St. Luke's Jerome with educators from St. Luke's Magic Valley who focused on specialty areas. The first area to begin the journey was labor and delivery (L&D) and postpartum with support from Jessica Biggs, MSN, RN, C-EFM, Clinical Educator.
The staff's passion, commitment and flexibility during this process facilitated changes that will impact patients well into the future. Jerome's leadership made the commitment to provide two L&D trained staff each shift. Initially this seemed a lofty goal, but with continued perseverance and creativity, it's being achieved, in large part because of the collaboration between leadership from Jerome and Magic Valley to provide comprehensive training and competency validation in L&D and postpartum care.
During 2019, 30% of the Jerome staff received focused training in L&D and postpartum/newborn care. As a result of the training and the addition of L&D nurses to each shift, staff are experiencing an increase in confidence and support and are proud to be able to care for patients in their own community.
St. Luke's McCall Focused Teaching on High-Risk Obstetrical Emergencies
Due to the remoteness and distance to tertiary care, McCall physicians are diligent in referring known highrisk OB patients to Maternal Fetal Medicine. Despite this commitment, there are unforeseen or unpreventable circumstances in which the McCall team is tasked with recognizing emergencies and delivering the necessary interventions in a timely manner to ensure quality patient outcomes. There have been great strides in OB emergency readiness over the past few years, and much of this is attributed to the collaboration that occurred within the original system Women's Service Line and, most recently, the population health model.
Multiple initiatives and population health collaborations helped the team in McCall prepare for low volume/high risk OB emergencies including education modules, simulations and training opportunities for employees in sister hospitals. Additionally, St. Luke's McCall has benefited from the added support and collaboration of the Virtual Perinatal Mentoring Program. Both onboarding and experienced McCall nurses and respiratory therapists have recently participated in rotations in both the NICU and L&D unit in Boise. This has provided exposure to high-risk situations and the ability to sharpen infrequently used assessment and clinical skills, ensuring the McCall team is ready when their patients need them most.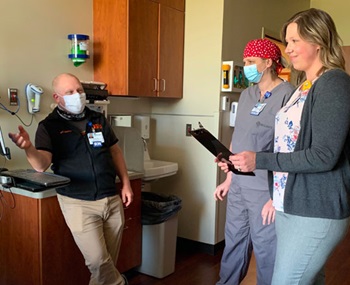 Jen Smith, BSN, RN, participates in interdisciplinary patient rounds on the Nampa Telemetry unit.
Nurses Gain Leadership Skills and Engage in Meaningful Work Through PATHS
Professional Advancement Through High-performance and Skill (PATHS), St. Luke's professional development program, continues to promote empowerment and engagement in nurses. Participants are achieving both their professional and project goals. Several participants have returned to school to advance their degree, some have obtained certification in their practice area and others have received promotions into leadership positions. In 2019, we celebrated the success of moving a project to system implementation, bringing the positive outcomes to even more patients. Over the course of the year, 10 participants were awarded a bonus of up to $5,000 for the effort, quality and outcomes of their completed project.
Three nurses currently participating in the program include Molly Gill, BSN, RN; Megan Planck, BSN, RN, OCN; and Jen Smith, BSN, RN.
No One Dies Alone is being led by Molly Gill, BSN, RN, from the Emergency Department at St. Luke's Wood River. Gill recognized a need to support patients, families and staff during the end of life. With the endorsement and support of her leader, she undertook a search for evidence to identify a way to make this transition a better experience for all involved and discovered the No One Dies Alone program. In Gill's words, "One of an end-of-life patient's and their family's biggest fears is the patient dying alone. The No One Dies Alone program and variations of this program give patients, families and nurses the peace of mind that someone will be with the patient when they take their last breath." Gill has secured funds from St. Luke's Wood River Foundation and support from the hospital's volunteer department to implement the program at St. Luke's Wood River. She is currently leading this effort, which involves organizing the volunteers and providing them with the structured training designed by the No One Dies Alone program. Gill plans to report out on her project outcome measures in April 2020.
Caregiver Involvement in the Adult Blood and Marrow Transplant (BMT) Discharge Process is being led by Megan Planck, BSN, RN, OCN, from the BMT and Hematologic Malignancies Program at St. Luke's Cancer Institute in Boise. The goal for this project is to better prepare the caregivers who are managing the complex needs of BMT patients upon discharge from the hospital. Planck recognized a need to better prepare caregivers in fulfilling their role because she was witnessing the challenges they were facing in caring for the patient and managing their complex medication needs at home. She collaborated with a team of clinical leaders, social workers and staff to address this concern.
Upon completing a thorough search for evidence on the best ways in which to prepare caregivers, she identified the need for formal instruction. Planck worked with her colleagues to implement a class for caregivers of BMT patients. She shares this about her experience in PATHS: "When I first started my project, I was surprised by how much was required before being able to implement. Following the steps set out in PATHS and doing things in order has really shown to be positive for my project. It allowed me to change my initial idea and instead implement change in a way that is supported by evidence and will be more beneficial for our patients."
Patient-Centered Interdisciplinary Team Rounding is being led by Jen Smith, BSN, RN, from the Telemetry Unit at St. Luke's Nampa. When the medical team rounds together, patients on the Telemetry unit experience improved outcomes and nurses experience improved satisfaction. Smith discovered this when she completed a PATHS project in her home unit and was inspired to expand her project to multiple units at the Nampa hospital. She is leading this project by engaging a large group of stakeholders including physicians, nurses, case managers and others in collaborating to round on all patients using a specific process. Smith conducted a thorough search of evidence to identify the key components of a successful bedside rounding process. She then worked to draw together the best recommendations to design a process that is a good fit for Nampa. When asked why she wanted to expand her PATHS project to additional units, Smith stated, "Patient-centered rounding allows for the patient and their family to have input into the care plan. When the entire team rounds with the patient, it prevents miscommunication and allows for the team to come up with a plan that the patient agrees on, which in turn decreases health care costs." Smith is currently implementing this project and looks forward to measuring improvements over the next several months.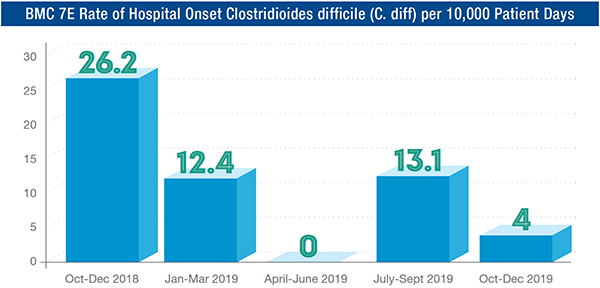 Boise 7 East Collaboration Improves Patient Outcomes Through Prevention of C. diff
At the end of 2018, St. Luke's Boise 7 East had an increase in the rate of hospital onset (HO) Clostridioides difficile (C. diff). Boise 7 East C. diff champion April Adamson, BSN, RN, supported by manager Liz Jorgensen, MSN, RN, completed a deep-dive investigation to determine a possible root cause for each HO C. diff case. Through collaboration with the unit-based Care Council and infection preventionist Jessi Bond, MPH, CIC, MLS(ASCP), CPH, several opportunities for improvement were identified including unit cleanliness, use of personal protective equipment (PPE) and testing patients within the appropriate timeframe.
Working with Environmental Services, a section of rooms that was identified as a potential source for cross contamination underwent an intense cleaning. In unit staff meetings, information on C. diff transmission and prevention was reviewed for all clinicians. Staff were given the opportunity to practice donning and doffing PPE during meetings and one-on-one coaching sessions. Additionally, the unit focused on education to clinical nurses on C. diff testing criteria. A "C. diff Testing Station" was developed for staff to procure supplies, review stool sample expectations and review inclusions/exclusions for testing. Adamson also recommended an enhancement to ensure a screening question on patient status regarding diarrheal stools was built into the electronic health record admission navigator. These interventions resulted in more knowledgeable clinicians and appropriate testing, which allowed for the timely differentiation of community acquired and HO C. diff. This collaborative effort on Boise 7 East improved safety for staff and patients by decreasing HO C. diff cases by 80%.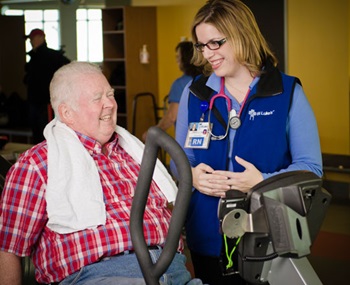 Amber Schwehr, RN reviews fall prevention strategies with a patient to ensure safe rehabilitation.
St. Luke's Clinic – Lifestyle Medicine Meridian Interdisciplinary Team Serve as Sentry by Improving Fall Prevention Practices
Jana Feldman, BSN, RN, BC-NPD, CCRP, St. Luke's Clinic – Lifestyle Medicine Clinical Educator, had the opportunity to collaborate with leadership to identify staff education and competencies for 2019. A review of the reports submitted through MIDAS (software St. Luke's uses to report and track management of safety and patient relations events) showed the clinic had an increase in falls compared to the previous year. Based on the data, it was decided to focus on fall prevention as a competency and determine education needs. Feldman pulled together a team of experts to assess current practice, determine evidenced-base practice and agree on strategies to deploy. The team consisted of Feldman; Kameron Barnett, Occupational Therapist and content expert; Jennifer Wilson, Physical Therapist; Preston Martin, Physical Therapist; and Josh Baker, Manager.
At the time of assessment, practices consisted of a basic assessment on intake, including fall history, timed get-up-and-go, gait evaluation and exercise testing. After reviewing the current recommendations and practice, the team decided to incorporate the Centers for Disease Control and Prevention (CDC) recommendations called STEADI tools for older adult fall prevention. The STEADI questionnaire and patient education from the CDC was implemented to include a more detailed assessment of fall risk on intake, as well as patient education and involvement when developing an individualized fall prevention plan. The team also determined a detailed reassessment was warranted and developed a process to incorporate fall risk assessments every 30 days.
The team deployed education to all Lifestyle Medicine clinics, followed by staff competency evaluation, and documentation review every six months. As a result of the collaborative interdisciplinary team approach, there was a 27% fall reduction at the Meridian clinic.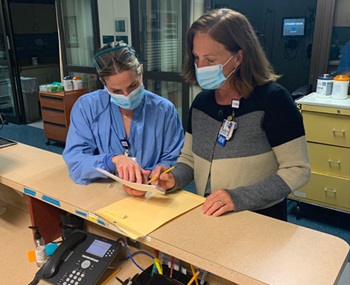 Wood River Emergency Department "Speak Up" Campaign to Improve Medication Safety
St. Luke's Wood River Emergency Department (ED) recognized an opportunity to improve medication safety. Sheridan Jones, BSN, RN, OCN, applied for and was selected to participate in a Professional Advancement Through High-performance and Skill (PATHS) project to address medication safety, a multifaceted process that involves many players, including nursing staff, patients, physicians and others.
The ED can be a busy place, with nurses caring for multiple patients and administering several medications throughout a shift. Given the busy nature of the ED, interruptions are common and can impact the safety of patients, especially during the medication preparation and administration process. During the exploratory phase of this project, which included an extensive literature search, Jones found a significant number of interruptions, an inconsistent nursing medication administration process, and a lack of patient participation during medication procedures, all of which warranted further investigation and the need for a process improvement to ensure safe, quality, patient-centered care.
The interventions the Wood River ED has implemented to improve this process and create a safer culture are three-fold. First, education was provided to all staff members, including nurses, physicians and ancillary staff, on the medication preparation and administration process. The need to mitigate interruptions that can contribute to medication errors, including near misses and good catches, was discussed. Second, a tool for nurses to use during the medication preparation and administration process, the "hold please" tool, was implemented to allow the nurse to be mindful and present during this process. Third, the "Speak Up" campaign tool was introduced as an additional layer to actively engage ED staff members, patients and family members to participate in their care. The Speak Up campaign openly invites patients and family members to ask questions and speak up during their visits in the ED.
Through education and implementing these interventions, Jones and the Wood River ED team hope to prevent medication errors, empower nurses during the medication preparation and administration processes, expand staff's mindfulness at the bedside, increase staff awareness on the impacts of interrupting this process, create a blame-free culture, and engage patients and family members to be active participants in their care.