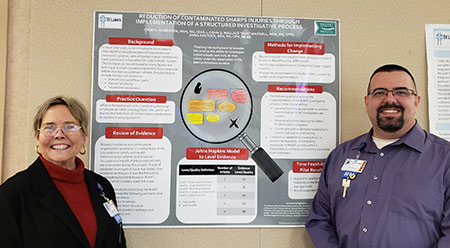 Magic Valley Fellows Collaborate to Identify Best Practices for Conducting Employee Accident Investigations
Cheryl Henriksen, MSN, RN, CEAS-1, COHN-S, Clinical Employee Safety Specialist, and Wallace "Max" Maxwell, MSN, RN, CPPS, Patient Safety Specialist, had concerns about employee injuries. "Every employee has the right to work and to return home from work unharmed," Henriksen says. This Magic Valley-based duo decided to apply to the Nursing Research and Evidence-Based Practice (EBP) Fellowship program to make a difference. "The focus of our project was to determine if the use of a well-structured and validated investigative model would produce meaningful interventions that would in turn reduce the number of contaminated sharps injuries being experienced by our employees" Maxwell says. "A reduction of these types of injuries would conceivably result in fewer distractions and time away from the bedside, which in turn should improve patient satisfaction and outcomes."
Following a thorough review of the evidence, the team, mentored by Anna Rostock, BSN, RN, CPN, NE-BC, determined the Recording Investigating Accident Analysis (RIAAT) process represented best practice and addressed important elements including accident timelines, investigative team structure and question verbiage. This evidence-based, validated tool was presented to system-wide safety leadership and an implementation recommendation was prepared. Henriksen reports, "consistent use of this investigative method across our system will provide standardization and help determine the root cause, with the intention of decreasing our employee injury rate."
Their recommendations included developing a tiered response model to address events to be investigated and educational resources for safety professionals. The team also reviewed time elements associated with the RIAAT method to better understand feasibility of use.
"Ultimately, I feel the importance of this project was to ensure the safety and well-being of both patient and employee populations through the use of a comprehensive and standardized investigative tool that will help guide them toward meaningful interventions," Maxwell says. The team plans to formally implement the RIAAT model processes in 2019.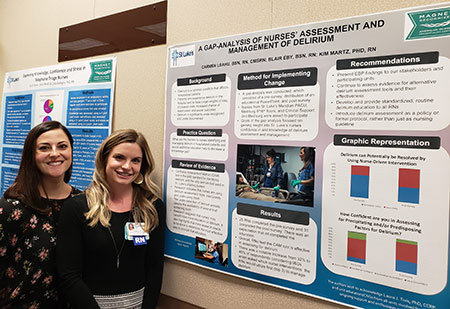 Carmen Leahu, BSN, RN, CMSRN (left), and Blair Eby, BSN, RN, present preliminary findings during the 2018-2019 Nursing Research and EBP Fellowship Celebration on February 12, 2019.
Meridian Nurses Guide Practice by Reviewing Best Practice in Delirium Care
Carmen Leahu, BSN, RN, CMSRN, and Blair Eby, BSN, RN, had a story to tell. An incidence of undetected acute delirium in a young post-operative patient came to their attention. The patient was seen by a specialist from the emergency department and had multiple tests, but a bladder scan later revealed a problem: a large quantity of retained urine seemed to be causing the symptoms. Leahu, who works on Meridian Medical/Surgical 6, and Eby, who works in the Meridian Post Anesthesia Care Unit, felt this was a project to tackle—why delirium is missed despite the use of assessment tools. Leahu and Eby joined the Nursing Research and Evidence-Based Practice (EBP) Fellowship program to explore the topic.
"I took this project on with the intent to improve patient outcomes, which is in line with St. Luke's mission of improving the health of people in the communities we serve" Leahu says. The team, mentored by Kim Martz, PhD, RN, proposed the practice question, "What are the barriers to nurses identifying and managing delirium in hospitalized patients, and would education help to decrease the knowledge gap?" Leahu and Eby used the Johns Hopkins Model for evidence-based practice and appraised the evidence. They learned the Confusion Assessment Method (CAM), the delirium assessment tool used at St. Luke's, is the gold standard. Their evidence appraisal also revealed nurses sometimes use delirium assessment tools inaccurately. The team conducted a gap-analysis to understand the delirium needs of St. Luke's nurses. Following education, they found increased understanding of delirium resolution via nurse-driven interventions, and increased confidence associated with assessing for precipitating and/or predisposing factors, but the rest of the story is pending. Eby was selected as a Senior Fellow and will be participating in the Nursing Research and EBP program for a second year to continue this work.
"This project is important to me because I witnessed a gap in knowledge among health care staff and felt urged to do something about it," she says.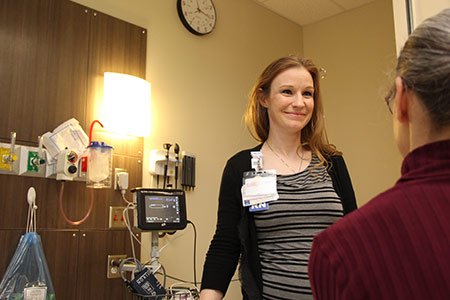 St. Luke's Elmore Provides a Healing Environment in a New Emergency Department
St. Luke's Elmore opened a new emergency department (ED) on January 16, 2018. The hospital serves as the only ED for Elmore County's community of 29,00 residents spread out over 3,000 square miles, including providing services to the 3,000 service members and their families stationed at Mountain Home Air Force Base. The modernized ED is nearly five times the original size after the upgrade, with the number of beds expanding from four to 10. This increased capacity allows the hospital to efficiently care for a growing population. The new ED space includes two new trauma bays, a security room to protect patients and staff, new infrastructure to support electronic health records, and a separate, dedicated waiting room.
Prior to opening the new ED, educators Anna Hissong, MSN, RN-BC, and Deborah Morgan, MSN, RN-BC, led staff in a "Day in the Life" simulation training. The training was instrumental in preparing nurses and staff to work in the new facility and was a great teambuilding exercise. Once the ED opened, staff experienced a new positive energy from the healing environment. "It was an exciting time of growth and freedom," says Director of Patient Care Tiffany Mederios, BSN, RN. "Staff weren't bumping into each other as much. Patient satisfaction increased, employee satisfaction increased. It is amazing what a difference the environment can make." St. Luke's Elmore's new ED had a successful first year helping improve the health of the people in the communities it serves, and the team looks forward to continuing to live St. Luke's mission.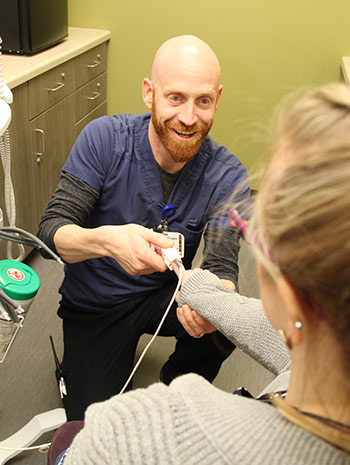 Kyle Ellefson, BSN, RN, performs an intake assessment on new Day Treatment patient.
Day Treatment Center in Boise Provides Innovative Solution to Idaho Mental Health Needs
St. Luke's Children's Center for Neurobehavioral Medicine in Boise launched their Day Treatment Center in June 2018. Serving adolescents who are seeking a high level of mental health care while remaining at home, the program is the only one of its kind in Idaho. As of February 2019, more than 60 patients have been seen in the program, and almost 200 referrals have been received.
A key component to the program is strong nursing support. The center has a full-time nurse, Kyle Ellefson, BSN, RN, who is assigned to the program, with additional support from the outpatient nursing team when needed. Ellefson works directly with the clinic's psychiatrists, therapists, educator, care coordinator and psych techs. He is the first point of contact for families and serves as the physician liaison to the family. He establishes rapport early on with the patient so they are comfortable informing him if they're having any difficulties. Other responsibilities covered by Ellefson include ensuring e-authorizations are in order, supporting in group when needed, and triaging in crisis situations. He supports the overall milieu of the program, from regular clinical nurse work flow to preparation and compliance with The Joint Commission. The RN position was initially allocated as a 0.50 FTE, but with the high level of need in the patient population, it became abundantly clear the program needed additional support. Clinic RN Gayle Matsumuro, BSN, RN, wrote a proposal for additional nursing support and submitted the necessary documentation to justify the position. Matsumuro's advocacy resulted in an additional full-time RN joining the team.
Because this program was new and one of a kind, the learning curve was steep for all involved. With tremendous enthusiasm and willingness to help, the entire clinical team created the new process and continues with optimization to ensure the Day Treatment Center operates as efficiently and effectively as possible.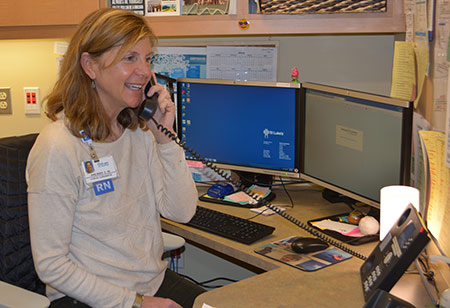 Wood River Emergency Department and Family Medicine Collaborate to Improve Patient Care
St. Luke's Clinic – Family Medicine in Hailey identified the need to improve the process for patient follow-up with primary care providers (PCP) following a St. Luke's Wood River Emergency Department (ED) visit. Access to acute care is limited at the clinic, and urgent appointments are sometimes delayed due to the number of routine follow-up appointments. ED patients who followed instructions to schedule immediate follow-up with the clinic experienced frustration when they attempted to schedule appointments with their PCP and could not be seen in the prescribed amount of time. It was apparent that not all patients needed follow-up for their ED visit within the standardized timeframe documented in the ED discharge instructions.
Working together, nurses from the Family Medicine Clinic, ED and key physician stakeholders developed a new process that would allow for best practice in follow-up care while distinguishing between the need for acute versus non-acute follow-up with PCPs. A subset of patient was identified including UTI/Strep/Otitis Media that could be managed with the new process. The new process included RN callbacks to acute ED patients to schedule appointments based on recommended InBasket message from ED physicians. The acute ED follow-up patients are now contacted by clinic staff, ensuring immediate follow-up. Clinic access improved because the new process eliminated unnecessary follow-up appointments that were handled by the clinic triage RNs.
Ann Marie Gardner, ASN, BS, RN, Nurse Lead at the clinic; Sheridan Jones, RN, ED nurse; Angela Brady, BSN, RN, CEN, NEA-BC, ED Director; and Drs. Deborah Robertson and Cortney Vandenburgh worked collaboratively to develop and disseminate a robust communication plan regarding the new process. They socialized the plan with the ED physician group, Family Medicine Clinic group, and the ED practice council. The project was piloted and then adopted in June 2018. Clinic access improved with the elimination of follow-up appointments that were handled by the clinic triage RNs.