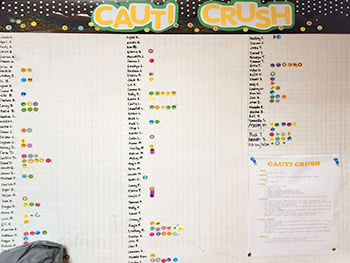 A "CAUTI Crush" game was created to incentivize the use of alternative devices.
Boise Adult ICUs Decrease CAUTI Through Targeted Interventions
Boise adult critical care units were experiencing higher than expected catheter-associated urinary tract infection (CAUTI) rates at the end of 2020. Infection Prevention and the Boise adult ICU nursing leadership teamed up to address rising CAUTI rates in January 2021. While exploring opportunities for improvement, the team discovered that indwelling catheter alternatives were being underutilized when compared to other ICUs' practices. In addition, the critical care units were frequently receiving patients that had had indwelling catheters placed in the Emergency Department.
The team implemented multiple methods to address CAUTI rates. The adult ICU nursing leadership used creative games, like "CAUTI Crush," to incentivize the use of alternative devices, driving down utilization and promoting early removal of indwelling catheters. In addition, Emergency Department nursing leadership helped promote an indwelling catheter deferral initiative that led to a 50% reduction in utilization over the same time frame.
It was hypothesized that inpatient nurses were much more likely to consider an alternative device if the patient did not have an indwelling catheter placed prior to arrival, rather than seek to remove a freshly placed device. As a result, ICU nurses were empowered to place the device they deemed most appropriate based upon their admission assessment. ICU nursing leadership also worked with various physician groups to make changes to admission order sets, to improve the scope of nurse-driven indwelling catheter removal protocols.
As a result of these efforts, the Boise adult ICUs experienced a 73% decrease in CAUTIs, a 15.6% reduction in indwelling catheter usage and a 48.6% reduction in average days of indwelling catheter dwell times.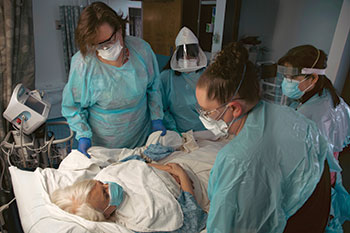 Strong Teamwork Leads to Positive Outcomes During COVID-19 Outbreak
In August 2021, St. Luke's Elmore's long-term care unit experienced a COVID-19 outbreak. Within 48 hours, nine of 13 residents and over 50% of employees tested positive. A command was stood up and, per Centers for Medicare & Medicaid Services guidelines, emergent actions for containment were set in place. Immediate separation of positive and negative residents and care teams were established, and communication for receiving additional system resources was launched. Four negative residents were relocated to the inpatient medical/ surgical unit and the long-term care unit was converted to a COVID-19 positive unit.
Information Health Technology quickly set up a temporary surge bed location so that residents' care plans, orders and information were available to the medical/surgical nurses, who provided outstanding care while pivoting to the more home-like environment the residents expected, incorporating personal items and equipment. The residents were housed on medical/surgical for two weeks and were thrilled with the care they received.
At the same time, related to increased surge in other areas of the system, St. Luke's Elmore was able to accept and care for additional patients. Managing a situation of this magnitude and risk took outstanding teamwork from all departments. This was a true demonstration of exemplary practice and transformational leadership, with leaders working at the bedside along with clinical nurses, and all departments focused on one goal: providing safe and exceptional care.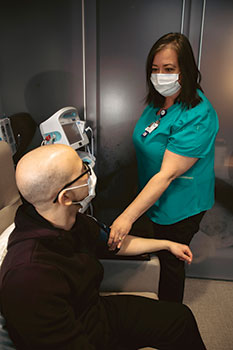 Marie Zacharda, BSN, RN, CRNI, manager, infuses patient.
Collaboration Helps Infusion Centers Exceed Patient Expectations
In 2021, St. Luke's infusion centers in Boise, Meridian and Nampa played a crucial role in safeguarding the community for both existing patients and those who needed new medications as the COVID-19 pandemic raged on. The infusion centers delivered over 7,000 systemwide outpatient treatments with monoclonal antibodies to keep patients at high risk of severe disease or death out of the hospital.
The high level of coordination between pharmacy and nursing was key in ensuring that treatments were available and delivered on time. St. Luke's can proudly say that not a single patient missed a regular or scheduled infusion treatment, even with the added volume and complexity of the ever-changing COVID-19 treatments.
Infusion RN Manager Marie Zacharda, BSN, RN, CRNI, worked collaboratively with Infusion Pharmacy Manager Mel Slater, PharmD, BCNSP, to ensure patients had treatments with seamless delivery. Zacharda guided her teams through obtaining medications, coordinating infusion nursing staff and training nurses redeployed to the infusion centers. The work continues as new prophylactic treatments evolve for high-risk patients.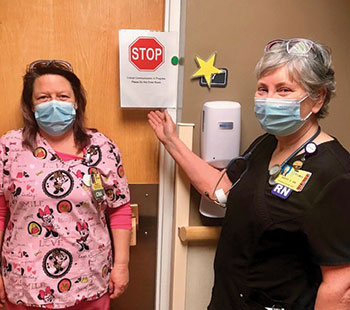 Decreased Interruptions Lead to Improved Patient Satisfaction in Jerome
St. Luke's Jerome began a care experience pilot program in February 2021 facilitated by Performance Improvement Specialist Stephanie Martin, BSN, RN, and site representative Shauna Donabedian, CNA, to improve patient outcomes and increase patient satisfaction.
The test of change, "Home Care Teaching," afforded nurses dedicated, protected time to discuss discharge educational topics with their patients and patients' families. Nurses were encouraged to hang a literal "STOP" sign outside the patient's door asking all other health care professionals to honor and not interrupt the critical education time. The idea was that providing uninterrupted, quality time to fully explain disease processes, medications, restrictions and follow-up recommendations with discharging patients and/or families would improve overall health outcomes as well as help patients feel better equipped to manage their own care after hospital discharge. Nurses also used a checklist to ensure the teaching process was standardized and incorporated best practices.
The project itself ended in November, demonstrating sustained compliance and positive feedback from the nursing team. Nora Fragoza, RN, is still using the process because it has decreased interruptions by identifying when critical communication is in progress, thus "making discharge a priority." Kathy Sparks, RN, also appreciates the process because it decreases interruptions, which used to break into the message she was trying to convey to the patient and/or family.
Although the pilot did not roll out across the health system, the test of change was successful in Jerome and continues to be used with improved patient satisfaction scores for our medical/swing floor.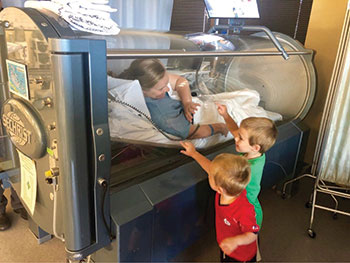 Karen Rains undergoing HBO treatment with her children saying hello.
St. Luke's Hyperbaric Clinic Makes a Difference
St. Luke's has been providing hyperbaric oxygen (HBO) treatments since 2005. Hyperbaric, by definition, is when a patient breathes 100% oxygen while in an environment at greater than normal atmospheric pressure. The pressure mimics scuba diving pressures, which is why the treatment is often referred to as a "dive." HBO assists in wound healing by helping to get oxygen to tissue that is hypoxic due to vascular disease, radiation or some type of acute ischemia.
St. Luke's Wound and Hyperbaric Clinic is the only facility in the state accredited by the Undersea and Hyperbaric Medical Society with distinction and is one of only 48 facilities in the country to receive the elite accreditation. Last year, St. Luke's performed 1,271 HBO treatments.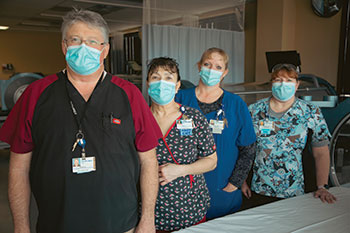 HBO treatment is life changing for many patients. An example close to home is the story of Karen Rains, an RN with St. Luke's cardiac observation unit. Rains underwent St. Luke's HBO treatments after she experienced severe complications following a vaginal birth that led to multiple failed perineal surgeries, at one point requiring a colostomy. Rains had a total of 100 HBO treatments and was impressed by the quality of care she received from the clinical staff. The HBO treatments were a success: her wound fully healed and she was able to have her colostomy reversed.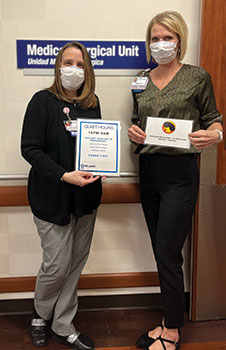 Amy Bowden, BSN, RN, and leader Amanda Stewart, BSN, RN, CMSRN, with the signs that were part of the bundle implementation.
Nampa Improves Patient Experience Scores Through Noise-Reduction Bundle
The Nampa medical/surgical unit was receiving patient experience scores that were consistently below the internal benchmark of 65% for "Quietness of Hospital Environment." Amy Bowden, BSN, RN, was encouraged by her nurse manager to lead a Professional Advancement Through High-Performance and Skill (PATHS) project to improve the patient experience.
Bowden's PATHS project included implementing a noise-reduction bundle to help improve patient sleep and rest. The bundle provided a sleep menu with various items a patient could use to help promote rest or quiet (earplugs, eye masks, a warm blanket, lights on/off and door open/closed); a patient door sign indicating they were resting and to please not disturb; and "Quiet Hours" signs posted throughout the unit indicating the 10 p.m. to 5 a.m. quiet time. Bowden evaluated the patients' responses to the sleep menu by adding a couple of questions to the unit's leadership rounding tool.
Staff received education on the project and the "why." They were given email reminders and updates throughout the implementation. The project was only able to run for about eight weeks before a COVID-19 surge, and resulting crisis standards of care, put it on hold. Despite the pause, the unit's patient experience scores did increase following implementation, and the goal to reach 70% satisfaction for "Quietness of Hospital Environment" was reached. The medical/surgical unit still has the "Quiet Hours" signs posted and the resting signs on the doorways. Bowden is hopeful the project can be revived in the near future.