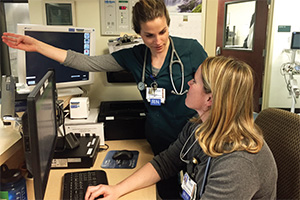 Critical Access Hospitals Collaborate to Improve ED Communication Metrics
The regulatory metric Emergency Department Transfer Communication (EDTC) monitors the effectiveness of emergency nurses and physicians communication with the receiving facility when transferring patients. The EDCT measure is complex, spanning 27 individual required charting elements over seven dimensions that must be completed within 60 minutes of the patient being transferred from the facility to achieve "perfect care" status. As SLHS transitioned to myStLuke's, an electronic health record, physicians and nurses were on a steep learning curve to complete required documentation, and chart abstractors were finding it difficult to find the documentation in the new program. With the support of a rural health grant, System Quality Shared Services and the St. Luke's critical access hospitals' (CAH) emergency department (ED) nurse leads Angela Brady, BSN, RN, CEN, Wood River; Kat Dow, BSN, RN, Jerome; Jackie Hurzeler, BSN, RN, CMSRN, McCall; and Tiffany Mederios, BSN, RN, Elmore, successfully carried out a performance improvement project that took them from a baseline of 43% to 100% perfect documentation across the four CAHs. The project included creating myStLuke's reports and workflow screens for transfer documentation and providing education to ED staff and chart abstractors about the new process.
As of December 2017, the four CAHs have maintained 100% EDTC perfect care for eight months. This equates to approximately 12,960 opportunities for documentation that were completed accurately within the 60-minute time allowance.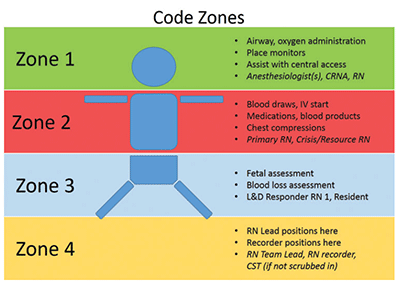 Code Zone posters were used during simulations and now hang in high visibility areas to serve as reminders during codes.
RNs in the Role of Sentry
Boise Obstetrics Rapid Response Team Intervenes in OB Emergencies
Boise obstetric (OB) units, including labor and delivery (L&D), OB operating rooms and mother/baby, participate in biweekly debriefs to discuss patient cases that were unique or emergent. Carol Forsberg, BSN, MBA, RN, Senior Director of Nursing/Patient Care, Boise Women's and Children's Services, noticed a recurring theme at the debriefs: Staff were unsure what their responsibilities were during emergent situations because they did not have clearly defined roles. Through collaboration with physician stakeholders, nurse leaders and bedside nursing staff, an OB Rapid Response team was created. The team utilized recommendations from the Institute for Healthcare Improvement and the American College of Obstetricians and Gynecologists to develop a protocol and process for the OB Rapid Response Team. Roles were defined using code zones which are assigned to staff as they respond to an emergent situation.
The OB Rapid Response Team went live in the summer of 2017. The service is currently offered in L&D, antepartum, mother/baby and 2 East women's med/surg, with a goal to expand house-wide to allow response to the emergency department, ICU and waiting areas.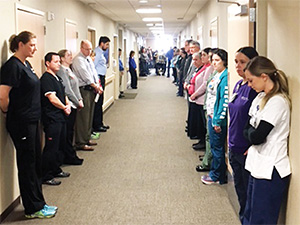 Hero's Farewell and Welcome
St. Luke's Nurses and Staff Stand Sentry During Walk of Respect
What started in Meridian as a way to honor patients and their loved ones who made the difficult decision to give the gift of life through organ donation has now been embraced throughout the Health System. The Walk of Respect, a tribute where St. Luke's employees reverently line the hallway when an organ donor is being transported from the intensive care unit to the operating room, was started by Deb Compton, MSN, RN, CCRN, NEA-BC, in Meridian in 2016. During a presentation during a Quarterly Leadership Council (QLC) meeting in 2017, Curt Egbert, ADN, RN, Director Nursing/Patient Care, ICU, was inspired to implement the Walk of Respect in Magic Valley. Soon after the meeting, before a formal process could be established, Magic Valley had a donation. Mr. Egbert went into action and was able to gather staff for a Walk of Respect. The first attempt experienced some hiccups; however, Magic Valley now has a refined process. Learning of this during QLC was timely as Magic Valley had six donations in 2017, nearly double their average in years past. In Boise, there are plans in place for future Walks of Respect to be conducted as they are in Meridian and Magic Valley, by making an overhead announcement to allow for staff and visitors throughout the hospital to participate.
Family and friends of those who gave the ultimate gift of life are appreciative of the demonstration of respect and compassion from staff. During a particularly moving Walk of Respect in Magic Valley, the wife of a donor was overheard telling her two young children, "This is your father's hero welcome into heaven." For these families and loved ones, the Walk of Respect leaves a lasting impression and hopefully provides a moment of peace among the grief. Not only is it a valued process for loved ones, it also provides comfort and a moment for the patient's care team to reflect on their own feelings.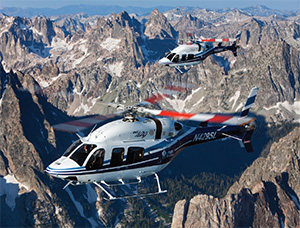 Air St. Luke's Goes Camping
Healers Provide Care in the Sawtooth Mountains
In July 2017, Air St. Luke's was dispatched to a call around 1 a.m. for an injured backpacker near Atlanta, Idaho. Erin Preston, BSN, RN, CCRN; Rick West, EMT-P; and Dave Guzzetti, Pilot, flew into the Sawtooth Mountains only knowing someone needed help. Flying in, they spotted a light from the ground indicating they had reached their location. They landed and hiked across half a mile of rough, mountainous terrain to find the patient, who was injured when one of the trees supporting her hammock gave way and fell on her. After determining her injuries were not life-threatening and she was stable, the team decided it was best to stay with the patient until daylight, both for safety of transport and to allow for additional help to arrive to move her to the helicopter. Through the night, Ms. Preston stayed in the tent with the patient, relying on good old-fashioned patient assessment and monitoring, including manual blood pressure cuff, palpation of pulse and interview.
Shortly before sunrise, four volunteers from the Atlanta Quick Response Unit arrived to help move the patient. At sunrise the team prepared the patient for the move and proceeded down the half-mile, uneven mountain path to the aircraft. The patient was then flown to tertiary care in Boise.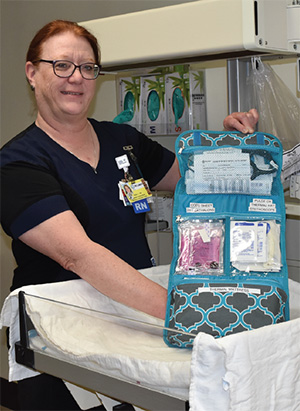 Ever Watchful in Role of Sentry, Jerome Creates "Surprise Lil' Guest" Kit
St. Luke's Jerome, experienced in providing exceptional care to full-term laboring moms and newborns, has a policy as a critical access hospital (CAH) to send all high-risk pregnancies and deliveries of babies under 37 weeks gestation to Twin Falls. However, things do not always go according to plan. In February 2017, a pregnant patient presented to Jerome at 25 weeks gestation and in preterm labor. Air St. Luke's was engaged and en route, but the patient delivered
before they arrived. Though the site lacked supplies typically required for a micro-preemie infant, they successfully stabilized the infant for transport to the Boise NICU.
During a debrief led by Kat Dow, BSN, RN, Director of Nursing/Patient Care Services, OB/Med-Surg/ED/Swing, immediately after the event, staff discussed the need for specialty supplies should they have a similar occurrence in the future. Through efforts coordinated in part by Amy Goodrich, BSN, RN, and Vibeke Thomson, BSN, RN, a "Surprise Lil' Guest" kit was created for preterm infants. Now, obstetrics and the operating room have a bag of supplies, from thermal hats to airway kits, to help care for these tiny patients. Boise and Magic Valley's NICUs and Air St. Luke's donated some of the kit's supplies and continue to support by switching out products when they are close to expiring.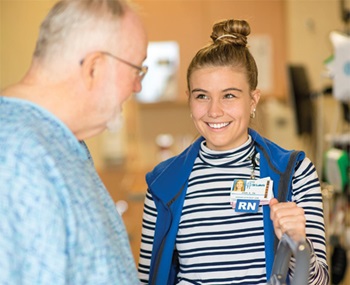 Jamie Kallis, BSN, RN, Meridian Med/Surg 6, takes a patient's daily weight.
Meridian Bedside Nurse Guides Staff and Patients in Transforming Congestive Heart Failure Care
When Paris McAdam, BSN, RN, became the Meridian Med/Surg 6 Congestive Heart Failure (CHF) Champion in 2017, she transformed the role into an opportunity to investigate the causes of possible communication breakdowns between nurses and patients with CHF. Ms. McAdam identified three specific challenges for ensuring this patient population was receiving exceptional, patient-centered care. She saw opportunities for improvement in: 1) identifying patients to be included in this population, 2) engaging the patients in their own care while hospitalized, and 3) making sure patients had enough knowledge to monitor and care for themselves after discharge.
For each opportunity, Ms. McAdam identified potential solutions including having patients participate in their care through the implementation of standing daily weights and filling out their own fluid restriction logs, and ensuring the patient receives CHF education and resources that can be reviewed with staff throughout the hospital stay. The unit began implementing changes based on the identified solutions in December 2017. Ms. McAdam is partnering with stakeholders across St. Luke's with the goal to implement changes throughout the system.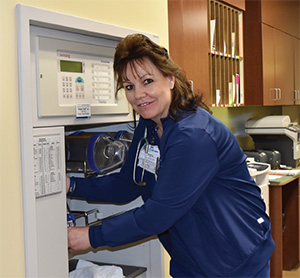 Collaboration and "Out-of-the-Box" Thinking During a Unique Challenge Leads to Excellent Patient-Centered Care in Magic Valley
In the summer of 2017, Magic Valley's Inpatient Rehabilitation Unit (IRU) accepted a transfer of an out-of-state patient with a traumatic brain injury (TBI) so the patient could receive care closer to their home in central Idaho. The situation took a unique turn when, upon arrival, it was discovered the patient rated at a lower level than expected on a scale measuring cognitive functioning after a TBI.
Led by Maggie Gaynor, BSN, RN, CRRN, Director of Nursing/Patient Care, IRU, and the medical team, senior nursing leaders were engaged to activate an "out-of-the box" solution to provide the expert care needed in a safe manner. After an Ethics Committee Meeting to vet possible options, it was decided that the unused Medical Behavior Unit would be the best place to care for the patient. Staff from all over the hospital came together to open the unit and make it a comfortable and therapeutic option for care. The teamwork demonstrated was phenomenal and included members of the ICU, Administrative Supervisor staff, Dietary, Laundry, Pharmacy and especially the Unit Support Team who back-filled staff on the IRU to allow for a 2:1 staffing ratio for this special situation. This arrangement lasted more than three weeks and ultimately led to the patient regaining the necessary functions to not only return to the IRU but to be discharged to home a few weeks later.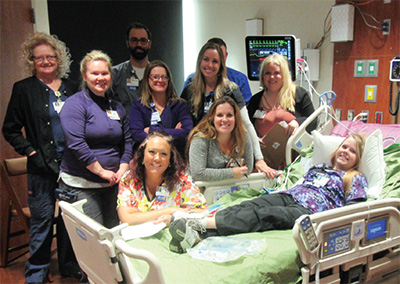 Nampa staff after an ICU simulation (left to right). Standing: Abby Bradshaw, BSN, RN, CCRN; Amy Otteson, CAP; Jim Brittain, BSN, RN; Tennille Marcum, BSN, RN; MikiAnna Hummel, BSN, RN; Nicole Jones, Work U Student. Kneeling: Paige Calhoun, MSN, RN and Kimberly Williamson, BSN, RN. On bed: Jennifer Walter, BSN, RN.
Clinical Learning in the Role of Sentry
Watching Over and Protecting Staff and Patients Prior to Nampa Opening
Simulating what may be considered routine care in a new environment with new equipment is a critical step in opening any new patient care area. Simulations help determine critical issues with the use of equipment and allow for identification of areas where additional education and practice may be necessary.
For four days in October 2017, Clinical Learning and Student Services led 47 complex simulations with 280 staff. Simulations were targeted at testing processes in the new Nampa facility to help prepare for opening day.
The simulations tested 1,073 events in a variety of patient care processes in every patient care area in Nampa. Staff were able to successfully complete 554 events with the remaining events requiring follow-up. To resolve these follow-up areas, items were assigned to clinical units, departments including Building Services, Construction, myStLuke's and Supply Chain, and to vendors such as Hill-Rom and Voalte. Thanks to the collaboration and assistance from everyone involved, all critical events were resolved before the opening.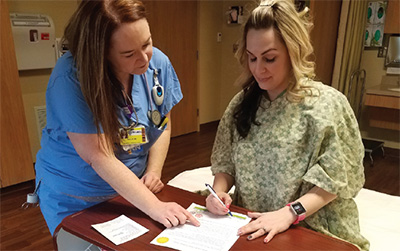 System Newborn Fall/Drop Prevention Provides Sentry Tools for Nurses
A newborn fall/drop is traumatic for parents and patient care team members. Care teams committed to protecting the safety of the most vulnerable patients came together from across SLHS. A taskforce led by Julya Miner, BSN, RN, RNCOB, C-EFM, CPHQ, Perinatal Safety Program Manager and comprised of bedside RNs, educators, perinatal and neonatal clinical nurse specialists, nursing directors and administrators, along with pediatric providers from multiple sites within the Health System collaborated to develop a safety bundle. The bundle, based on literature review, event analysis and causal mapping, includes patient and staff education, intentional safety rounding, use of a feeding support pillow, and post-fall/drop response algorithm. The Magic Valley team, led by Shelly Jensen, BSN, MHA, NEA-BC, Senior Director of Nursing/Patient Care, Magic Valley, piloted many interventions before they were included in the bundle rolled out to the system. Since the initiation of this focused improvement work, Magic Valley realized 499 days without a newborn fall/drop. System-wide, an overall reduction in newborn fall/ drop events was achieved with only three events in FY17, compared to five events in FY16. St. Luke's perinatal care teams remain committed to supporting the safety of the most vulnerable patients.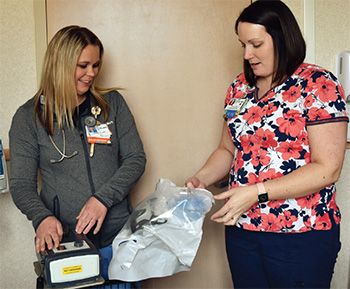 Terra Compton, RRT, Respiratory Therapist (left), and Erica Yager, MSN, RN, NEA-BC, 6E Nursing Supervisor, prepare a CPAP machine for a patient with OSA.
Boise 6 East Interprofessional Collaboration with Respiratory Therapy for Bariatric Patients
Boise 6 East (6E) averages 20 bariatric surgery patients each week. Approximately 50% of the patients have a diagnosis of obstructive sleep apnea (OSA) and require the use of continuous positive airway pressure machines (CPAPs) or bilevel positive airway pressure (BiPAP) machines. Delay in setting up CPAP or BiPAP post operatively can place patients at risk for respiratory compromise and potential transfer to a higher level of care. Transferring results in increased health care costs, decreased patient outcomes and decreased patient satisfaction.
Respiratory therapists (RTs) assist with machine set up and testing for bariatric patients on 6E; however, RT scheduling did not allow for 6E to have a dedicated RT, at times causing a delay in care to an already compromised patient population. Working proactively to ensure the best patient outcomes, RNs on the 6E unit-based council collaborated with respiratory therapy to streamline communication and set up an innovative process. A dedicated RT phone number was put in place for 6E staff to call when a bariatric surgery patient arrives to the unit. This has resulted in decreased patient wait times for CPAP or BiPaP set-up, decreasing the risk for a respiratory complication.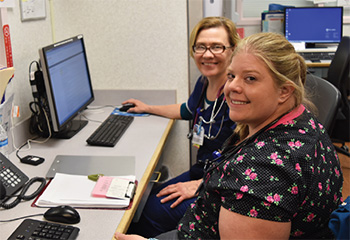 System Launches New Reference Tool for Nursing
Sentry
Recognizing the need for an online, evidence-based procedural resource as a method for helping standardize practice across the Health System, St. Luke's launched Elsevier Clinical Skills in April 2017. In preparation for the launch, nursing leaders, clinical nurse specialists, content experts and others compared content in hundreds of existing St. Luke's policies to Clinical Skills. This work allowed for policies that were procedural-based to be retired. In addition, policies were edited to remove the clinical information now housed in Elsevier Clinical Skills, maintaining only true policy content. As of December 2017, 305 polices were retired and SLHS-specific content was added to 345 Clinical Skills. The work to streamline policy, protocol and skill content continues today.
A System Clinical Skills Oversight Committee, comprised of clinical nurse specialists and other stakeholders, was formed for the ongoing maintenance of Elsevier Clinical Skills. At a minimum, Elsevier reviews and updates Clinical Skills content annually. The SLHS Clinical Skills Oversight Committee meets monthly to review the updates from Elsevier to ensure changes in practice are communicated and implemented in a timely manner, when necessary. Thanks to the work of all involved with the launch and ongoing maintenance, clinical staff now have an always up-to-date resource to help deliver excellent patient care.
Nursing Sensitive HCAHPS and Indicators
We're proud of the HCAHPS scores we receive from patients, as well as the indicators that demonstrate our commitment to high quality care. And, we're dedicated to continual improvement.
Patient Satisfaction HCAHPs Data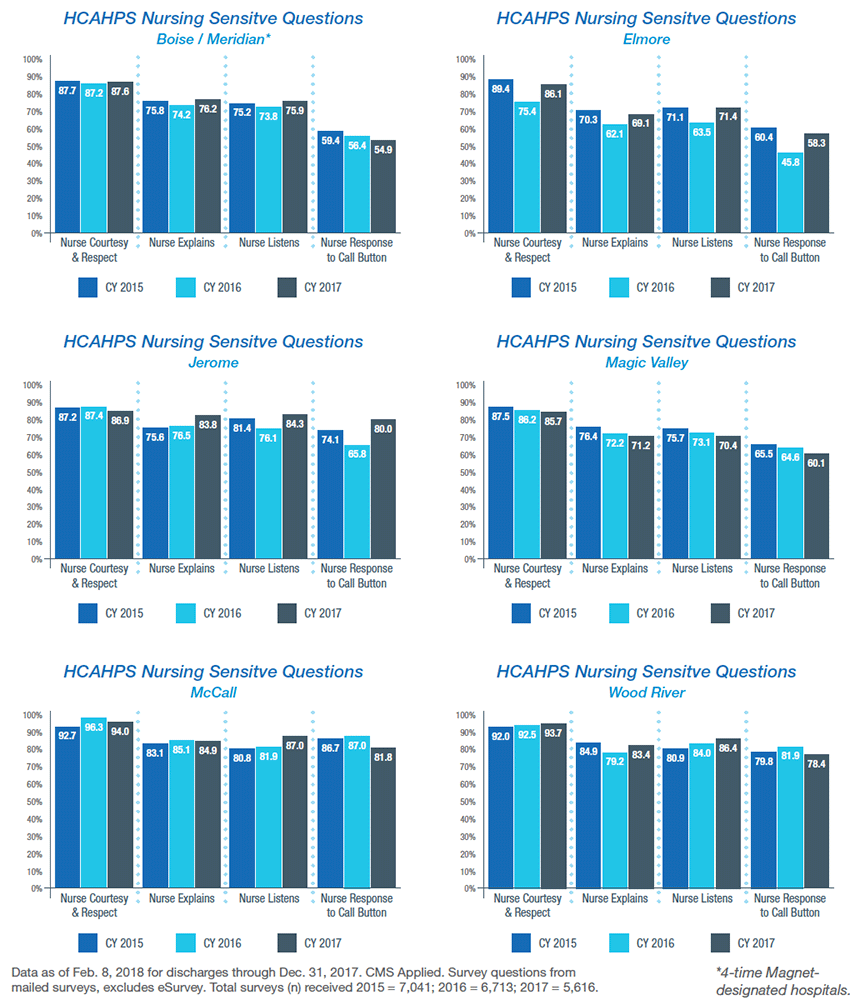 Nursing Sensitive Clinical Indicators for CY17 January-September