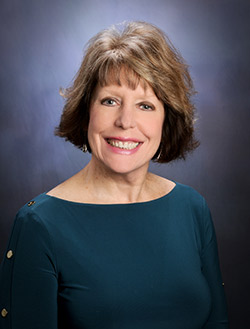 Cy Gearhard
Dear Nursing Colleagues, Patients, Families, and Community Members:
It is with great pleasure that I share with you the 2018 St. Luke's Health System Nursing Annual Report. This publication presents a snapshot of the many highlights and accomplishments led by our talented nurses across the entire system. Our nursing staff has always proven to be innovative and committed to the growing needs of the communities St. Luke's serves. This year was no different.
From an access standpoint, nursing was integral to the design, build and now day-to-day operations of St. Luke's new 35,000-square-foot, high-tech Virtual Care Center. This state-of-the-art care center optimizes technology to provide system-wide virtual care across the region. Nursing was instrumental in the opening of the new Elmore Emergency Department, supporting improved patient outcomes, while also helping the McCall Hospital to achieve the system's first Level IV trauma designation.
Our nursing staff continues to build relationships throughout the community, whether hosting high school students interested in health care careers at the Eagle Urgent Care, hosting 4-H members in the Fruitland Emergency Department, or building new initiatives such as follow-up calls to emergency department patients. In Nampa, registered nurse Celeste Benedict took community accountability to a whole new level when she created her "Clothes Closet," providing clothing to patients in need when leaving the hospital. Her ingenuity earned her an Idaho's Brightest Stars award. St. Luke's nurses are known for their deep commitment to our communities, well beyond our traditional walls.
You will also see examples in this publication of the contributions nurses bring to continuously improve processes and outcomes. New PATHS (Professional Advancement Through High-performance and Skill) projects enhanced patient outcomes throughout the system. A Treasure Valley pediatric clinic presents a great example, where waiting rooms were separated to provide two distinct spaces: one for well-children visits and a second for ill children. Parents indicated on patient satisfaction scores that they felt their children were safer and more protected from illness after this change. In addition to PATHS projects, care improvements occurred when the Emergency Department (ED) and Wood River Family Medicine partnered to develop a new process that facilitated timely patient follow-up with their primary care physician following an ED visit. In Boise, adolescents are seeing improvements in their treatment, thanks to the efforts of nursing staff in the Neurobehavioral Medicine Day Treatment program.
To support our nurses who create these amazing accomplishments, we have implemented new tools and education opportunities. In the Treasure Valley, we have debuted the Student Nurse Apprentice Program (SNAP), originally implemented in the Magic Valley. Across the system, we have strengthened the Supporting Transitions and Relationships (STAR) residency transition to practice program and nursing research fellowship opportunities.
I am so proud to be a part of the St. Luke's nursing team and very honored to work alongside such amazing, committed professionals who are passionate about the care delivered and the exemplary outcomes achieved.
Sincerely,
Cynthia (Cy) Gearhard, MN, RN, NEA-BC
Vice President, Patient Care Services/System Chief Nursing Officer