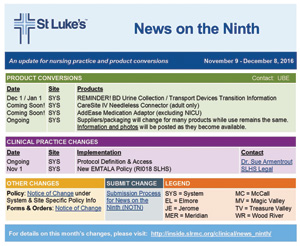 Nursing's New Communication Tool: "News on the Ninth"
Changes in healthcare delivery are frequent, based on the introduction of new products, emerging evidence, technology updates and other influences. Keeping nurses up to date on changes that could impact how they care for patients is a priority at St. Luke's. A team of nurses developed a process to disseminate information to all nurses across the system. The outcome was a new system-wide communication tool called "News on the Ninth." News on the Ninth (NOTN) is an electronic newsletter released on the ninth day of every month.
Whenever a change is planned that may impact nursing processes, the change information is sent to the NOTN team. The team, consisting of nurses and other patient care staff from around the system, helps determine the correct time to implement the change, making sure there is never too much change happening at once.
After the timeline is decided, the change and related information are published in NOTN. Nurses know that on the ninth of the month, they can check NOTN to see what changes are coming and have access to additional information for implementations they want to know more about. NOTN gives nurses the information they need to do what they do best: care for our patients.

Julie Du Bois, ADN, RN, Nurse Navigator, Pediatric Cardiology, Boise
Mended Little Hearts of Idaho
Julie Du Bois, ADN, RN, has been writing a newsletter to assist the adult heart group Mended Hearts of Boise for a couple of years. The group supports patients from both St. Luke's and Saint Alphonsus who have experienced cardiac events/syndromes. In 2008, Ms. Du Bois established a pediatric heart group called Courageous Hearts of Idaho. Through her connections to Mended Hearts, she was able to assess all the resources they had available as a national chapter. With this knowledge, she decided to move forward with making Courageous Hearts of Idaho a national chapter of Mended Little Hearts, the pediatric program of Mended Hearts, Inc., a national and community-based non-profit organization.

The charter was completed in November, and Idaho now has its first official chapter called Mended Little Hearts of Idaho. The first meeting is scheduled and events are being planned, including events with the Jayden Deluca Foundation, of which Ms. Du Bois serves as a board member.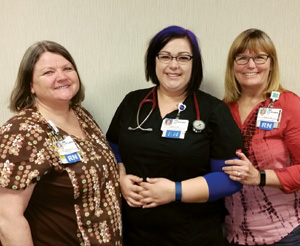 Supporting Certification
Evidence supports that registered nurses who have obtained a professional certification improve the quality of care for patients in the inpatient setting. Deb Compton, MSN, RN, CCRN, NEA-BC, Sandi Putzier, BSN, RN, and Susie Christensen, MSN, RN, CMSRN, worked collaboratively with the local chapter of the American Academy of Critical Care Nurses (AACN) and a team from Saint Alphonsus to create a review course for the Critical Care Nursing (CCRN) and Progressive Care Nursing (PCCN) certifications. The group collaborated to define successful outcomes, outline course content, familiarize instructors with content and teaching materials, and set up a support network for instructors.
The course was comprised of modules addressing the components of each specific body system. After each proctored review, nurses were responsible to complete self-directed learning as needed. An evaluation survey of the course was designed to address each presenter and related topic. Results were disseminated to each presenter to enhance curriculum as needed. The CCRN/PCCN review course was open to all RNs interested in furthering their education and improving patient care. To date, two St. Luke's RNs have reported successful achievement of either the CCRN or PCCN certification, with additional RNs testing in January 2017.


Magic Valley Nurses Lorinda Hymas, ADN, RN, CCRN, Supervisor Nursing, Inpatient Rehab; Michelle Harcourt, BSN, RN, Employee Health Nurse; Kari Whitney, ADN, RN, CNOR, Surgical Services RN; and Lindsey Blamires, BSN, RN, Nursing Supervisor, Physician Center; and System CNO and VP of Patient Care Services Cy Gearhard, MN, RN, NEA-BC, attending an RSC session (left to right).
Magic Valley Re-Ignites Spirit of Caring Sessions
Relationship-Based Care, the professional practice model for St. Luke's Health System, is the foundational practice of care of self, care of colleagues, and care of patients and families. To refresh the practice, Magic Valley nursing leadership supported Re-Igniting the Spirit of Caring (RSC), a program designed by Creative Health Care Management. This three-day seminar brings caregivers from varying disciplines together to step outside their busy, complex and intense work environment to reflect, learn and grow together as a cohesive team.
In 2016, St. Luke's Magic Valley hosted eight sessions of RSC. As a result, approximately 220 individuals from more than 50 St. Luke's departments, clinics an divisions have participated, and sessions are scheduled to continue throughout 2017. As a true investment in healthcare teams, RSC pays dividends in terms of improved collaboration, staff engagement and patient care—reigniting the caring practice of relationship-based care throughout the system. Believing in the benefits of the program, SLHS nursing leadership provided resources to support certification and training of four new facilitators to aide in supporting additional RSC seminars.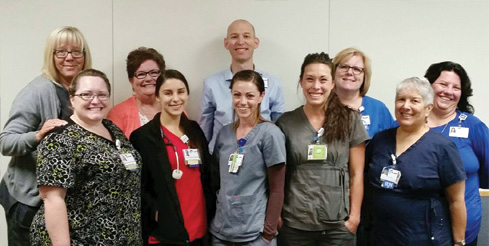 Elmore TeamSTEPPS Transformation Team
Led by the Interdisciplinary TeamSTEPPS Transformation Team, comprised of members from all disciplines including 14 RNs, all staff at St. Luke's Elmore have signed and embraced the St. Luke's Elmore Commitment to Coworkers. Focusing on the cultivation of positive relationships with every interaction, the staff have implemented a daily series of complex tracer simulations which include multiple departments and quarterly in situ simulations.

In addition, TeamSTEPPS tools and concepts have been added to all simulations and education. The SBAR tool was adopted as the standard communication tool within the facility, and is the preferred communication by medical staff. To demonstrate their new knowledge, all staff participated in an SBAR poster contest, which was won by the Emergency Department. Elmore nursing staff is leading the way in the effort to standardize processes across the system. The team piloted the new system-standardized onboarding process and is now using the onboarding process in all nursing areas, including with assistive personnel.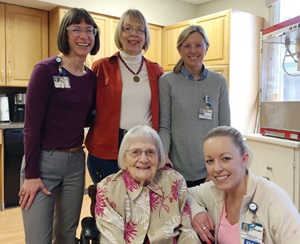 Belinda Troxell, BSN, RN, CHPN (lower right), and team
celebrating a patient's 104th birthday.
Hospice Nurse Advocates for Patients Locally and Nationally
Belinda Troxell, BSN, RN, CHPN, was accepted to sit on a Centers for Medicare & Medicaid (CMS) national committee for Hospice Quality. The primary purpose of the committee is to provide CMS with regular feedback from the provider community on quality measures, patient assessment tools and the Hospice Compare website development. CMS will use this information to improve provider experience, data collection and data quality. She was nominated by Senior Director of Hospice and Homecare, Bonnie Hollenbeck, MSN, MHA, RN, FACHE, who knew Ms. Troxell's unique skills would bring a valuable perspective to the committee's work.
Ms. Troxell has a long-standing commitment to hospice patients, both as a clinician and through the great work she has done to improve the quality of hospice care provided at SLHS. Since 2011, she has worked with interdisciplinary care councils throughout the system. She played an integral role in the electronic medical record build project where she was able to include quality measures into the design of the patient care documentation. As the new chair for the System Affinity Council for Homecare and Hospice, and as a CMS committee member, Ms. Troxell will continue to advocate for patients throughout the system and nationally.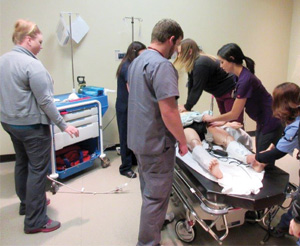 An Epic Onboarding Experience during myStLuke's Go Live
Clinical Learning Services created a 10-day onboarding/orientation program for new nursing clinical hires to provide a positive experience during myStLuke's Go Live. Organizations often initiate hiring freezes during implementation of electronic health records, but the onboarding program alleviated this constraint.
Objectives of the Go Live onboarding program were for learners to develop professional practice skills and hone clinical judgment through experiential education strategies such as unfolding case studies, role playing, gaming, simulation and debriefing. The interactive experience culminated in three days of complex simulations that provided learners the opportunity to apply information learned.
A total of 71 new system hires (55 registered nurses and 16 certified nursing assistants) participated in the Go Live onboarding program. Learners were engaged and enjoyed the learning experiences. Most felt the learning was challenging and debriefing added value. As a result of this learning experience, learners stated they recognized the importance of being a part of a well-structured team with clear roles and responsibilities. The opportunity to practice medication administration, proper restraint application and de-escalation techniques in simulated clinical patient care situations helped learners "identify ways to keep myself/my patients and others as safe as possible." Based on feedback received from the learners, Clinical Learning Services considers this new and innovative learning experience a success, one that would not have been possible without the support of directors and unit based educators throughout the system.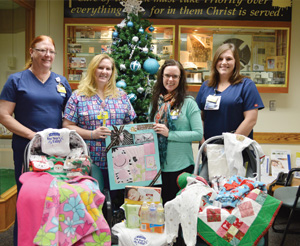 Nurses Katie Lammers, BSN, RN, Supervisor Nursing, Med/Surg;Amiee Goodrich, BSN, RN, Labor & Delivery RN; Vibecke Thompson, BSN, RN, Lead RN, Mother/Baby; and Angela Ewing, BSN, RN, Med/Surg RN come together to support the community (left to right).
Jerome's Generosity Grows
Honoring the first baby born each year is a long-standing tradition in communities around the world. In Jerome, the New Year's baby event was originally sponsored by a few obstetric (OB) nurses putting together a special gift. Each year a box was placed in the nursery for nurses to donate to the project. As time progressed, the generosity and participation grew to the point that a Christmas baby gift was also presented to the first baby born on Christmas. Now there is participation from nurses throughout the hospital, with nurses making homemade hats and stockings for all December babies. The New Year's baby gift is still the culmination, but what started as a special gift for one baby has now grown into the December baby project. This tradition has pulled the Jerome staff together as a family as they proudly share their gifts with the Jerome community.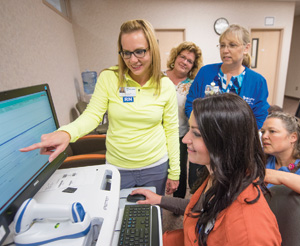 One Record, One Go Live, One myStLuke's
Throughout 2016, nurses from across St. Luke's Health System continued to participate in the work of preparing for One Record, One Go Live, One myStLuke's. They participated in planning, testing, training, pre-implementation activities, Go Live support and stabilization for myStLuke's enterprise electronic health record. They dedicated countless hours in preparing to transform health care for our patients and their families with the implementation of a single integrated electronic health record across SLHS.
Clinician Workgroups
Frontline staff came together regularly, representing their roles, specialties and colleagues as they participated in the myStLuke's Clinician Workgroup (CWG). Nurses who participated in the CWG attended design sessions and were responsible for standardizing nursing practice that was translated into build and workflow decisions for myStLuke's. Nurses reviewed the Epic foundation build with the myStLuke's build team and their Epic counterparts. They evaluated the foundation build with evidence-based nursing practice and best practices found across SLHS. CWG members also participated alongside providers and other clinicians in the review of clinical content for more than 400 standardized, evidence-based order sets facilitated by the clinical informatics specialists.

After the clinical content was validated on paper, the order sets were built in myStLuke's and additional review was completed of the electronic order set content and functionality. Clinical nurse specialists and clinical informatics specialists worked on the evaluation and standardization of over 60 clinical protocols in preparation for myStLuke's.
Nursing Super Users
Close to 1,000 nurses volunteered to participate as super users across the system. They received their myStLuke's training early and provided feedback to allow adjustments in curriculum before their colleagues began training. Super users participated in the training classroom as teaching assistants. This gave them additional opportunities to learn the system, support their colleagues and anticipate challenging workflows before Go Live. Super users worked with their leadership and colleagues to get all training completed and to engage staff in practice sessions prior to Go Live. Some super users, as well as other nurses, participated in workflow review sessions, workflow dress rehearsals and simulation exercises of high risk workflows. Super users continue to support their colleagues and St. Luke's during stabilization as they evaluate concerns either as training related or a break in the system.
A Truly Collaborative Effort
Just prior to Go Live, super users, CWG members, clinical informatics specialists and clinical nurse specialists engaged in the planning and execution of activities in preparation for Go Live, including transferring appointments and other data into myStLuke's. Another activity was the development of quality and safety hubs—specific hubs to monitor and problem solve when issues arose during Go Live and the weeks that followed.

Go Live: October 1, 2016 found all nurses trained and prepared to transform care at SLHS. Super users were scheduled on their units to support their colleagues. Clinical nurse specialists and clinical informatics specialists were joined by their pharmacy colleagues in quality and safety hubs in the command centers across St. Luke's. Within an hour of the planned Go Live, myStLuke's was in use at all sites.

Super users, clinical informatics specialists and clinical nurse specialists, as well as unit based educators, credentialed trainers and clinical application specialists
(ambulatory), continue to partner in stabilization, making sure the system is functioning as designed, and the order sets and workflows support consistent superior care.
Clinical Informatics Specialists
Clinical informatics specialists support all clinical staff across the care continuum. Clinical informatics specialists coordinate and monitor the analysis, design, implementation, evaluation and maintenance of clinical informatics applications and projects across the system and within an assigned site or patient population. Clinical informaticists have supported information systems at SLHS as part of Integrated Health Technologies, Clinical Education and Mountain States Tumor Institute for many years. Their knowledge and expertise was leveraged throughout preparations for myStLuke's across a multitude of roles and responsibilities.

One team of clinical informaticists was dedicated to the build of standardized evidenced-based order sets. Order sets are vital to the success of computerized provider order entry and providing standardized, evidence-based care. Epic's recommendation was a minimum of 250 order sets at Go Live. The team successfully completed, in collaboration with providers, pharmacists, nurses and other clinicians, over 400 order sets.

Over the past year, clinical informaticists throughout the system have transferred into one Clinical Informatics Team under the leadership of Dr. Susan Armentrout, DNP, RN, APRN-CNP, CPHIMS, Director of Clinical Informatics, Center for Nursing Excellence. Since Go Live, the team has been monitoring informatics issues or problems for a site or population through participation in myStLuke's stabilization, safety huddles, operational leadership meetings and system affinity councils. Clinica informaticists also engage with super users and unit and department leadership through regular rounding and participation in shared governance and performance improvement initiatives.