St. Luke's Elmore Long-Term Care Improves Patient Experience With Indoor Garden
St. Luke's Elmore Long-Term Care's leadership team was awarded a grant to support their work with Eldergrow Therapeutic Horticulture Garden Program (eldergrow.org) for three years. In October 2022, residents were introduced to the new indoor garden. The therapeutic horticulture space offers residents a connection to nature that supports meaningful engagement through evidence-based therapeutic horticulture classes.
The garden includes fragrant and colorful plants that support sensory stimulation. Residents also engage in interactive education and garden maintenance through the program. Recent studies show impressive benefits from this therapy, including improvements in motor skills, sleep, mood and self-esteem, while also reducing falls, agitation and risk factors for dementia. This garden will provide incredible benefits for the residents and their families.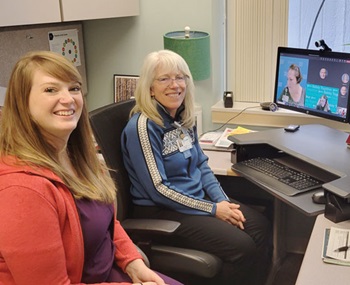 Krystal Grothjan, BSN, RN, the medical-surgical unit's assistant nurse manager, and Deb Rio, MSN, RN, CCRN-K, NEA-BC, manager, host a care council meeting. On screen: Rickey Hyman, BSN, RN, medical-surgical unit nurse; Shelly Garriot, BSN, RN, medical-surgical unit nurse; Eric Ostensen, BSN, RN, Emergency Department assistant nurse manager; and Robyn Beall, MSN, RN, NE-BC, director of Nursing and Patient Care Center of Excellence.
Leaders Reinvigorate Shared Governance in McCall
The new hospital in McCall—or, as staff call it, "the expansion," since parts of the old hospital will still be in service—has occupied much of the time and energy for McCall in the last few years. As the end of the build and preparation for the move comes into view, nurse leaders Deb Rio, MSN, RN, NEA-BC, CCRN-K, and Krystle Grothjan, BSN, RN, knew it was time to reinvigorate shared governance in McCall.
In fall 2022, leaders redesigned the Care Council to include three units: the Emergency Department, the medical-surgical unit and Obstetrics. McCall's clinical nurse representatives to the system Shared Governance Care Council, Donna Bush, BSN, RN, and Shelly Garriott, BSN, RN, have become active members of McCall's Care Council along with Rickey Hyman, BSN, RN. The first project for the McCall Care Council is to facilitate staff input on where supplies and equipment should go in the hospital expansion's new patient and storage rooms to optimize workflow.
The group has created a successful strategy using a hybrid Microsoft Teams and in-person format, and they look forward to working toward additional goals.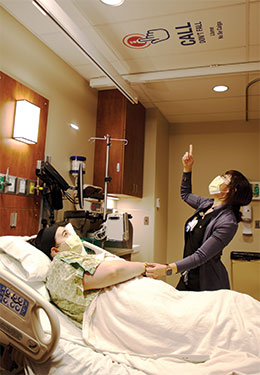 Nampa Initiatives Aim To Improve Patient Fall Rates
Nampa's medical-surgical unit recognized they were experiencing more patient falls than desired. Nurse Manager Amanda Stewart, BSN, RN, CMSRN, reviewed falls data and current processes with the assistant nurse managers to see where unit practices had drifted regarding fall prevention. They brainstormed ideas on what processes could potentially be add or changed that would help.
The leadership group brought the concern and ideas to their Care Council, including the medical-surgical unit's clinical educator Lauren Boyd, BSN, RN, CMSRN, and asked for their help and input. Care Council members who had been in other hospitals recommended a simple solution that would be beneficial to try out: signs on ceiling tiles above patient beds with the phrase "Call, Don't Fall."
In collaboration with Betty Lipple, MSN, RN, ONC, LSSGB, and the quality team, the ceiling tile signs were ordered and installed in all patient rooms on the medical-surgical unit in October 2022. This is the first thing patients see when they wake up; it serves as a reminder to call before getting up. The red indicator on the ceiling tile signs correlates with their red call light button. The goal is to help patients who are confused, forgetful or delirious remember to call for help.
In addition to the signs on the ceiling tiles, Boyd, along with Nampa's telemetry clinical educator Julia Fredrick, BSN, RN, put together an incredible falls bootcamp. The bootcamp was for all medical-surgical unit RNs and CNAs as well as all telemetry CNAs. The bootcamp included education and scenario practice on fall risk assessment, Egress Test use, mock fall station/lift equipment operation, bariatric bed utilization and fall hazard/mobilization.
There were many lightbulb moments during the training and, overall, the bootcamp was very well received. This education, now a yearly requirement to ensure patient safety around fall prevention, will sit at the forefront of what the team does every day with every patient.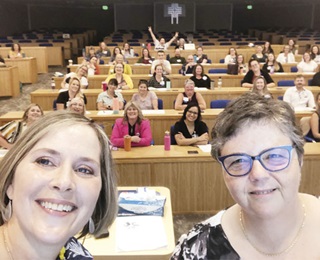 Julie Swanson, DNP, RN, NEA-BC, and Rhonda Dixon, BSN, MBA, RN, NE-BC, vice president, patient care/Magnet CNO, kick off the System Shared Governance Summit.
System Shared Governance Elevates Professional Practice Decision-Making
System Shared Governance Summit Reenergizes Care Councils
2022 was a year of reinvigoration for shared governance at St. Luke's. The system Shared Governance Summit was held on July 25, 2022, at St. Luke's Plaza. Over 100 Care Council chairs, mentors and members from across the system attended.
A planning committee designed the day based on feedback received from Care Councils and system leaders. Great speakers presented on how attendees can meet the outcomes established for the summit on topics such as change management, Magnet culture, best practices and fostering engagement. The summit also provided resources to support Care Councils as they engage in their activities. There were fantastic table topics at lunch where attendees connected with other leaders and discussed topics important to them. Afternoon breakout sessions were designed to target individual learning needs. Attendees also had time to socialize, relax and learn about the new system shared governance structure.
Summit Participants Respond Positively
"I'm just grateful for the opportunity to be here and learn and get reenergized about Care Council."
"The summit gave me information that I hadn't known as well as good insights on how to approach co-workers to engage them in the Care Council."
"I liked the breakout sessions; I wish we had more time for them and time to meet with other Care Councils and hear what they have been doing."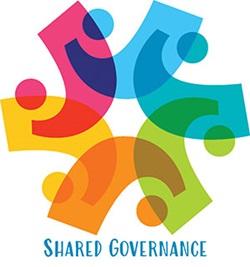 New Image Reflects Shared Governance's Purpose
The new image selected to reflect shared governance's purpose was introduced at the Summit. Its design aligns with the St. Luke's care model.
The shape is a circle: this is a safe space to collaborate, discuss and innovate. The size of the circle may be a unit, site or the system.
There are many colors and some of them blend into new ones: shared governance is inclusive with all practice areas involved and engaged. Each practice area stands out on its own but may also blend with others when needed.
The images are linked: Care Councils are in this together. All Care Councils are working toward system goals: providing a better work environment, better patient outcomes and service to our community.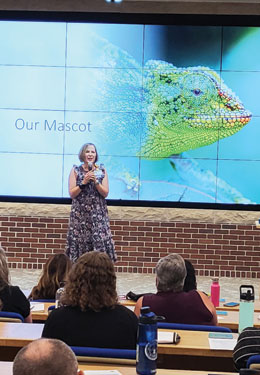 System Shared Governance Care Council Supports the Voices of Area Care Councils
System shared governance is designed to support the flow of Care Council work between the unit, site and system. It is a space to gather, exchange ideas and find solutions. Topics may come to the system council and go out to the unit or site council for insight, or they may come up to the system council for recognition, adoption or review. One of the first topics this group tackled was the nursing engagement survey.
There are 20 system Shared Governance Care Council seats filled by two Care Council members from each site or area. The members applied, and each site's or area's chief nursing officer selected the members to serve.
St. Luke's has an over 30-year history of shared governance, and the journey continues. As our environment changes, and as we recognize what is working well or not working well, we will adapt. We will call on our inner chameleons—our ability to change and adapt—to respond to the needs of our Care Councils.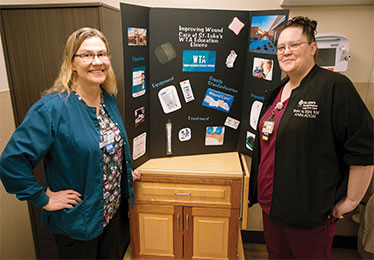 St. Luke's Elmore's first wound treatment associate nurses, Katrina Southworth, BSN, RN, and Beki Nichols, BSN, RN.
Elmore Nurses Build New Skillset Through Wound Treatment Associate Program
St. Luke's developed a Wound Treatment Associate Program, sponsored by the Wound, Ostomy, and Continence Nurses Society™. The purpose of the program is to empower wound, ostomy and continence specialty nurses. Its other equally vital goal is to improve patient outcomes by strengthening the wound care team with a flexible education program that is applicable to all health care settings.
The first cohort of six participants successfully completed training in September 2022. They are now working on precepting and the board certification exam.
St. Luke's Elmore's two participants are Katrina Southworth, BSN, RN, and Beki Nichols, BSN, RN, assistant nurse manager in this program. They are completing the program according to plan and already making an impact on patient outcomes. With their oversight, Elmore has improved skin assessments on admission, skin-care management of inpatient and long-term care populations, and management of patients with wound-care needs.
Importantly, having two nurses complete the training also allows Elmore to accept residents who would have been declined in the past.