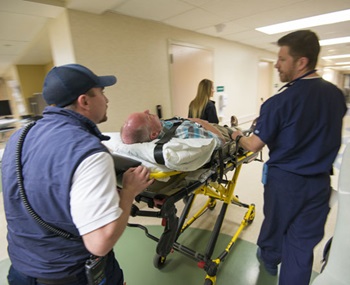 Pre-hospital providers are key to delivering exceptional STEMI care. St. Luke's Meridian's recognition program has further strengthened the partnership with EMS
St. Luke's Meridian Creates Program to Recognize Local EMS Partners
At St. Luke's Meridian, excellent STEMI care is a direct result of a strong partnership with local emergency medical services (EMS). After years of working collaboratively with EMS, door-to-balloon times are among the top 10% in the nation. Meridian Emergency Department Manager Cari Shuart, MSN, RN, CEN, and Chris Ehrmann of Ada County Paramedics had the idea of creating a recognition program for EMS crews that care for STEMI patients.
Shuart took this idea to STEMI Program Manager Teresa Smith, BSN, RN. They made the decision to recognize EMS crews that have helped St. Luke's achieve first medical contact to device times of less than the national standard of 90 minutes. Recipients will be honored with recognition letters and lapel pins of an anatomically correct heart. Now, each time a member of EMS helps St. Luke's Meridian achieve the 90-minute goal, the crew member receives an individual letter signed by Dr. David Coyle, STEMI medical director, and Smith, along with the lapel pin. From May 2020 to December 2020, 45 paramedics from five different EMS agencies were recognized.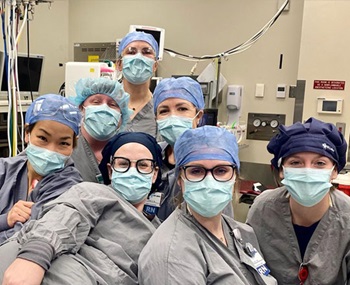 St. Luke's Promotes and Supports Professional Certification Attainment
Jill Walters, BSN, RN, manager of Boise Cardiovascular Surgery (CVOR), completed her Certified Perioperative Nurse (CNOR) certification. She appreciated its value so much that she wanted her staff to have the same opportunity. Walters collaborated with the Nursing and Patient Care Center of Excellence (NPC CoE) and learned about available employee programs that offset the fees for review courses and offer repayment for successful completion of testing. Walters, with the NPC CoE, was able to organize an in-person review course at no cost to the participants in May 2020. Unfortunately, the pandemic put plans on hold; however, a quick pivot to an on-demand virtual course (still at no cost) enabled all the eligible RNs in the CVOR to sign up for the class. The course was also opened to all surgical services staff throughout the system. In total, 27 eligible RNs participated in the review course.
Walters set a unit goal to have 100% of the eligible RN staff certified in the CNOR over the next two years. Thanks to offering this course, 71% of Boise CVOR RNs were certified, with the remaining RNs hoping to participate in a review course in 2021. Systemwide, 19 RNs successfully received their CNOR certification after participating in the no-cost review course.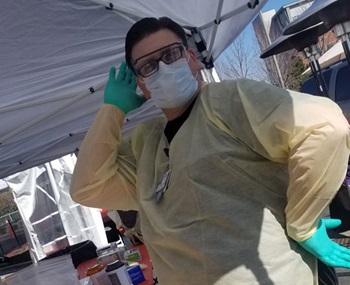 Scottie Kafka, BSN, RN, dressed and ready to perform drive though COVID tests
COVID-19 Surge Staffing: Operational Excellence
Enterprise Resource and Staffing and Clinical Learning and Student Services (CLaSS) leadership joined forces to build a nursing workforce surge staffing model to meet needs during the COVID-19 pandemic. The goal was to ensure adequate nursing resources to significantly increase capacity for care as needed. The commitment to achieving a high level of innovation and integration, even amidst the urgency, led to the collaboration between CLaSS leaders, unitbased educators, curriculum designers, electronic health record builders, nursing informaticists and nursing leaders across the health system.
The goal was to have a maximum number of cross-trained nurses with the ability to go anywhere in the system to care for COVID-19 patients. Existing tools were adapted and deployed, new tools were designed with haste, relationships were leveraged and positive intent was captured. Educators were repurposed to run a call center, matching available staff with shifts and preceptors. More than 3,000 nurses answered a readiness survey. Ultimately, approximately 1,500 nurses were cross-trained in one or more specialty areas, then entered into a database for deployment. The nurses were ready. In November, it became apparent that the surge RNs needed to be mobilized.
Cross-trained nurses answered the call. The surge RNs had been designated as Tier 1, 2 or 3 per skill-set, based on the nursing workforce surge staffing model. Tier 1 RNs could take an independent patient assignment; Tier 2 RNs could be placed in a partnership nursing assignment; and Tier 3 RNs could task and provide other support. Surge RNs were deployed to the area of greatest need within their skill sets.
St. Luke's nurses stepped up. Surge nurses were deployed to fill 292 shifts over three weeks. The relief was evident among the bedside RNs when the wave of nursing support arrived from areas that had not been caring directly for COVID-19 patients over the previous eight months. The deployment was a tremendous demonstration of St. Luke's professional practice model, Relationship-Based Care and ICARE values in action.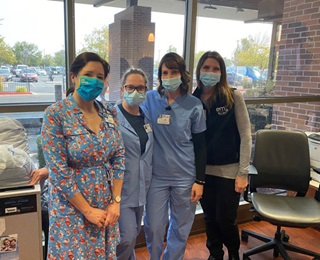 Interdisciplinary Collaboration Improves Patient and Family Experience
When the COVID-19 pandemic hit and waiting rooms in emergency departments (ED) and surgical services closed, family anxiety, stress and worry increased due to restricted communication. Director of Care Experience Center of Excellence Kristy Schmidt, MN, RN, NEA-BC, responded quickly, collaborating with Integrated Health Technologies as well as a team of nurses, informaticists, analysts and health care experts to launch a patient-centered communication program in the electronic health record called Companion Notification. Companion Notification sends notifications via text message or email to patients' identified companions, informing them of standard processes and providing status updates throughout the patients' visits. SLHS teams crafted the messages carefully with language that was both informative and compassionate, hoping to alleviate worry, anxiety and fear of unknowns.
A pilot of the new technology was launched in St. Luke's Meridian ED and surgical services with support from emergency department manager Cari Shuart, MSN, RN, CEN, and surgical services director Melissa Winters, BSN, RN. Due to the pilot's success, the Companion Notification System was implemented throughout St. Luke's EDs and surgical services departments in September 2020. Since its adoption, there has been an upward trend in the "Likelihood to Recommend" patient satisfaction scores. Many respondents shared that they felt peace of mind as a result of staying informed.


Rehabilitation Hospitals Devise a Standardized Approach to Education
In 2020, St. Luke's Health System's rehabilitation hospitals in Magic Valley and Boise developed a standardized approach to preparing staff for the Commission on Accreditation of Rehabilitation Facilities (CARF) surveys, which happen once every three years. Prior to 2020, education was not always coordinated between the two rehabilitation hospitals; as a result, the approach to preparing for CARF did not optimize the strengths of system resources.
Educators Suzanne Adams, MSN, RN; Kathy Cazeau, RN; and Robin Mcenany, MSN, RN, utilized the results of a comprehensive gap assessment to create innovative, just-in-time education to meet immediate needs. They devised a plan to convert the materials into a sustainable approach. Existing modules in the learning management system were updated to reflect current practices and standards. Next, the educators developed additional content to meet the gaps and used Microsoft Sway® to deliver materials to all staff. Content was stratified for delivery to appropriate team members.
The St. Luke's Rehabilitation Hospital in Boise was the first to try the new content. Employees were able to view the material at their own pace and completed post-tests to confirm knowledge transfer. In the future, the content will be converted into modules so that the online learning solution can be used by St. Luke's Rehabilitation: Twin Falls for their CARF survey in 2022.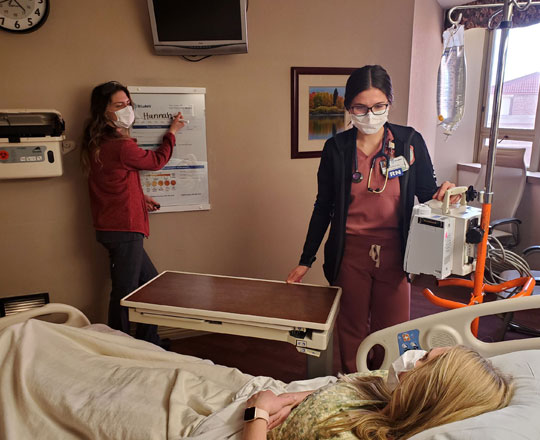 Angie McGraw, BSN, RN, and Mallory Campbell, BSN, RN, perform bedside handoff
Practice Makes Perfect: Evidence-Based Demonstration Leads to Improved Scores
At the end of 2019, bedside RNs participating in the Boise 4 South Care Council identified that there was a lack of consistency both in the content and the location of report. To standardize handoffs taking place at the bedside and improve patient safety, the Care Council collaborated to develop a handoff guide, specific to the patient population, that could be laminated and placed in each room for RNs to utilize while giving bedside handoff. Education about the evidence-based rationale for bedside handoff was provided, and several nurses also participated in creating a video demonstrating an effective bedside handoff.
Furthermore, a team of RNs who consistently and successfully gave bedside handoffs, including Angie McGraw, BSN, RN, and Mallory Campbell, BSN, RN, became unit champions, leading their teammates by example and providing just-in-time feedback to peers who were not giving handoff at the bedside. Nurses also nominated peers who were effective at giving bedside handoff; a "Bedside Handoff Excellence Award" was given at the end of each month.
The following nurses were recognized by their colleagues for demonstrating excellence in bedside handoff: Karrie Passmore, BSN, RN; Hannah Dodge, BSN, RN; Chelsey Nye, BSN, RN; Brea Mikolajczyk, BSN, RN, CMSRN; and Erin Heise, BSN, RN, OCN. Over the course of the year, bedside handoff compliance increased from 80% to 94%. During this time, Boise 4 South also witnessed a trend of decreased change of shift falls and increased efficiency in handoff. In addition, Press Ganey scores demonstrated an increase from a top box score for "Recommend the Hospital" from 78.8% to 83.3%.