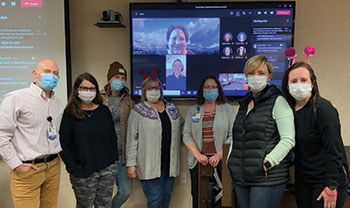 St. Luke's Wood River's Care Council celebrates their successes during a recent hybrid (in-person and virtual) gathering.
Interdisciplinary Care Council Drives Initiatives in Wood River
St. Luke's Wood River established their Shared Governance Care Council in 2020 composed of members representing all areas of the critical access hospital, including nursing, surgical services, imaging, respiratory therapy, physical therapy/occupational therapy, laboratory and pharmacy. Unfortunately, after two successful meetings, the pandemic hit, and future in-person meetings were put on indefinite hold.
As it became clear that in-person meetings would not be possible in the near future, co-chairs Lauren Hoover, BSN, RN, and Karen Stevens, PhD, MSN-Ed, RN, invited members back together via Microsoft Teams®. Taking advantage of the Teams Planner app, Hoover and Stevens developed an engaging and fluid virtual Care Council, which met monthly.
The Care Council has flourished in the virtual format, and council members keep their projects updated on a regular basis. The Care Council successfully completed 17 projects, which include the development of a house-wide resource nurse, outpatient infusion guidelines and an interdepartmental fall risk project. As of February 2022, the council is actively working on 18 SBARs (SBAR: Situation, Background, Assessment, Recommendation) and have three SBARs up for review/vote in spring 2022. The council currently has 16 active members with plans to soon reach out for representatives from other departments, such as Environmental Services and Building Services.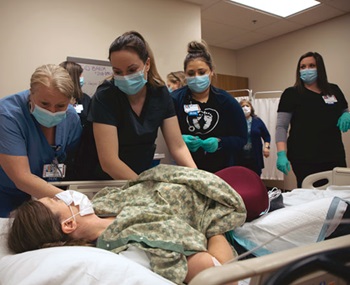 Simulation Program Receives Prestigious Accreditation
St. Luke's Simulation Program was founded using the Society for Simulation in Healthcare (SSH) accreditation standards as the basis for the program's organization. The goal from the outset was to build a program that excelled in meeting international standards for best practice.
SSH is the professional organization that provides accreditation for simulation programs internationally. Its aim is to improve performance and reduce errors in patient care through the use of simulation. It fosters research to improve the evidence-based implementation of simulation in both academic and health care organizations.
The application for accreditation allows the applying organization to complete core standards and then select specialty areas based on organizational goals. St. Luke's Simulation Program chose to apply for core standard, teaching and education, and systems integration.
Core standards are the basic elements a program needs to function well, such as resources, program management, ethical practice and program improvement processes. Teaching and education standards ensure the organization provides excellent, recurring, educational activities that promote staff development and patient safety to learners within the organization. Systems integration accreditation is awarded to those organizations that "demonstrate consistent, planned, collaborative, integrated and iterative application" of simulation for quality, patient safety and risk management activities using "systems engineering and risk management principles to achieve excellent [. . .] clinical care, enhanced patient safety and improved outcome metrics across the healthcare system(s)" (SSH, 2022).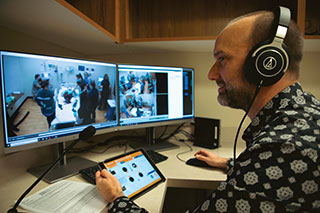 Don Wiedenfeld, simulation technician, monitors the work from the control room.
St. Luke's program was built with the systems integration accreditation requirements in mind. The mission of the simulation program states, "We will work towards ensuring the safety and high-quality care of our patients across the organization by improving team performance utilizing simulation-based education." The vision is, "To transform health care team performance emphasizing highly reliable teamwork that is outcomes-driven, resulting in zero patient harm." The program's policies and processes are written to drive towards these goals.
Simulations are performed throughout St. Luke's. Different types of simulations are used to identify gaps in performance and systems as well as to allow learners to develop teamwork, communication and clinical skills.
The following are some of the simulation types offered:
Immersive simulations put the team in a realistic situation where they can practice high-risk events.
Day-in-the-life simulations provide the opportunity to test new or refurbished environments to identify safety risks for staff and patients before spaces are opened to the public.
Process simulations allow the testing of new products or workflows to determine if they work or can be improved.
Just-in-time simulations are short, low-technology simulations that allow learners to work at improving in specific skills or in the use of communication tools.
Simulation faculty throughout the system receive both classes and mentoring, provided by the simulation program, to ensure that all learners receive high-quality, evidence-based simulation experiences in a psychologically safe environment that supports learning through reflection. All faculty members are assessed for competence using the "Debriefing Assessment for Simulation in Healthcare," an evidence-based tool that guides standardized performance measures.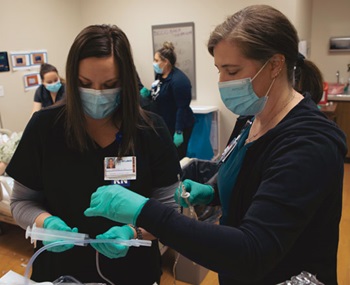 The simulation team has provided support to learners throughout the pandemic. They have also kept the Quality, Safety and Service Excellence Committee in touch with patient and staff safety by providing virtual simulation experiences when they could not do in-person rounding. The team attempts to identify latent safety threats, support the health system as a learning organization, and promote high reliability tools and strategies.
As a result of the enormous efforts demonstrated by the team, St. Luke's was granted an on-site review on May 6, 2021. A team from SSH visited virtually and viewed video submissions from the program to complete a comprehensive review of the simulation center, simulation faculty and learners. In July 2021, the SSH granted accreditation to St. Luke's Simulation Program and noted accolades for teaching and education as well as for system integration standards.
Simulation is an integral tool at St. Luke's for promoting, supporting and maintaining staff and patient safety. The Simulation Program works relentlessly to identify gaps that can be closed. Team members are committed to being change agents that use evidence-based methods and clinical information to give staff the tools they need to provide safe patient care. As an accredited program, St. Luke's has simulation experts who can improve safety through the identification and implementation of best practices.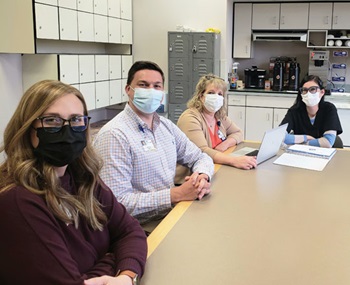 From left to right: Nursing Manager Erika Groves, BSN, RN; Practice Manager Gabriel Payne; and Nursing Manager Marni Parry, RN, meet with RN Lead Roxy Nichols, MSN, RN, to review onboarding handbook and participants' individual progress.
Ambulatory Standardizes Primary Care Nurse Onboarding
Through a primary care patient access initiative, focused work effort was initiated to develop a standardized RN onboarding process for ambulatory clinics.
A profile for a defined ambulatory RN role and fundamental guidelines for standardized RN onboarding and orientation were developed. The RN onboarding foundational model outlines specifics related to orientation timeline, required training, professional development opportunities and regular check-in touch points to monitor onboarding progression and effective/ efficient completion of onboarding handbooks.
This process has been piloted in primary care clinics throughout the system from September 2021 to present. To date, eight RNs have participated in the pilot: three successfully completed the 90-day introductory period and five are currently progressing through the process.
This standardization has led to an improved experience for the RN onboarding in a primary care clinic. Additionally, because of this standardization, improved communication and collaboration among the intradisciplinary team (clinic manager, nurse manager, clinical educator and nurse) has occurred during the RN onboarding process. Opportunities for process optimization have been identified during each pilot experience.
The outcomes of this initiative will ensure that RNs are working to the top of their license; have received appropriate training and skills validation specific to the clinical skills being performed in the ambulatory RN role; professional development opportunities; and, ultimately, increased overall job satisfaction.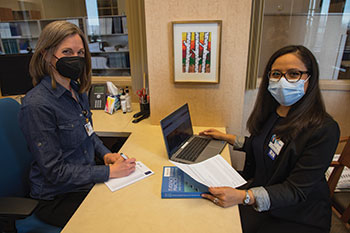 A Nurse-Librarian Partnership for Rapid Evidence Translation
With rapidly increasing volumes of information, discovering the best, most impactful evidence for practice is a major challenge as literature searches often return hundreds or even thousands of results. Compound this issue with the complexities of navigating an ever-evolving biomedical information landscape, especially during a global pandemic, and you may spend hours tracking down information needed to make rapid, evidence-based decisions.
To help, St. Luke's Library launched a pilot service, the weekly COVID Literature Digest, to highlight the latest findings on key topics. It is primarily compiled from expert-curated lists, guidelines and evidence synthesis teams, as well as from key studies, journals and research organizations.
A core component of this program's success has been engagement from our nursing partners, like the clinical staff at the Nursing and Patient Care Center of Excellence (CoE), who actively review and share evidence with key groups to inform practice and clinical operations. In turn, nursing partners notify the library of current and emerging information needs. Through this partnership, nurses at the Nursing and Patient Care CoE have effectively impacted a variety of initiatives related to vaccine administration, antibody and other treatment administration, testing and staff well-being, to name a few.


PATHS Participants Continue to Find Opportunities for Improvement in New Areas
Professional Advancement Through High-Performance and Skill (PATHS), St. Luke's professional development program, was created to empower and engage clinicians. Clinical staff identify a problem impacting their work or the patients in their care. As they engage in project-based activities, participants seek evidence-based innovations to solve the problem and implement them in their unit. Participation in the program engages clinical staff in the work of designing, improving and innovating clinical practice.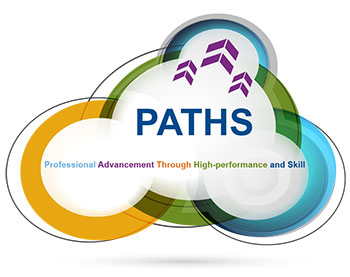 " When I moved from the intensive care unit to cardiac rehab, I immediately started thinking, 'What can I do to improve things here?' While doing some work for the department, I started to ask questions about why things were done/not done. This questioning led to investigation about cardiac rehab programs and readmission rates. Once I found out the incredible difference between readmission rates between those that attend CR/don't attend CR, I was determined to increase our enrollment numbers to decrease our readmission rates."
– Dawn Swick, BSN, RN, CCRP