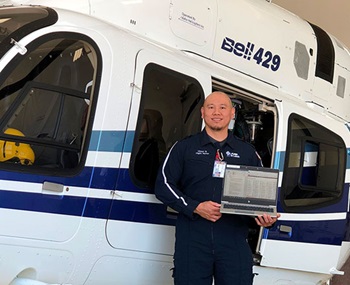 Air St. Luke's Implements Enhanced Staffing Model – Guides Team to Improved Performance
The profession of a flight nurse is notably riskier than most traditional nursing roles, mainly due to environmental and situational factors. At Air St. Luke's, safety is at the forefront of operations. Although it's impossible to eliminate all risks, Air St. Luke's nursing staff consistently recognize safety issues for both patients and staff. A strong focus on these issues helps ensure the team comes home to their families at the end of the day.
In Spring 2019, Victor Quon, BSN, MBA, RN, CFRN, began exploring safety concerns related to the team's staffing model. After collecting information and feedback from staff, leadership, emergency medical services (EMS) colleagues, and other internal and external stakeholders, Quon developed a plan to create and implement a safer staffing model. The model centers on the concept of dedicated teams where staff are assigned to transport teams based on rigorous, validated competencies. By systematically evaluating the various strengths, knowledge and technical skills of individual staff, a collaborative interdisciplinary group makes recommendations on team assignments matched to skill level. Objective data and documented feedback ensure that bias and subjectivity are virtually eliminated.
Since implementation, positive outcomes include improved team performance, engagement and morale, positive feedback from various internal and external stakeholders, and several teammates qualifying for in-line promotions. The team's response times are faster, on-scene times are shorter and call volumes have dramatically increased.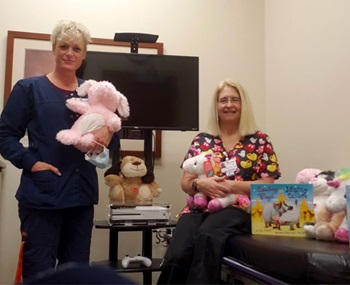 Marianne Svendsen, BSN, RN and Wendy Vandenburgh, BSN, RN provide children visiting the Elmore ED with toys and books to help distract from stressful situations.
Elmore Emergency Department Provides Healing Environment for Pediatric Patients
St. Luke's Elmore emergency department (ED) nurse Wendy Vandenburgh, BSN, RN, identified a need for the pediatric population. Children come to the ED in a time of crisis. It's an unfamiliar place that can be scary for children and their parents. This fear can lead to ineffective coping, which may manifest as crying, screaming, defiance, combativeness, tantrums or aggression. To mitigate these behaviors, Vandenburgh thought diversion techniques may be helpful to calm the child, parents and situation. The nursing staff has always tried talking calmly, lowering lighting and asking parents for assistance; however, there was often still a gap in getting the child to be calm for further assessment or a procedure.
Vandenburgh tried using stuffed animals and small handheld toys to distract the child and secondarily build trust. She has had great success, and it is now the standard for each child to get a toy when coming to the ED. Vandenburgh was able to secure a grant to help fund the toys. All health care providers can recall caring for a child who was completely overwhelmed by the ED experience. These toys allow children to fidget and focus on something else. After a few minutes, a child is calm, smiling and playing with the toy, giving staff a window of opportunity to provide necessary care. De-escalating the situation with diversion tactics has greatly improved the care and experience for Elmore's tiniest patients.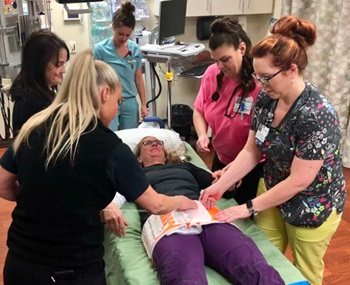 Meridian Emergency Department Collaboration Leads to Level IV Trauma Designation
St. Luke's Meridian achieved a Level IV Time Sensitive Emergency Trauma Designation by improving the overall trauma care experience in the emergency department (ED). Becoming a Trauma Center means following stringent criteria and being equipped to provide advanced trauma life support. The Meridian ED nurses have gone above and beyond to make sure the community is getting the best care possible.
From the beginning, nursing collaborated to identify a critical room and determined what supplies/equipment would be needed to provide immediate care. Nursing also worked with ancillary departments to decide where items would be located and how the area would be prepared to ensure team readiness. Nursing adopted and implemented new documentation for trauma within the electronic heath record, which is unique because many facilities still document on paper due to the fast-paced care of traumas. Trauma triage guidelines were also created in order to better identify who may require this trauma team approach.
All emergency nurses completed Trauma Nursing Core Course (TNCC), a nationally recognized two-day class certification through the Emergency Nurses Association. It teaches a systematic and efficient way to assess and care for trauma patients. Nurses are required to maintain this four-year certification moving forward. They also attended multiple scheduled department trauma classes that emphasized the importance of readiness along with surprise mock scenarios.
"Having the trauma certification class alone has made a big difference in my nursing career," Meridian ED nurse Crystal Davis, BSN, RN, said. "I have seen such an improvement since the beginning of this process. With everyone on the same page, we are even better at what we do."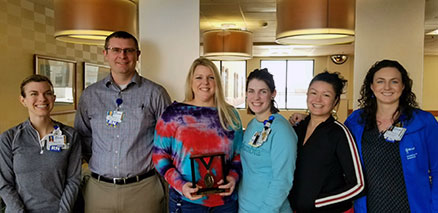 Nampa DEU preceptors with the Eugene Emerson Award, from left to right: Lynette Hyde, BSN, RN; Ben Bockelman, BSN, RN; Rachel Hilderbrand, BSN, RN, CMSRN; Jennifer Hainer, BSN, RN; Regan Kiehne, ADN, RN; and Lauren Boyd, BSN, RN, NPD-BC, CMSRN.
Nampa Medical/Surgical Unit Teaches Nursing Students on Designated Education Unit
Northwest Nazarene University (NNU) and St. Luke's Nampa collaborated to create a Designated Education Unit (DEU) in 2018. The purpose of the DEU is to create continuity and consistency for both preceptors and students and to improve the quality of the learning environment. Utilizing the University of Portland's DEU Model and features from NNU's current clinical model, Nampa nursing leadership including Kayla Ingram, BSN, RN, NE-BC, Manager of Med/Surg, Transportation and Volunteers; Joan Agee, DNP, RN, CNOR, FACHE, CNO/ COO; and Lauren Boyd, BSN, RN, NPD-BC, CMSRN, Clinical Educator, collaborated with NNU to create a unique DEU model.
Upon initiation, the DEU pilot began with a cohort of senior nursing students. Selected by leadership and functioning under the guidance of clinical educator Boyd; preceptors Rachel Hilderbrand, BSN, RN, CMSRN; Lynette Hyde, BSN, RN; and Kate Kircher, BSN, RN, CMSRN, received adjunct faculty training to support their understanding of student needs and increase knowledge of program expectations. The responsibilities of the preceptor were similar to an adjunct clinical instructor.
The pilot was a tremendous success, gauged by preceptor and faculty feedback, student experience and recruitment. Students stated "You have all been so wonderful. Thank you for all of the education. This has truly prepared me for my nursing start." Based on the success of the pilot, the DEU was expanded to seniors and juniors in the fall of 2019. This required adjunct training for additional preceptors (Ben Bockelman, BSN, RN; Jennifer Hainer, BSN, RN; Claudia Ramirez, BSN, RN; Regan Kiehne, ADN, RN; and Cory Hoover, BSN, RN) and doubled the number of students.
Because of the demonstrated partnership with NNU and success of the DEU, St. Luke's received NNU's highest honor—the Eugene Emerson Award. The award recognizes and honors individuals and organizations that are committed to partnering together to create a strong unity for the community.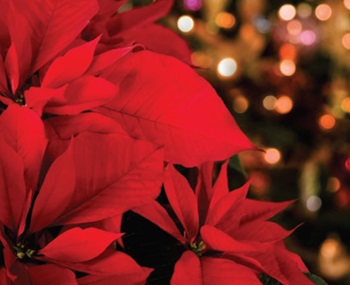 Magic Valley Emergency Department Provides Healing Experience for Family on Christmas
On Christmas Eve 2019, a young mother presented to St. Luke's Magic Valley Emergency Department (ED) with a chronic abdominal issue. She had her two daughters with her. The girls tried hard to stay out of the way while the ED staff quickly worked to care for their mother. As the ED team ruled out an emergency condition, the visit transitioned into a long wait of processing and determining the best disposition for the mother.
Mary "Murri" Locascio, Certified Nursing Assistant, attempted to engage the girls and provide them with juices and distractions. While waiting on the determination of their mother's condition and rounding on the patient, the younger of the children was overheard by Christina Bates, BSN, RN, saying "I hope we're home on time so Santa won't forget us." The older sister replied, "It really doesn't matter."
Bates and her husband volunteer for the East End Providers of Kimberly, Idaho, a nonprofit organization that works year-round to provide families in need with clothing, food boxes and toys. They decided to try to organize something to brighten the girls' spirits. Elizabeth Spence, ADN, RN, overheard the idea. Her mother works with another nonprofit, Toys for Tots. At that point, the magic of the Christmas season took effect.
As the family was being discharged home, they walked past a desk topped with an avalanche of goodies. They were in shock as staff told them they could have the gifts. The girls carefully looked over the collection and each selected a coat. They had not arrived with coats despite the frozen night air. They tried to leave with only the coats. As Bates and Spence continued to explain that they didn't have to choose just one, but that all the gifts were for them, the girls became overwhelmed with joy! New socks, underwear, clothing and toys were soon scooped up in excited arms.
Locascio used the opportunity to foster a relationship with Toys for Tots, and working together arranged for repeated donations to the ED. Along with St. Luke's Magic Valley Foundation funds the ED raises annually for a Toy Treasure Chest, Locascio now restocks the chest regularly, so there are always toys and games available throughout the year for children visiting the ED.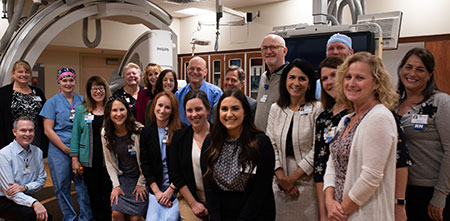 Meridian staff take a tour of the new neurointerventional biplane suite.
St. Luke's Meridian Collaboration Expands Services and Brings Innovative Care Closer to Patients
Patients arriving at St. Luke's Meridian with a blocked cerebral artery can now have the clot removed by skilled physicians in a state-of-the-art interventional suite. The suite, which opened October 1, 2019, includes a neurointerventional biplane that allows physicians to remove blood clots without surgery.
St. Luke's Meridian has the busiest emergency department in Idaho and is set in a community that expects to grow by 17% in the next five years. Building an interventional program at the Meridian hospital was a response to the community's need and a logical next step in improving stroke care in Southwest Idaho. The expansion also aligns with St. Luke's goal to "keep patients closer to home." The expansion is the result of a unique collaboration between Interventional Cardiology's Nate Green, MD and Neurointervention's John Perl, MD.
Key nursing leaders also supported the effort, including Telemetry Director of Nursing and Patient Care Deb Rio, MSN, RN, CCRN-K, NEA-BC; ICU Manager of Nursing and Patient Care Susie Blake, BSN, RN; and Telemetry Manager of Nursing and Patient Care Charlotte Vorhies, BSN, RN. Early on, nursing leaders worked with the Stroke Program Manager and the project team to identify potential risks. There was a strong effort to understand the current state and how the addition of the biplane would change room availability, staffing availability and workflow. The combined work at Boise and Meridian with nursing leadership, nursing staff, imaging leadership and interventional radiology technicians (IR techs) highlighted a variety of risks that were mitigated by building an action plan.
In anticipation of the opening, Meridian nurses participated in educational events and simulation training, tested workflows and expanded their knowledge. Select nursing and IR tech staff were taken through these simulations where they were able to ask questions and provide feedback. The input from staff helped define the final workflow. Medical imaging nurses say they're excited to assist in this lifesaving intervention, and ICU and telemetry nurses stand ready to provide post-procedure care.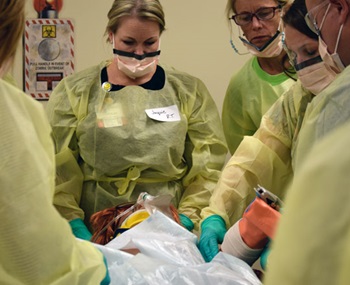 St. Luke's Children's Hospital Leads the Way with Idaho's First Pediatric Trauma Program
In April 2019, St. Luke's Children's Hospital in Boise opened its doors to Idaho's only Pediatric Trauma Program. Prior to this, Idaho only had adult trauma centers, resulting in emergency pediatric trauma care being provided in adult-focused trauma centers. After the initial stabilization and resuscitation phase of care, pediatric patients would be transferred to a children's hospital for definitive care. With St. Luke's Children's Hospital accepting pediatric trauma patients through the emergency department (ED), injured children no longer must undergo transfer to a second facility and can receive the definitive care they need by teams of highly trained pediatric specialists.
Although the staff have always cared for trauma patients, either through the front door of the ED or as an inpatient transfer, additional focused and extensive trauma education and training was provided to all members of the Pediatric Trauma Team to ensure evidence-based best practice was utilized to treat this patient population. Nurses completed more than 3,500 hours of didactic readings, skills training and simulations specific to pediatric trauma. The focus of the simulations was "worst case possible" trauma scenarios, and were completed collaboratively with all members of the trauma team: Air St. Luke's, pediatric trauma surgeons, pediatric neurosurgeons, ED physicians, pediatric intensive care physicians, nurses, pharmacists, respiratory therapists, child life specialists and spiritual care providers. All this training prepared the St. Luke's Children's Hospital Pediatric Trauma Team to provide the best care possible for critically injured pediatric trauma patients.
Care for a pediatric trauma patient expands across many departments. Nurses from the ED, OR and PICU respond to the trauma bay to provide care for the acutely injured child and facilitate a smooth process for admission. Relationships among the departments have been strengthened to provide comprehensive care and improved patient outcomes and experiences across the continuum of care.
Since April, St. Luke's Children's Hospital has treated some of the most critically injured pediatric trauma patients, but with enhanced standardized training and care from dedicated staff, the outcomes have been optimized for this vulnerable population.