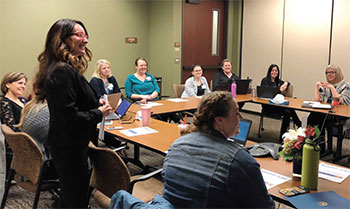 Ambulatory Shared Nursing Leadership Council
System Collaborators Facilitating Improvement
In April 2017, the Ambulatory Shared Nursing Leadership Council (ASNLC) was launched. The council, designed by Alicia Young, MSN, MBA, RN, Ambulatory CNO, St. Luke's Clinics, was developed to ensure evidence-based care standards across the ambulatory health system. The goal of ASNLC is to facilitate continuous improvement toward zero harm, a culture of best practice and patient safety through the five principles of highly reliable organizations: preoccupation with failure, reluctance to simplify interpretations, sensitivity to operations, commitment to resilience and deference to expertise. This commitment requires a strong nursing leadership council representing a variety of sites, disciplines and representatives from outpatient and ambulatory venues.
The council uses multidisciplinary workgroups led by RNs to address priority issues. Current workgroups include:
System Ambulatory Medication Management Workgroup
System Ambulatory Protocol Workgroup
System Ambulatory Scope of Practice Workgroup
System Ambulatory Education & Competency Workgroup
System Infection Prevention Workgroup
System Environment of Care Workgroup
System Ambulatory Workforce Management Workgroup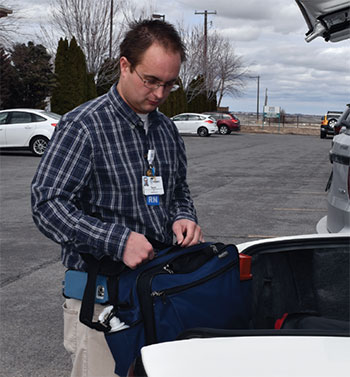 Daret Lamm, ADN, RN, getting ready for his next home care visit.
Magic Valley Home Care and Hospice Collaborate with Community Partner to Assist Families in Need
A $2,000 grant sponsored by Deseret Industries enabled St. Luke's Magic Valley nurses to change the lives of patients and their families in 2017. Daret Lamm, ADN, RN, Home Care/Hospice Coordinator, was caring for a pediatric patient when he noticed the family had very little furniture in their house. The family used all their resources to keep their son comfortable.
When Mr. Lamm discovered that the dedicated parents were sleeping on the floor in sleeping bags, he worked with Travis Stickler, BSN, RN, CHPN, Hospice Supervisor, to purchase a mattress and box springs for the parents using the grant money at the local Deseret Industries. The parents, unaware of Mr. Lamm's "care plan" outside of the home, were surprised and overcome with gratitude when they received the gift.
The grant also allowed for a washing machine to be purchased for a family in need who recently immigrated to the area. Home Care nurses were honored to teach the family how to use the new machine. These stories are just a sample of how community collaborations make a difference for patients and families. St. Luke's Magic Valley Home Care and Hospice nurses' use of the grant funds so generously provided by Deseret Industries benefited eight patients and families in 2017.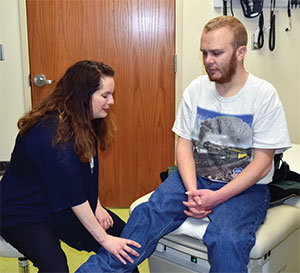 Nurse Navigator Role Guides Adolescents and Young Adults with Cancer
Adolescents and young adults (AYA) experience unique barriers to care during their cancer treatment, from diagnosis through survivorship. They undergo physical, social and emotional transitions, and are asked to make life-impacting decisions including choices surrounding fertility and treatment adherence. The AYA nurse navigator program was designed and is staffed by Marni Allen, NP, Nurse Practitioner, St. Luke's Mountain States Tumor Institute (MSTI) Pediatric Clinic, who identified these unique, unmet needs of this population both during and after cancer treatment.
The AYA nurse navigator role has improved coordination and continuity of patient care and offered increased access to fertility preservation. Patients have experienced improved transitions across the spectrum of care including: establishing primary care following treatment, bridging care to rehabilitation programs and increasing survivorship referrals to include four of the top five AYA diagnoses.
St. Luke's Health System is performing a comprehensive needs assessment to determine future program expansion. It is anticipated that an expansion of services will include older AYAs and encompass additional cancer diagnoses.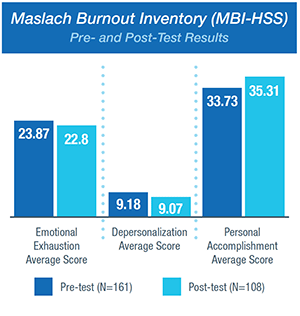 A decrease in the scores for Emotional Exhaustion and Depersonalization indicates an improvement in those categories, whereas an increase in score indicates an improvement in Personal Accomplishment.
Boise ICU Early Adopter of Healing Program for Staff
Erin Roth, MSN, RN, CMSRN, Senior Director of Nursing/Patient Care, Heart Service Line, was an early adopter in the Treasure Valley for Re-Igniting the Spirit of Caring (RSC). RSC, a three-day seminar of activities to help reinvigorate staff and prevent burnout, focuses on caring for self, strengthening relationships with co workers and reconnecting with the core purpose of the staff's work. In 2017, an interdisciplinary group of over 300 critical care team members in Boise, including over 150 RNs, participated in the RSC seminars. Ms. Roth administered the Maslach Burnout Inventory (MBI-HSS), a validated tool used to measure burnout, before and after staff attended RSC. Results from the assessment indicated a slight increase in personal accomplishment scores and a slight decrease in emotional exhaustion scores after participating in the RSC event.
While the improvements in the MBI-HSS scores are promising, changing the culture in critical care units continues. A steering committee was formed to help address culture concerns, and changes have already been implemented. For example, the units were experiencing an increased number of deaths, and due to high patient volumes, staff did not have time to break after a death to reflect or acknowledge the moment. Recognizing how taxing this was, reflection rounds were implemented. During the reflection, a physician reviews the clinical aspects of the death, then a chaplain leads staff in reflection on the emotional impact.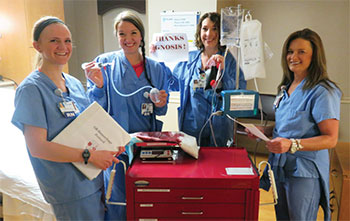 Individualized Education Improves Outcomes and Decreases Cost
Nurses as Collaborators
Maternal morbidity and mortality continue to rise in the U.S., due in part to preventable contributing factors such as delays in diagnosis or treatment and failure to recognize patients at risk. At St. Luke's, Julya Miner, BSN, RN, RNC-OB, C-EFM, CPHQ, partnering with Claire Beck, MN, BSN, RN, RNC-OB, and Alecia Gorringe, BSN, MHE, RN, CHSE, spearheaded a team including clinical nurses, clinical educators, nursing leaders and providers from across the Health System to determine how to address rising maternal events and emergencies. The solution was to implement a systemwide, innovative educational intervention program to identify and address learning gaps for managing obstetrical (OB) emergencies.
The educational program includes implementation of GNOSIS, a new e-learning platform. Instead of requiring completion of all modules as was done in the past, GNOSIS creates individualized learning paths based on proficiency scores. Simulations based on practice area gaps noted in team proficiency scores and instructor-led courses are then blended with the e-learning modules to improve proficiency.
This program has proved successful with significant improvement between initial scores and reassessments. Clinically, massive transfusion rates have decreased by more than half. Finally, the use of a data-driven, rightsizing training led to an estimated savings of $18,427 through a reduction in mandatory education time.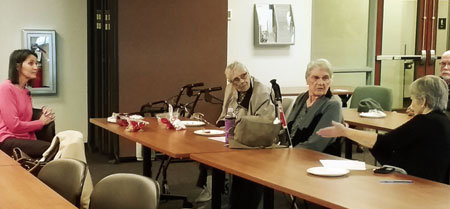 Linda Gould, MSN, FNP (left), leading a Better Breathers Club discussion.
St. Luke's Idaho Pulmonary Associates Serves as Guide to the Community
St. Luke's Idaho Pulmonary Associates (SLIPA) kicked off a quality initiative in 2017 to improve the quality of life for people in the community affected by lung disease. The American Lung Association (ALA) presented an opportunity to SLIPA for a collaboration that perfectly aligned with SLIPA's quality initiative. The ALA requested St. Luke's support a chapter of the Better Breathers Club® (BBC) in the Boise/Meridian area. The BBC is a free support group that provides individuals with lung disease and their primary support person an opportunity to receive education and emotional support from both professionals and each other.
SLIPA was eager to strengthen their relationship with ALA and to provide this resource to the community, so a dedicated team from SLIPA started a local chapter of the BBC in Meridian. Linda Gould, MSN, FNP, who has a background in and passion for community health, volunteered to become a certified BBC facilitator. Future goals for the BBC are to have a member become a certified facilitator to help lead the group and have Ms. Gould step back in a more consultative role. SLIPA also hopes to bring a BBC to Magic Valley in 2018.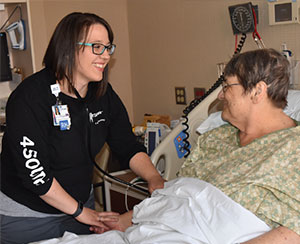 Inpatient Oncology Vital Sign Standardization Leads to Healing Environment
Standards of care for inpatients can lead to restless nights for patients. On Boise 4 South, routine vital sign times were not aligned with schedules for medication administration, resulting in nurses having to wake patients every two hours from 10 p.m. until 6 a.m. Interrupting patients' sleep caused a stressful situation for staff and patients alike, so a proposal to change standard vital sign times was brought to Boise 4 South's Inpatient Practice Committee.
The committee decided vital sign times should be moved two hours to allow for patient care to be grouped, decreasing interruptions for the patient. The proposed vital sign time change was presented to oncology providers and the Affinity Council and accepted by all.
The change in vital sign times has allowed for more time at shift change to help answer call lights, more time in the morning to assist patients with meals and showers, and overall there has been an improvement in the flow of the day. In addition, patient satisfaction has increased as their sleep is only interrupted every four hours during the night for vital signs and other care.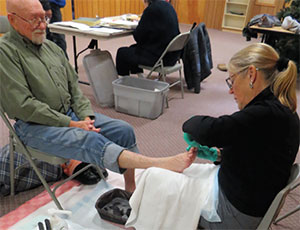 Janet Jeffery, MSN, RN, provides services to a patient during a Foot Care Clinic.
McCall Nurses as Healers
Finding Reward and Purpose Two Feet at a Time
"In my 40-plus years of nursing, I have found providing care at St. Luke's McCall's foot care clinics to be as rewarding and meaningful as any position I've fulfilled," says Janet Jeffery, MSN, RN. "I adore the patients, their life stories, and their determination to stay on their feet." Ms. Jeffery is one of three RNs who treat 120 patients monthly at foot clinics in McCall, New Meadows, Council and Riggins.
While called a foot clinic, it is a whole-person, general wellness check-up. In addition to clipping, cleaning and massaging feet, providers look for sores below the knee, check blood pressure, blood sugars and breathing, and ask about medications. "We see exceptional people and we extend their mobility," Ms. Jeffery explains. "If a senior's feet are painful or diseased, they move less which leads to quality of life issues and other chronic conditions." Nearly every clinic day, Ms. Jeffery observes a condition needing immediate medical attention and she makes sure the patient schedules a next-day physician appointment.
In addition to meeting medical needs, the clinics provide a social experience as the senior patients chat with the RNs and other patients about life and community events.
New Professional Development Program Launched Throughout the System: Professional Advancement Through High-Performance and Skill (PATHS)
St. Luke's Health System launched a new professional development program, Professional Advancement Through High-Performance and Skill (PATHS), in February 2017. The PATHS program is evidence-based and was designed with input from clinical leaders and staff representing each site across the system. In addition to the clinical leaders and staff who participated in the multi-year development work, feedback on the program concepts was obtained from 400 clinical employees via a survey process.
About PATHS
The purpose of PATHS is to foster professional development, empower and engage clinicians in making improvements, and to support financial stewardship. The program provides eligible clinical staff in hospital and ambulatory settings from across the Health System the opportunity to engage in the work of designing, improving and innovating clinical practice. It also allows for staff to participate in activities and projects that impact more patients and other professionals than is possible one patient encounter at a time.
PATHS consists of three pathways aimed at improving patient outcomes: clinical practice/process improvement, resource management and patient
activation. Interested staff with projects aligning to these pathways may submit a proposal to become a PATHS cohort participant during two application periods during the year.
Review Committee
The PATHS program, led by Program Manager Julie Swanson, MN, RN, is supported by a Review Committee made up of leaders from across the system. Their role is first to approve projects that have been endorsed by the participant's leader, and second to determine financial award payout at the completion of the project. Rubrics that assess scope, quality, effort and outcomes are utilized to evaluate and score projects at each point.
The First Cohorts
In May 2017, the Review Committee approved 21 projects for the first PATHS cohort. Projects from all three pathways were submitted by nurses and clinical staff from across the Health System. Samantha Blackburn, RN, St. Luke's McCall Post-Operative Care (cover photo and pictured below), led a project titled Standardizing Discharge Instructions for Surgical Services. It showed positive outcomes in ensuring patients have the information needed to care for themselves following surgery. One of the physician stakeholders shared that since the discharge instructions were implemented he has noticed a decrease in the amount of calls his clinic receives related to questions on post-surgical care.
Caroline Davis, BSN, RN, from St. Luke's Treasure Valley Pediatrics was one of 13 individuals whose projects were approved for Cohort 2 in October. After returning from maternity leave she found it difficult to find a safe, convenient, clean and private lactation space at work. Ms. Davis teamed up with Women's Services and her manager in the Children's Specialty Center and developed a PATHS project which seeks to not only improve lactation spaces in the Children's Ambulatory clinics but also support new mothers in the transition back to work.
Participant Perspectives
"In the past year, I was fortunate to represent McCall on the PATHS Review Committee. During that time, I have seen the growth and development of two local nurses as they own and expand their practices. In addition to the positive changes here in McCall, I have had the honor to review projects from all over the system. We have talented employees in this organization, and an exceptional, visionary leader in Julie Swanson [PATHS Program Manager] to guide them in these projects to ensure our patients receive the best possible care."
– Michelle Harris, BSN, RN, CNOR, NE-BC, Director of Perioperative Services, McCall, and Member of PATHS Review Committee

"As soon as I heard about the PATHS program I knew it would be something I would be interested in. One of my passions in nursing is problem solving and improving processes. I also love serving as an advocate for not only patients but also my colleagues. PATHS allows a literal "pathway" for me to accomplish my goals in a supportive environment. The opportunity for growth in improving access to lactation space for working moms has recently been presented to the Chief Nursing Officer Council and I'm excited to be a part of the initiative in helping St. Luke's become a leader in our community in advocating for the needs of working mothers and their children."
– Caroline Davis, BSN, RN, PATHS Cohort 2 Participant
Benefits of PATHS
PATHS participants are rewarded both professionally and financially for their work. They develop or gain new skills in patient-centered care, teamwork and collaboration, evidence-based practice, quality improvement, safety or informatics. Their time spent working on their project is paid by PATHS, and participants are eligible to receive a bonus reward based on the quality, effort and outcomes of their completed project.
The PATHS Oversight Committee is excited for the future of the PATHS program. Outcomes are being monitored to determine when and how the program will expand to include projects larger in scope that will have a broader impact on the organization.
For more information about PATHS, please email pathsquestions@slhs.org.