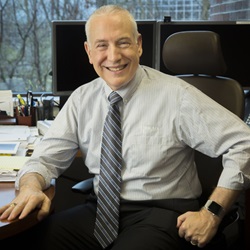 I am very proud of the work going on at St. Luke's Health System to improve our pharmacy services, increase access for patients and control rising pharmaceutical costs.
I have also personally benefited from one of our initiatives: Meds2Beds. After my knee replacement with St. Luke's, my prescription medications were brought to my room and a pharmacist went over my medications with me. What a tremendous convenience not to have to go to and wait at the pharmacy for my discharge prescriptions after having surgery!
Here to tell you more about this and other initiatives we are undertaking is Chereen Langrill, former St. Luke's communications coordinator.
- David C. Pate, M.D., J.D.
---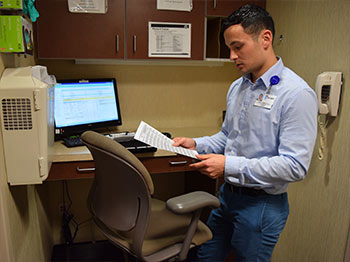 Boise pharmacist Layne Tominaga
Pharmacy has played a prominent role in 2018 news. Among other developments, Amazon announced the purchase of PillPack, a company that mails prescriptions directly to the homes of consumers; Civica, a new company, has been formed by a number of health systems to manufacture medications to counter high prices and shortages; and Pfizer Inc., announced plans to raise prices on 41 drugs in the coming year.
Amid national news about policy changes and rising costs for medication, St. Luke's has remained focused on efforts to increase medication safety and improve access for patients.
Here are some ways that the St. Luke's pharmacy team has improved medication access and safety this year:
Expansion of the 340B program
The federal 340B drug pricing program is in place to help patients access the medication they need by providing free or discounted drugs to people with limited or no incomes or who are uninsured.
The program is available to hospitals participating in Medicaid and has been in place at St. Luke's Treasure Valley locations, but now has been expanded into McCall and Elmore County.
The program will provide much-needed support for two counties where people are living on restricted incomes. As one measure of economic hardship, the food insecurity rates in McCall and Elmore counties are 14.6 percent, meaning those residents don't have consistent access to nutritious food.
Improving medication access for hospital patients
Meds2Beds began as a St. Luke's pilot in 2016 and quickly proved successful at improving patient access to medication. When it began, the focus was a single patient population (people with chronic obstructive pulmonary disease) at St. Luke's Meridian. Today, the program is available for patients in Meridian, Nampa and Boise, and the served population has also expanded.
The service has been especially helpful for orthopedic surgery patients. Physicians now write prescriptions earlier in the process to help get these patients discharged sooner. Having medication delivered to the bedside gives patients the opportunity to talk with someone from the pharmacy and receive clear instructions, which reduces medication errors after discharge. It also eliminates the need for patients to stop on their way home to pick up prescriptions, an important feature because about 30 percent of patients without access to a program like this never fill their prescriptions.
"We've seen a very productive evolution of what we are capable of, and it also meets our goals to take better care of the patients," said Clark Brenisholtz, St. Luke's pharmacy technician.
Streamlining and refining to increase efficiency
Process and other improvements also have made a positive impact throughout the system:
Outsourced service that supported after-hours pharmacy coverage for hospitals without 24/7 pharmacy staff was brought in-house to Boise. That change improved the medication approval turn-around times from 40 minutes to 10 minutes.
A new software system deployed this year decreased patient wait times at St. Luke's outpatient pharmacies.
A new outpatient pharmacy was opened in Nampa.
A new medication and supply dispensing automation system has standardized the bedside distribution of controlled substances. The new system includes a mobile anesthesia cart used in the operating room, emergency department and labor and delivery rooms.
Pediatric pharmacists providing 24-hour support
For St. Luke's youngest patients and their families, access to a pharmacist became easier in 2018. St. Luke's now has pediatric pharmacists available on a 24-hour basis. This means parents can speak with a pediatric pharmacist at any time to receive instructions or support, and providers and staff at any St. Luke's facility can speak with a pediatric pharmacist at any time with questions regarding medication therapy for pediatric patients. St. Luke's team includes the only five board-certified pediatric pharmacists in Idaho.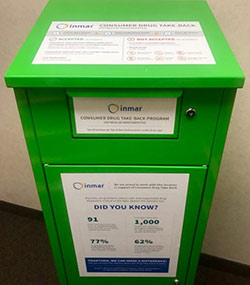 Safer medication disposal
Prescription drug abuse is a growing concern nationally and within Idaho. According to the Centers for Disease Control and Prevention, each day more than 1,000 people are treated in emergency departments for misusing opioids, and more than 46 people die from prescription opioid overdoses.
Safe disposal of prescription medication can increase safety by reducing the opportunity for medication abuse.
Green metal drop boxes are now in place at St. Luke's outpatient pharmacies to help people safely dispose of expired or unwanted medication (including prescriptions and over-the-counter medications). A grant from the Idaho Board of Pharmacy helped pay for the drop boxes to be placed at St. Luke's outpatient pharmacy locations in Boise, Meridian and Nampa.
Controlling costs
The pharmacy department collaborated with other departments on a number of clinical initiatives focused on reducing waste, reducing unnecessary variation in practice and leveraging a systemwide formulary and utilization management, reducing overall drug expenses by more than $1.3 million in the fourth quarter of fiscal 2018.