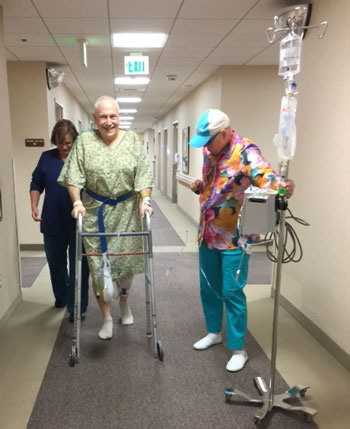 Taking a walk with my nurse and my wife, three hours after surgery!
In an August blog post, I wrote about my pending total knee replacement and steps I was taking to prepare for that surgery, and promised to share an update.
Before the surgery, I knew that I was overweight, that my quadriceps muscle had atrophied because I had been limping and that both of these factors could mean my recovery might be suboptimal. It would be better if I could go into surgery with my weight down and my strength up.
For me, the question was how I was going to accomplish this when my knee was so painful that my activity was limited?
That's when I learned about the "pre-hab" program being developed by St. Luke's Dr. Jennifer Shalz. The approach accounts for diet and exercise prior to surgery to make patients more successful with their rehab.
I jumped at the chance to test the program. I went on a plant-based, whole-foods diet to lose weight and decrease the inflammatory environment in my body, and worked with an exercise physiologist who gave me an exercise program that I could do that would strengthen my quadriceps muscle, but not aggravate my knee pain.
I adhered to my diet and exercise plan and had the surgery on Aug. 14.
So, how did I do?
I lost 50 pounds – about half before surgery and about half in the following two months. I regained the strength in my quadriceps before surgery, and I think that really helped in speeding up my recovery.
I avoided all complications of surgery and have exceeded all of my goals for rehab.
I am grateful to all the wonderful caregivers at St. Luke's – the surgeon, physician assistant, anesthesiologist, nurses and nursing assistants and physical therapists. I also want to give a particular shout-out to the nutrition department at St. Luke's Meridian for wonderful meals while I was in the hospital!
I knew the St. Luke's team was great, but I also knew that it was up to me to take accountability for my part in all of this – improving my health the best I could.