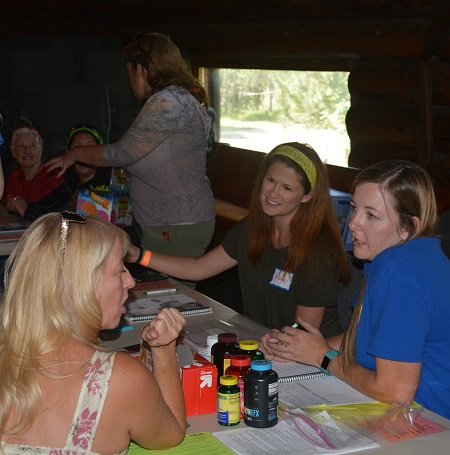 Mom, wife, professional pharmacist.
Megan Hatt juggles many roles and does so with dedication and compassion.
She's committed her volunteer time with the same sense of thoughtfulness and finds it all the more meaningful when she can utilize her specialized skills.
"I want to make sure I'm making a difference," she said.
Hatt grew up in Glenns Ferry and earned a Bachelor of Science degree at Boise State University and a Doctorate of Pharmacy from Idaho State University. She is now a St. Luke's McCall pharmacist and the mother of a toddler.
By chance, Hatt met Kelsie Hopfensperger at a social gathering. Hopfensperger is a care and clinical services specialist with the Muscular Dystrophy Association (MDA) and director of the organization's annual summer camp, held at Quaker Hill in McCall. Every summer, young campers throughout Idaho and neighboring states gather for what the kids call "the best week of the year."
As the two were chatting about their careers, Hopfensperger expressed how great it would be to have a volunteer pharmacist help with the campers' medications, which are often complicated and unique to each camper.
St. Luke's McCall employees have volunteered at the MDA camp for the past three years, helping with camper check-in, hosting casino night and providing basic medical supplies.
When Hatt heard they needed someone who specialized in medications, she was on board immediately.
"It was a whirlwind day and the afternoon flew by," Hatt said.
Hatt monitored more than 50 campers' medications, confirming they had all their necessary medications and that the camp met the state's protocol for the documentation and security for controlled substances. She also verified allergies and helped organize pill boxes for each camper.
"The members of the camp medical team felt great relief during camper check-in knowing Megan was there," Hopfensperger said. "We were all appreciative of the knowledge and expertise she shared."
Hatt was surprised how many campers there were and moved by how excited they were to see their friends.
"You could see how much it meant to them," she said. "What an amazing experience."