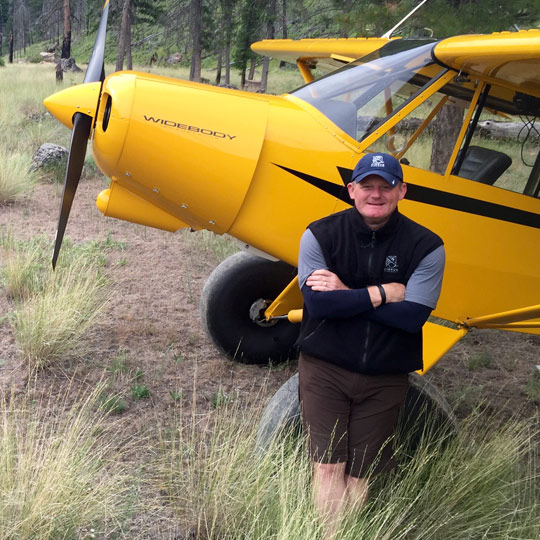 Advanced Services and Technology in Rural Communities
St. Luke's McCall was recently designated a Level IV trauma center, a collaboration of every department in the hospital and all regional EMS teams. Thanks to their dedication and skill, and to generous support from the community, advanced health care services and technology are available within this rural community—every hour of every day.

When Todd Simmons' plane crashed in Idaho's backcountry in June 2018, his life was saved by smart, highly trained people who had his back every step of the way. An experienced pilot, Todd was on his annual backcountry flying adventure with family and friends when his plane went down 21 miles northeast of Yellow Pine.
His rescue began with the quick-thinking and preparedness of his brother and friends, who helped the rescue helicopter navigate to the scene, and with the flight crew, who found Todd critically injured, unresponsive and in need of emergency care. It continued with McCall Fire and EMS, who transported him from the airport, and with the trauma team at St. Luke's McCall, who received the call as the helicopter landed and prepared for Todd's arrival.
St. Luke's emergency physician Todd Arndt, general surgeon Amy Ocmand, and a team of nurses, lab, radiology and anesthesiology sprang into action. Dr. Ocmand placed a tube in Todd's chest to support his breathing, a trauma lab test was run to assess the risk of bleeding and internal injuries, and CT scans and X-rays were obtained. Todd had rib fractures, a sternal fracture, pulmonary contusions, and multiple leg, facial and spinal fractures. The McCall team stabilized his life-threatening injuries and prepared him for transfer to Boise, where he underwent several surgeries over the next two weeks.
Today, Todd says his life was saved by the first responders and the team at St. Luke's McCall. "I am here today because of so many medical professionals, first and foremost the staff that cared for me at St. Luke's McCall," he says. "While my full recovery will be both lengthy and physically challenging, the fact that I can endeavor to get 'all the way back' is in no small part due to the very first care I received at St. Luke's McCall. Simply, I am lucky—and my family and I are extremely grateful— to be alive. My recovery has been a gift that will allow me to look forward to returning to my passion for flying soon."