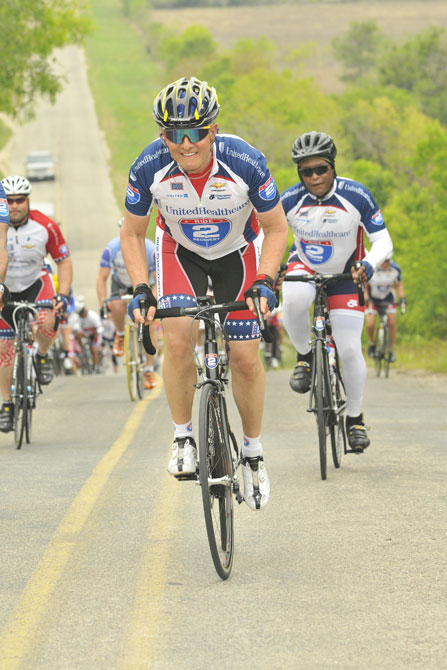 Rick
As an avid skier and road cyclist, Rick annually looked forward to spending 100-plus days on the mountain and around 100 days on his bike. He had become a full-time Sun Valley resident in 2017, though he had lived part of each year in the Wood River Valley since 2003 and enjoyed all the area had to offer. Unfortunately, he had battled with pain in his left knee for several years and it wasn't improving, even after two surgeries in Chicago before moving to Idaho.
"My knee was not cooperating," Rick remembers. "It was just painful."
He visited with Dr. Matthew Kopplin, an orthopedic surgeon with St. Luke's Clinic – Sun Valley Sports Medicine, who explained Rick's options in detail.
"[Dr. Kopplin] said to me, 'Let me show you why you need a full replacement.' He was very thorough," Rick says. "Then he said, 'But you'll have to tell me when you want it.'"
Rick understood that when the pain or lack of mobility got to a point that he couldn't function at the level he wanted, Dr. Kopplin would get him on the schedule for a full knee replacement.
"The turning point for me was one day in January of 2018. I was coming down [a run] and it was more pain that pleasure," Rick says. He knew it was time to call Dr. Kopplin. Just over one month later, after a few weeks of pre-habilitation to strengthen the muscles surrounding the joint, he had a new left knee.
The afternoon of the surgery, he was up and moving, even walking stairs. He went home the next day, then started rehabilitation about a week later. By the time the snow melted in April, he was back on his bike.
"Dr. Kopplin was a rockstar from day one. He and . . . Joanna Peters [NP] cared for me as if I was their only patient," Rick says. And at each follow-up appointment, "They gave me all the time I wanted . . . I've never met a doctor like him."
Rick runs into Dr. Kopplin from time to time, up on the mountain or around town. "He'll make the effort to come say 'hi' and see how I'm doing. He even remembered that he had done my left knee."
Rick, now 69, continues to ski and road bike, but also got into mountain biking this past year. "I get a warning from my wife every time I go out on my mountain bike, 'Just remember, you're 69!'" But Rick's now three-year-old knee is more than keeping up with his active lifestyle. "I can do more than I was doing prior to surgery," he says.
The only question he asks himself now is, "Why did I wait so long?"