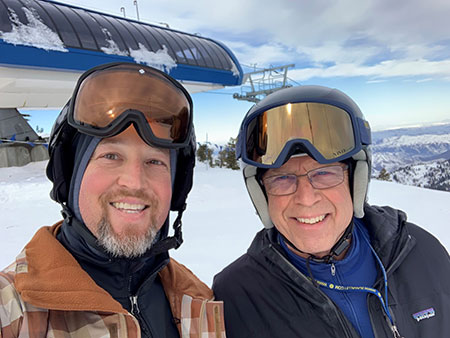 Ben Kerns, PA-C, with John (r) on a recent ski day at Bogus Basin.
For John, the road to two full knee replacements at St. Luke's was a long one. His knees had worked hard for his entire life, supporting him through his years as a pilot for the Air Force, then for a commercial airline, and decades of biking and skiing. He had also served many years as a volunteer EMT on ski patrols, rescuing injured skiers using a toboggan.
"There was a lot of heavy work in the woods," John remembers of this time. The ski patrol would have to find a way through the cold and snow, assess the terrain and the extent of peoples' injuries, then get them back safely. "It was stressful on the hips and the knees."
Over the years, he had battled through his own injures, including a torn medial meniscus in his right knee in the mid-1990s and, about six years later, a torn lateral meniscus in his left knee, both the result of skiing falls. He continued to work as a pilot, ski and bike after surgeries and recoveries, but his discomfort and pain kept growing.
After his second meniscus surgery—which happened not long after he moved from Minnesota back to Idaho, where he and his wife grew up and went to college—he wanted to figure out ways to stay as active as possible, in his job and at play. He continued to work on solutions with
Dr. Christopher Lawler
, the orthopedic surgeon with St. Luke's Clinic – Sports Medicine: Boise and St. Luke's Clinic – Orthopedics: Meridian who had operated on his left knee. Dr. Lawler set him up with unloading braces, which take pressure off the worn parts of the knees when standing.
"I felt like the bionic man," John says. The braces, along with regular shots to increase lubrication in his joints, lessened his pain.
For ten years, even after retiring from the airline, John didn't slow down much, though some of the interventions became less effective over time. However, by the end of 2016, the pain was making it almost impossible for John to do the activities he loved. Dr. Lawler told John that he had done all he could, so recommended John see
Dr. Ron Kristensen
, a surgeon with St. Luke's Clinic – Orthopedics: Meridian, about the possibility of knee replacements.
Dr. Kristensen studied John's imaging results and determined that he was a very good candidate for full joint replacements. After years of pain—and a strong desire to stay active, especially on the ski hill—John didn't hesitate.
"I said to Dr. Kristensen, 'Let's do this,'" John recalls. He understood that a successful recovery would require hard work and discipline on his part, but he was no stranger to either. "As a pilot, I'm very checklist-oriented," he says. "I knew I would have to do my part." He underwent joint replacement surgery for his right knee in March 2017 and for his left right knee in June 2017. Just hours after each surgery, he stood on his new knee for the first time and immediately felt more stable.
It did take hard work, including many hours on a stationary bike and physical therapy. John believes regular massage helped, too, to break up scar tissue and increase mobility. By December 2017 he was able to strap on his ski boots and hit the slopes. In June 2019, he went on a 66-mile bike ride in honor of his 66th birthday. He credits his doctors and
Ben Kerns, PA-C
at St. Luke's Clinic – Orthopedics: Boise and Meridian with helping him return to full strength.
Now 68 years old, John stays active while respecting the work on his knees—"no more ski or bike racing"—but he feels stable and strong, physically and emotionally, after so many years of worrying about hurting himself. He is forever thankful to the St. Luke's team for making it possible for him to continue doing what he loves for many years to come.