St. Luke's Dr. Terry O'Connor savors challenges, from COVID-19 to Everest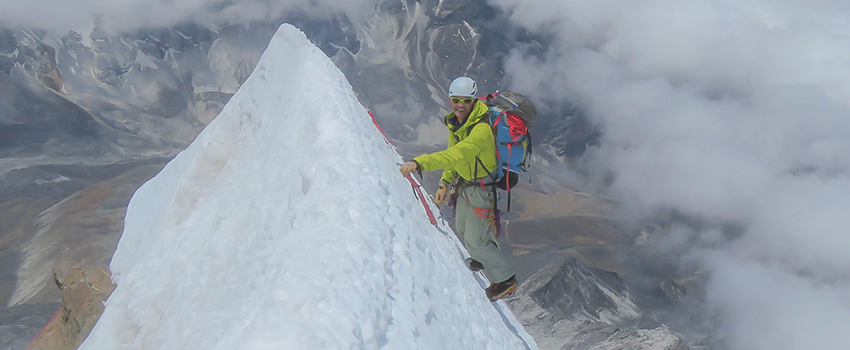 Dr. Terry O'Connor on one of his many unique adventures, climbing in the Khumbu region of Nepal.
By Dave Southorn, News and Community
Sometimes, you find the opportunity.
Sometimes, it finds you.
Take, for example, the COVID-19 pandemic.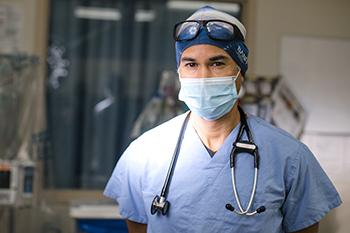 Dr. Terry O'Connor at St. Luke's Wood River.
This historic health threat has called for reliable and credible firsthand information, preferably delivered by reputable clinicians.
In St. Luke's part of the world, one of those people has been Dr. Terry O'Connor, a St. Luke's Wood River emergency department physician and the Blaine County/Sawtooth Regional Emergency Medical Services director.
In his community, he has been a voice for reason, science, health care – and for the public to understand, frequently and consistently, the measures to take to suppress the scourge. He also is the principal investigator of a new COVID-19 study to study new variants and immune response to the virus. See more here.
"I like to call him the Dr. Fauci of Blaine County," said Dr. Deb Robertson, the former director of the Wood River emergency department.
Dr. O'Connor recalls a meeting with South Central District Health and community stakeholders before Idaho's first confirmed COVID-19 case more than a year ago.
He noticed hesitancy to take major steps like closing restaurants, ski areas and big upcoming events.
He stepped up with some ideas, "putting (his) nickel down," as he called it.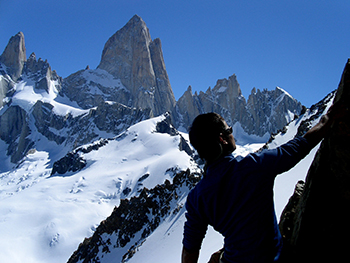 Not too long after that, the world as Wood River Valley residents and visitors knew it changed dramatically, with those beloved communities among the first and hardest hit. From that point on, Dr. O'Connor became a primary conduit of information and education for the area, understanding near the beginning that he was going to be closer to the virus and its victims than anyone else at the meeting.
O'Connor saw its toll early in the pandemic as the Wood River hospital had to temporarily cease all but its emergency department operations. Patients were transferred to Twin Falls or Boise. Frontline workers were impacted quickly, some testing positive and others quarantining because of exposure, thinning out available caregivers.
"We had no real literature on what the right thing to do or say was, no mentor who had been through it," Dr. O'Connor said.
"That's beyond taking care of the patient in front of you. It was like, 'What do you tell your community?'"
Previous events such as the 2013 Beaver Creek fire or the influx of tourists for the 2017 solar eclipse were lessons in preparation. None would match COVID-19, but mobilization was key.
And then there was the mindset.
"I'm always going to default to the worst that could happen," Dr. O'Connor said, "but that's my job."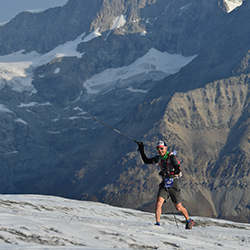 Dr. O'Connor on an ultramarathon that took him through the Swiss Alps.
That said, no one could imagine how hard COVID-19 would hit the Wood River Valley. Team members, many of them personally affected by the virus, soldiered through fear, exhaustion and grief – sentiments and emotions that linger to this day.
"You see how tenuous and fragile life can be in the ER," he said.
"It's comforting for patients when this could be their most tragic day, but the people waiting to help them are like, 'We've got this.'
"Providers have to embrace the uncertainty, and COVID-19 has been a collective experience in uncertainty."
Looking back, Dr. O'Connor said he feels "profound disappointment" in those who failed to take it seriously, but appreciates those who listened.
"There's less cognitive pain to attribute what's happening to a larger conspiracy that insulates you from personal responsibility or sacrifice," O'Connor said.
"… I work in a small community, but I feel like I can still help with a global health problem."
It's that broader perspective, along with a consuming curiosity, that has driven this doctor for much of his life.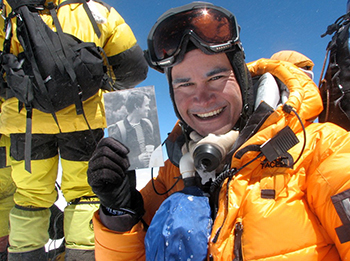 He has, among other things, been a bike tour guide, a ski patroller, a National Park Service climbing ranger, an ultramarathoner and a backcountry skier.
And then there is Mount Everest. He has been there three times. He first managed the base camp, getting in a little climbing.
On his second trip, he served as the team doctor on an expedition and reached 24,000 feet.
The third, he was permitted to summit. On May 14, 2006, he reached the highest point on Earth, standing 29,032 feet above sea level.
And yet, what could be the pinnacle, literally and figuratively, of most people's lives, was not for Dr. O'Connor.
"My dad had suddenly died before I left," he said.
"While I was on that expedition, one of my best friends from my park service experience died on Mount Rainier climbing.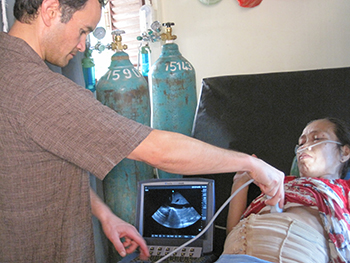 Dr. O'Connor provides an ultrasound in Borneo.
"There was a lot of loss around that time … it provided some interesting reflection on the exercise, like, 'How selfish is this?'"
His thinking ultimately led him to develop a TedX Talk.
Over the years, he has built relationships with sherpas, the expert guides who often risk their lives to support climbing expeditions, and met people who died from illnesses or conditions easily treated in countries with more resources.
In recent years, he's taken trips to places like Nepal, Indonesia and India to provide health care to people in desperate need. It's hard not to see why Dr. O'Connor's is a case of the right physician at the right time during the pandemic.
"It oriented me to be as altruistic as I can be, because you see when you travel to these places, how lucky you are in relation to the vast majority of the world."
Tuesday, March 30 is National Doctors Day. You can follow Dr. O'Connor on Instagram, and please check out our other recent stories on some of St. Luke's other outstanding doctors along the right side of this page.