Last summer, Dr. Roger Olson woke up with a rhyme in his head.
"See the letters, watch them fly, dancing free across the sky."
He wrote it down. Then he wrote a little more.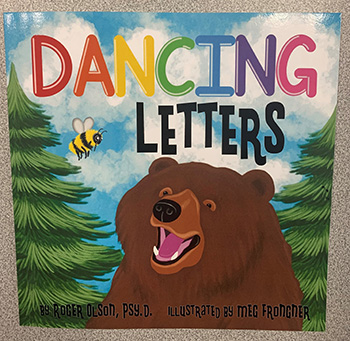 By the end of the morning, he had the first draft of something he had wanted to complete for a long time – his first children's book.
"My days are usually spent typing reports, a lot of clinical writing, so doing it for fun was always something I had wanted to do," Dr. Olson said.
A clinical pediatric psychologist at St. Luke's for the past eight years, Dr. Olson felt good about his book, titled "Dancing Letters," but he got a much-needed vote of confidence from a tough critic.
"I gave a draft to a former colleague at St. Luke's who is a speech therapist, and she has a 3-year-old who loved it," Dr. Olson said.
Teaming up with local illustrator Meg Frongner, Dr. Olson published "Dancing Letters" In January. The book is available on Amazon.com, and the self-publishing platform allows copies to be printed quickly.
Dr. Olson loved reading Dr. Seuss books as a child, and how their rhyming schemes made reading so memorable. Dr. Olson decided to make his book have a similar rhythm, albeit aimed at early readers.
The star of the book is a mute bear that keeps letters caged up, but learns to use his words to express himself and not be the grump he once had been.
In his practice, he works a lot with parents and caregivers in addition to kids. He wanted to write a book that was fun for kids, but one that parents could read with them. The book focuses on "letting letters fly," to help increase vocabularies.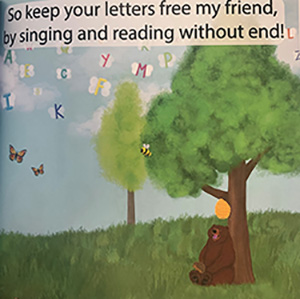 Dr. Perri Klass noted in a 2018 New York Times editorial, studies showed that children "were significantly less likely to be aggressive or hyperactive" when parents consistently read aloud to them.

"A lot of those learning and behavioral disorders we see can be prevented if we enhance the nurturing characteristics at home," Dr. Olson said. "If we can get vocabulary high, it directly impacts their readiness for elementary school and their IQ.
"It also enables them to communicate needs and coping skills much better."
The jolt of inspiration, coupled with seeing the completed book, has given Dr. Olson hopes of creating a series of children's books. He says he has "three or four" written and may pursue publication.
"I don't think I could do a novel, so writing a kid's book, which also relates to my work, I definitely enjoy doing that," Dr. Olson said.