St. Luke's family has taken on new meaning for retiring surgeon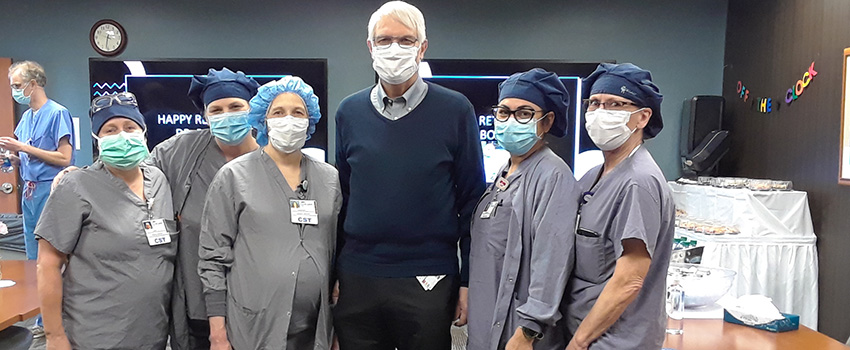 Dr. Gary Botimer is flanked by members of his surgical team Feb. 3 at his retirement celebration in Nampa.
By Dave Southorn, News and Community
One sign read, "We are going to miss you, make no bones about it" – a cheeky reference to the outgoing orthopedic surgeon.
One simple sign said so much: "Never forget the difference you have made."
Dozens of staff members at St. Luke's Nampa wrote notes on those signs to Dr. Gary Botimer last week, celebrating a career that has improved the lives of thousands of people in the Treasure Valley.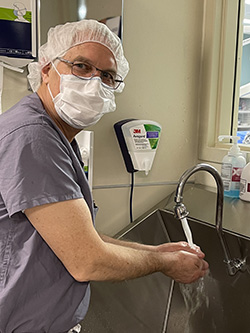 Even if a big celebration wasn't possible, given the pandemic, friends and co-workers dropped by one-by-one in a steady stream to say thank you.
Botimer was humbled, to say the least.
"They embarrassed me thoroughly," Dr. Botimer said with a laugh. "I wasn't expecting it. I still haven't gotten over it.
"Surgery has defined me for 40 years, but I'm looking forward to what's next. God has just been exceedingly kind to me."
Botimer worked for Saltzer Medical Group for 25 years before accepting a position in 2009 as the head of the orthopedic department at Loma Linda University in California. But he knew he would always return.
"My family has been in Idaho since 1919," Botimer said. "When I finished my residency, I was asked to stay and teach, but my wife (Jacque) said, 'We need to come home.' My dad, who is now 91, kept asking the same when I went to Loma Linda."
Three years ago, Botimer returned to Nampa and joined St. Luke's.
Among his colleagues? His daughter, Dr. Krysten Bell, a pediatric orthopedic surgeon at St. Luke's Children's since 2016. She and her brother, Allen, attended medical school at Loma Linda while their dad was there.
"I saw him perform a surgery once when I was in sixth grade, and I knew then it is what I wanted to do," Dr. Bell said. "He's a pretty incredible role model. We've been able to collaborate, even do a few procedures together, which is really special."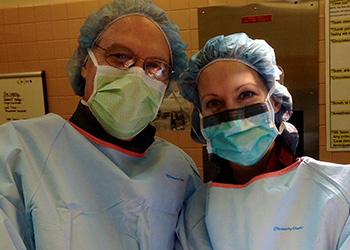 Dr. Gary Botimer and his daughter, Dr. Krysten Bell, working together on a surgery.
Dr. Allen Botimer is an anesthesiologist who joined St. Luke's shortly after his father in 2018. His wife, Leah, is a St. Luke's nurse practitioner focusing on pediatric gastroenterology.
"I didn't know what I wanted to do as early as my sister did, but I think the big moment for me was when I took a class in high school my dad taught in anatomy and physiology," Dr. Allen Botimer said.
Two Botimer children chose different paths, but it was Dr. Botimer's passion that struck the two who chose medicine.
"Patient care. He put ethics and morals above everything when he took care of patients," his son said.
"Since I started medical school 15 years ago, I've only come across one or two other physicians that care so deeply about their patients as my dad," Dr. Bell said.
On Feb. 1, her father performed his final surgery, a total knee replacement. By his estimate, he has completed somewhere between 7,000 and 8,000 knee and hip replacements. He will keep clinic hours until May, making sure his final surgical patients are healing properly.
In recent days and weeks, he has connected even more with patients' experiences and pains as he has fought leukemia and prostate cancer. The health challenges have contributed to the timing of Dr. Botimer's decision.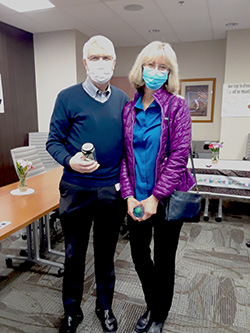 "I can't come up with one person that didn't do anything short of 100 percent for my patients here in Nampa at St. Luke's," Dr. Botimer said, "but I think what I'll miss most is the patients. That will be the hardest part.
"So many of them have become lifelong friends."
Still, Dr. Botimer is looking forward to spending some more time at home. He has a top-notch woodworking area. He plans to take a trip later this year to Peru, where he will go motorcycle riding, and join an African hunting expedition.
But most of all, the focus will turn to the person who has supported him most throughout his 40-year career.
"I've done so much, it's time to start working for my wife," Dr. Botimer said. "I've worked 60-hour weeks since high school, so to spend as much time with her is going to be wonderful."
The Botimer legacy, however, is solidly in place.
"Patients have recognized my last name countless times," Dr. Allen Botimer said. "They know how great my dad is, and that is going to push me to want to rise to that same level."