Striking back: After COVID-19's first surge, St. Luke's readied for a long battle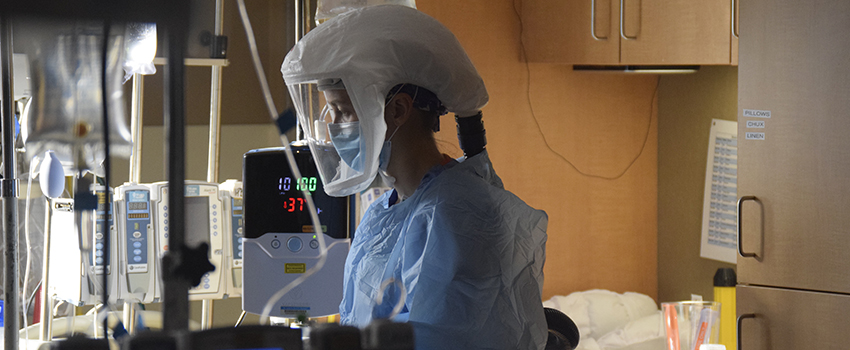 A registered nurse tends to a COVID-19 patient at St. Luke's Meridian.
By Dave Southorn, News and Community
St. Luke's Chief Physician Executive Dr. Jim Souza recently recalled how he felt a year ago – and what hindsight has shown him.
"I think I was overestimating the cataclysm we were in, totally underestimating what we would learn."
When COVID-19 first hit Idaho and the rest of the United States, the unknown was terrifying. How was it transmitted? How bad will it get? Can health care handle it?
In retrospect, at least for St. Luke's and Idaho, it could have been worse.
The worst-case scenario did not happen, even as the Wood River Valley took a direct hit early on. Patients were transported to larger facilities, precautions were taken seriously and stay-at-home orders helped slow the spread, buying much-needed time.
But that did not mean that the road ahead was not every bit as intimidating after the initial surge last spring. And what that mentality and planning turned up was what has been known about health care for decades in terms of agility and flexibility.
'Everything started to change …'
"Everything started to change, because our thinking shifted to, 'This is the new normal, we can manage it,' we were in control of our own destiny," Dr. Souza said.
"Health care, us included, has always changed at a glacial pace. We weren't set up to be agile, but we had to change."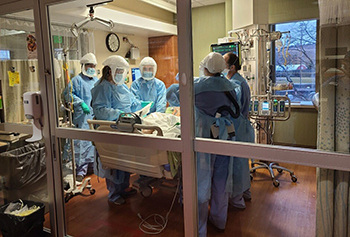 COVID-19 numbers improved in the summer, but as some restrictions were loosened, cases were bound to go back up. Dr. Souza said it was understood at St. Luke's last July that it would be another year before "we could have it under control."
That meant preparing.
Adrian Wengert, vice president of supply chain at St. Luke's, described "a Herculean effort" to get enough personal protective equipment for staff members. As adjustments continued to be made for clinics and for team member and patient health and safety, telehealth resources were expanded. More iPads were ordered to allow better communication with COVID patients. Patients returning home from hospital settings took care kits with them. St. Luke's participated in key COVID-19 treatment studies and trials.
St. Luke's Data & Analytics put together predictive models that proved to be incredibly accurate in anticipating surges in patient numbers so that staffing and bed availability could be precisely planned. That modeling has received international recognition from the Indian Ministry of Electronics & Information Technology, winning the Aegis Graham Bell Award for combating COVID-19 with artificial intelligence.
"A lot of the assumptions national models made for Idaho were incorrect," said Justin Smith, St. Luke's senior director for advanced analytics.
"We had a system that covers a large area and that helped us create numbers, where you could take it to the governor and let him know what actually was going on."
'The tables were turned …'
The summer months saw improvement, with 10 or fewer COVID-19 positive patients admitted to St. Luke's hospitals each day of the first three weeks of June.
"The tables were turned. Enough people in the community were doing the right things, we had spent hundreds of hours creating space for patients, and that initial surge more or less scared everyone to do whatever they could to prevent another," said Dr. Deb Robertson, then the director of emergency medicine at St. Luke's Wood River.
But treating a new disease and its myriad manifestations was an ongoing challenge.
"We were all working crazy amounts of hours," said Mary Waggoner, a respiratory therapist at St. Luke's Nampa. "We were each other's support systems.
"We could only know what each other was going through because we were all in it together."
That sentiment was felt throughout the community. Friends and supporters were quick to show and share their appreciation.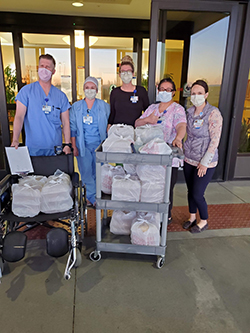 Food donations helped lift frontline workers' spirits, like this one in Nampa.
Signs of encouragement went up around the hospitals, declaring "Heroes work here." Local businesses saw opportunities to help. Koenig Distillery shifted from making vodka and bourbon to hand sanitizer. Grasmick Produce put together more than 8,000 boxes of fruits, vegetables, proteins and dairy and made them available to all St. Luke's employees over a period of weeks. Businesses, not-for-profit partners and individuals came forward with meals, coffee cards, flowers, cards and many other gestures of support and appreciation.
"There are a lot of people trying to find an outlet in any way that they can help," Scott Milner, St. Luke's senior director of pharmacy, said last April.
"… So, here we have business owners and community members that are just rocking it. They are just stepping up to the plate and delivering."
That support was appreciated as again, cases climbed in July and exploded in the fall. The highest number of COVID-19 patients admitted in a single day at St. Luke's hospitals was 166 on Dec. 4, four times as many as on any one day in March or April.
By then, St. Luke's had implemented more than 100 different policies, procedures and changes in patient care during the course of the pandemic. The winter wave hit hard, and pushed already challenged providers.
"Even though we had drastically more COVID, we knew much better how to keep our employees and our patients safe," Dr. Laura McGeorge said. "That very first surge was so emotional. By the winter, we had a better idea of how to handle it, but it was also more exhausting with so many cases, coming after so many long days since the pandemic started."
As challenging a winter as it was, weathering the storm showed there was hope as 2020 came to a close, and a game-changing medical development was on its way.
---
Saturday, March 13 marked one year since the first confirmed COVID-19 case in Idaho. More than 1,900 people in our state have died from it since. During a 24-hour period that ended at noon Saturday, St. Luke's recognized them, their families, friends and the health care workers who have spent every day fighting the pandemic.
Please take a moment to see some of the moments marked during that span here, and below for a commemoration, remembering one year since COVID-19 arrived.