St. Luke's team gives shots of hope to more than 1,500 people at one-day COVID-19 vaccine clinic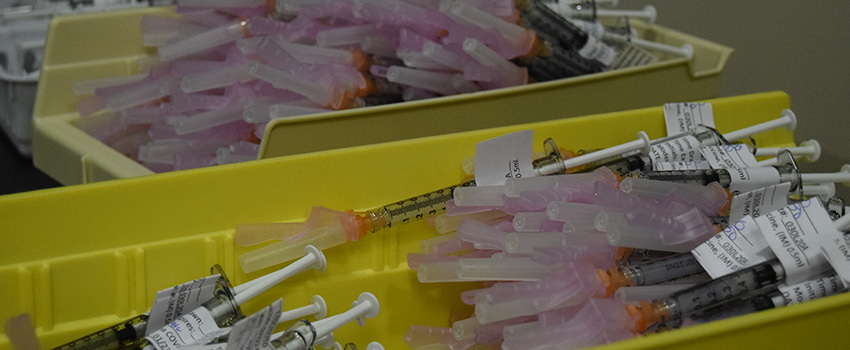 By Dave Southorn, News and Community
For 10 hours Saturday, more than two people per minute received a dose of much-needed optimism through St. Luke's in Meridian.
At the first large, dedicated COVID-19 vaccination clinic – with likely many more to come – St. Luke's administered 1,542 doses of the Moderna vaccine to health care workers, first responders, teachers, daycare workers and correctional/detention facility employees, in alignment with the state's tiering plan.
Across the entire health system, 2,162 doses were given on Saturday alone.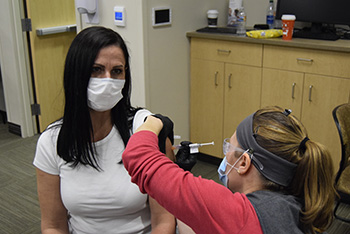 More than 100 St. Luke's employees pitched in to administer the vaccine, register recipients, ensure their safety afterward, help with traffic and serve as runners throughout the day.

One of those team members was Dori Healey, a heart services manager who is a registered nurse.
Some people were "literally dancing their way through the doors because it was their turn," she said.
"The energy in the room was electrifying," Healey said. "As the energy grew, the louder it got.
"When I listened, it was laughter, happy conversations and tones of celebration."
Healey also saw a woman who wasn't a big fan of needles calm herself by singing "You Are My Sunshine," a reminder of the hope that comes with being part of the solution to ending the COVID-19 pandemic.
As more doses arrive at St. Luke's and as more tiers open for vaccinations, scenes like Saturday will become more common – and the St. Luke's team will be there to help spread the joy.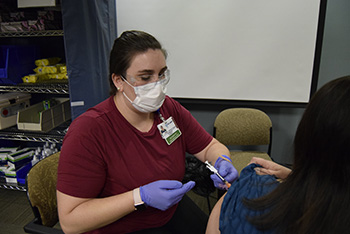 "It's just great to come together and help vaccinate everybody here, and help move us through this pandemic," said Brian Dotter, St. Luke's senior director of pharmacy.
"We (saw) so many people so happy to have this opportunity to receive the vaccine."
Eileen Merges was one of those people. A psychologist, she is soon scheduled to deliver a lecture to her alma mater, St. John Fisher College, called "The Psychology of Happiness."
Merges got emotional just thinking about what being vaccinated means to her.
"I haven't been able to see my parents in a year, and I'm really excited to see them," she said.
Her experience this past weekend?
"It was super well organized, very easy to come in and do," she said. "It didn't hurt at all.
"It's the best thing you can do to start getting back to normal."