St. Luke's chefs dish up tantalizing twists on traditional tacos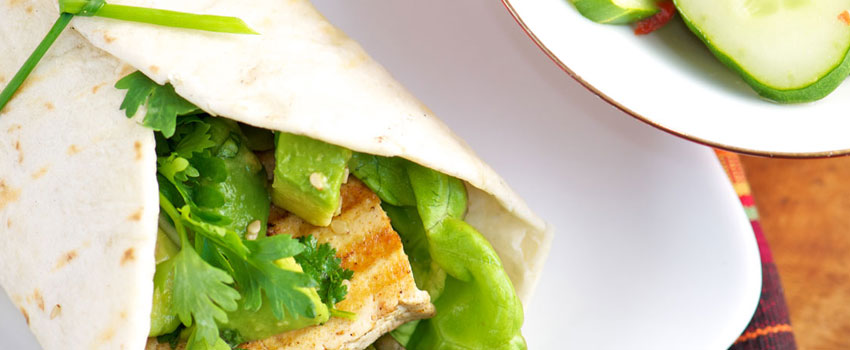 By Chris Langrill, News and Community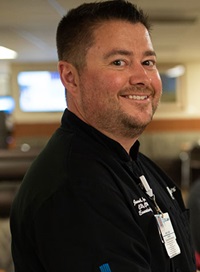 If St. Luke's chefs Jason Jones and Jake Bowman had their way, every day would be Taco Tuesday.
When the two chefs started working together, they bonded over their mutual quest to create the perfect taco.
That is why Jones, a chef manager at St. Luke's Boise, and Bowman, Food and Nutrition Services supervisor at St. Luke's Plaza, are excited about sharing their recipes.
The timing couldn't be better: Cinco de Mayo is right around the corner. For most of us, this year's celebration will be a stay-at-home event. What better time to experiment?
Jones shared his recipe for tofu tacos, and Bowman offered up his take on jackfruit tacos featuring jackfruit carnitas and jicama radish slaw.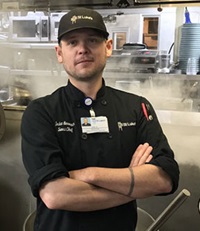 St. Luke's Chef Jake Bowman
"Tofu is great to cook with," Jones said. "It is a blank canvas and takes on marinades and seasonings very well."
Jackfruit is the star of Bowman's fiesta.
"Jackfruit is very versatile, and it can take on any flavors when it's young or unripened," Bowman said. "When it is fully ripe, jackfruit is very sweet, like super-duper cantaloupe."
Bowman encourages people to try cooking with jackfruit, tofu, hearts of palm and other plant-based choices.
"Keep an open mind," Bowman said. "There are tons of options coming onto the market. It's a cool niche for chefs, home cooks and foodies."
---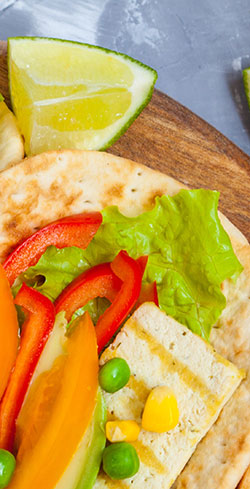 Tofu Tacos
"This is the perfect plant-based taco recipe! It's quick and easy, and offers light and fresh citrus flavors," said Chelsea Schoenfelder, a St. Luke's dietitian who works with the Treasure Valley Lifestyle Medicine team. "Use pre-pressed tofu for an even quicker version. And up the fiber by topping tacos with fresh mango salsa (a personal favorite), radish salsa or cabbage slaw."
Makes eight tacos
1 pound firm tofu, pressed to remove liquid
2 oranges, juiced
2 lemons, juiced
2 limes, juiced
½ bunch of green onions, thinly sliced
½ bunch of cilantro, chopped
2 tablespoon garlic, minced
½ teaspoon salt
1 tablespoon olive oil (to coat grill)
8 corn tortilla shells
Instructions:
Press tofu to remove moisture. Slice tofu into 3-inch long by ½-inch thick slices.
Combine juiced citrus, green onions, cilantro and garlic and marinade sliced tofu in shallow dish for a minimum of two hours at 40 degrees or below.
Grill tofu on a pre-warmed, oiled grill.
Place 2 ounces of tofu on each taco shell, and add your favorite toppings.
"I like to switch this recipe up a little and crumble the tofu, marinade in chipotles and brown in a skillet," chef Jason Jones said. "It adds a little texture."
Nutrition information per serving: 115 calories, 5.4 g fat, 14 g total carb, 3 g fiber, 6 g protein
---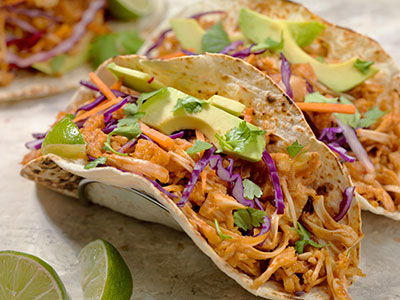 Jackfruit Tacos
"Jackfruit has a texture like chicken or pork, but has the added benefit of fiber," said Mariah Stout, a dietitian with St. Luke's Wood River Medical Center.
Alternate version: Chef Jake Bowman said an easy way to substitute meat in this recipe is to use a roasted or rotisserie chicken. Shred the chicken, substitute it for the jackfruit and continue with the recipe.
Jackfruit Carnitas
Makes six servings
20-ounce can of jackfruit
2 tablespoons chili powder
½ tablespoon cumin
½ tablespoon salt
1 orange
1 tablespoon minced garlic
½ cup diced onion
1 small jalapeno, diced
¼ cup olive oil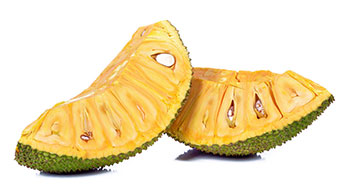 Instructions:
Drain and rinse jackfruit from the can. Dry completely.
Heat oil in a large non-stick pan on medium heat.
Add jalapeno and onion. Cook until browned.
Add garlic and cook for 30 seconds.
Crank up heat to high and add jackfruit.
Using a spatula or fork press jackfruit into pan to shred.
Cook for four minutes, and turn jackfruit over.
Add seasoning and press jackfruit again.
Stir. Add juice of one orange, and stir again.
Nutrition information per serving: 236 calories, 56 g carbs, 2 g fat, 4 g protein, 586 mg sodium, 46 g sugar
Jicama-Radish Slaw
Makes six servings
1 cup shredded or grated jicama
½ red onion sliced
1 cup shredded or grated carrot
½ cup finely diced red radish
3 tablespoons chopped cilantro
1 tablespoon honey
Pinch of salt
Pinch of pepper
2 tablespoons of white vinegar
Juice of 1 lime
Instructions:
Mix all ingredients in mixing bowl and refrigerate.
Nutrition information per serving of slaw: 74 calories, 12 g carbs, 0 g fat, 2 g protein, 22 mg sodium, 7 g sugar
Serve alone or on tortillas. Add in your choice of additional taco toppings such as cotija cheese, avocado, Greek yogurt (as a sour cream substitute), hot sauce or the like. (Note that the tortillas and additional toppings aren't included in the nutritional information per serving.)
Note about finding jackfruit in the can: Jake Bowman buys his at Trader Joe's, but jackfruit is available at many grocery and specialty food stores.