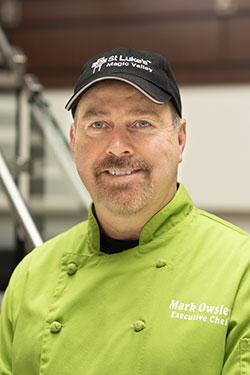 Mark Owsley
This week is a great time to give thanks for the bounty and beauty of so many wonderful things to eat, including Brussels sprouts.
The leafy vegetables look like miniature cabbages, and that's kind of what they are. Brussels sprouts are in the same vegetable family as cabbage, broccoli and kale.
Brussels sprouts are versatile, too. You will find the fiber-rich green vegetables in recipes for anything from smoothies to pizzas.
Some people boil them or steam them. Others use them in stir-fry dishes or in slow-cooker meals.
Mark Owsley, St. Luke's Magic Valley chef, likes to roast Brussels sprouts. Here he shares an easy, colorful recipe for the latest installment in our e-cookbook series that dresses these handy little veggies in cranberries and pecans.
The end result? A side dish that would be a perfect pairing for any Thanksgiving table this year.
"This is a fun and different addition to any Thanksgiving meal," Owsley said. "It's always great to change things up a bit, and if you like Brussels sprouts you will love this recipe."
And we would be remiss if we didn't include a reminder that the best Thanksgiving this year is the safest one, celebrated at home with members of the household.
"This recipe is a great source of fiber and it's packed with nutrients such as vitamin C," said Kally Mohlke, RD, LD, a clinical dietitian with the St. Luke's Boise inpatient clinical nutrition team.
Mohlke has a sneaky swap idea as well.
"You could substitute the pecans for walnuts to incorporate more heart-healthy Omega 3 fatty acids into the recipe," she said.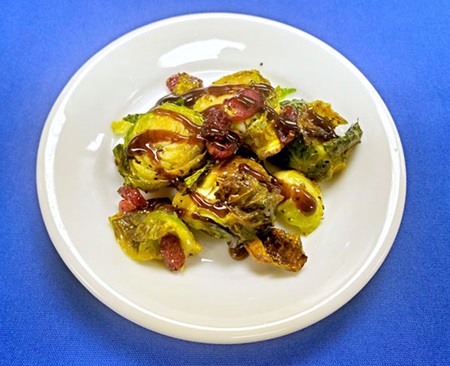 Roasted Brussels Sprouts with Cranberries and Pecans
Ingredients
1 1/2 pounds of Brussels sprouts
3 teaspoons olive oil
1 cup pecan halves
½ cup dried cranberries
1 tablespoon balsamic vinegar glaze
Salt and pepper to taste
Instructions
Preheat oven to 400 degrees.
Wash Brussels sprouts, trim the ends and slice in half.
In a large bowl, toss the Brussels sprouts with the olive oil, salt and pepper. Place on a cookie sheet covered with aluminum foil or parchment paper. Roast for 20 to 25 minutes until the sprouts are tender and crispy.
Remove from the oven and toss with pecans and dried cranberries. Finish with the balsamic vinegar, and then serve!
Makes six servings.
Nutritional information: 206 calories, 22g carbs, 12g fat, 5g protein, 32mg sodium, 12g sugar