Brandy Simons, the pastry chef at St. Luke's Plaza, whips up yummy offerings year-round.
For the holidays, she has a go-to recipe that delivers all the flavor and color of the season.
"I serve cranberry orange bread as a breakfast choice here in the café from October to December," said Simons, who submitted the recipe for this entry in our e-cookbook series.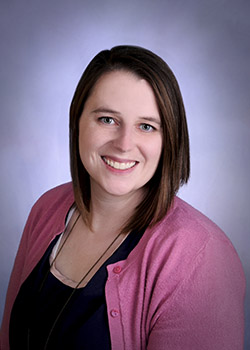 Elizabeth Le Fevre
Sure, it's a bit of an indulgence, but the cranberries provide a healthy boost.
"Cranberries not only add extra fiber, but also vitamin C and flavonoids that may provide protection against a variety of different cancers," said Elizabeth Le Fevre, a St. Luke's clinical dietitian.
Speaking of which, Simons suggests using fresh cranberries.
"If not, I will use frozen or even dried," Simons said. "If I use dried, I omit the sugar from the recipe."
Regardless, the recipe has become a holiday tradition for Simons and her family.
"I make this every year at home for our Christmas breakfast," Simons said. "I've been making it for the past 10 years or so. Since I'm celiac, I use Bob's Red Mill 1 to 1 baking flour to make it gluten-free. It's a little drier, but nothing serious. My family really can't tell the difference."
As with most dishes, people can find a way to make this recipe their own. Le Fevre suggests a twist.
"Replacing some of the flour with whole wheat flour adds in extra fiber and vitamins," she said. "As you and your family get used to the whole wheat flour, you can increase it until the ratio is half whole wheat and half white flour."
Cranberry orange bread
Ingredients
3 cups flour
¾ cup brown sugar
¾ cup whole wheat flour (or all-purpose flour, if preferred)
1 tablespoon baking powder
1 teaspoon baking soda
1 teaspoon salt
3 cups cranberries, fresh if available
½ cup sugar (add to cranberries)
1 tablespoon orange zest
1½ cups orange juice
¾ cup vegetable oil
2 eggs
1 tablespoon vanilla
Instructions
Add all the dry ingredients together.
Put cranberries aside with the granulated sugar (thaw if frozen).
Combine all liquids and mix them in with the dry ingredients.
Add in cranberries and finish mixing.
Pour into two greased 9-inch-by-5-inch loaf pans.
Bake at 350 degrees for approximately 60 minutes
Makes two loaves, approximately 8 servings per loaf.
Nutritional information: 296 calories, 42g carbs, 12g fat, 6g protein, 245mg sodium, 20g sugar