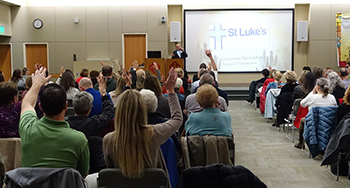 Sometimes the best ideas are the simplest ones.
That's what Michele Betts, St. Luke's Treasure Valley director of social work, realized after the health system recently implemented a program that provides follow-up calls for patients who have risk factors for suicide.
Reducing suicide rates is a national concern, but the problem is especially important in Idaho. The Centers for Disease Control and Prevention has reported that in 2017, Idaho ranked fifth nationally in suicide rates per state.
One study showed suicide attempt risk to be highest in the first week after discharge from an inpatient setting – 102 times higher in men and 246 times higher in women than the risk for the general population. And, so because intervention can quite literally mean the difference between life and death, the new St. Luke's program is both basic and quite possibly life-saving.
"It's just too simple," Betts said of the program that was launched in November.
"It's just a grassroots idea that gets to the need. It's not fancy. … It's just facilitating that communication after someone who is dealing with suicidal feelings is discharged."
Having a line of communication can be essential for such patients, said John Reusser, the director of the Idaho Suicide Prevention Hotline.
"There have been quite a few studies that show discharge follow-ups reduce suicidality in the patients who receive them," he said.
The follow-up communication is an important safety net and is happening because of a partnership with the Idaho Suicide Prevention Hotline.
Within the first 24 to 48 hours of inpatient discharge from the emergency department, trained volunteers from the Idaho Suicide Prevention Hotline reach out to patients. Patients' care plans are discussed, and subsequent calls are scheduled.
The Idaho Suicide Prevention Hotline is also a St. Luke's Community Health Improvement (CHIF) grant recipient and has been a resource for St. Luke's clinics and providers since its launch in 2012. The new protocol, however, keeps patients from having to pick up the phone in their darkest hours.
"We had always given patients the number for the suicide hotline, but that's a really big step to take," Betts said. "There's shame, there's stigma, and a lot of times people are depressed or anxious. That phone call is just overwhelming.
"What this does is it turns the tables. It takes that responsibility from them."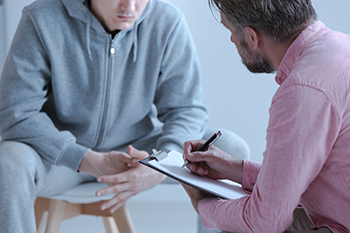 "One of the challenges in Idaho surrounding suicide prevention is the need for more support with care transitions, whether that's people getting out of the ER or a crisis center or inpatient care," Reusser said. "People are falling through the cracks."
And when the risk is suicide, there's plenty of reason to want to make care seamless.
"Forty percent of people that complete a suicide have seen a primary care provider within 30 days of that completed suicide," Reusser said.
This program aims to reduce that rate.
"For us to fulfill our mission of reducing suicide in Idaho, we have to be more integrated with the system of care: mental health care, crisis care and patient care," Reusser said.
Reusser said a partnership with St. Luke's is essential for the Idaho Suicide Prevention Hotline.
"There's been a lot of buy-in across St. Luke's," Reusser said. "We have a very strong partnership. … Overwhelmingly, St. Luke's has been most amenable to being innovative and creative with us and examining what's possible."
Betts said community partnerships are fundamentally important for St. Luke's, and fostering those relationships ultimately helps both sides. St. Luke's ensures that patients get the help and support they need post-treatment, with the suicide hotline providing the expertise and resources.
"It's just a win-win," Betts said. "They've been an incredible partner.
"Things like this are little steps, but they're kind of monumental in the big picture."