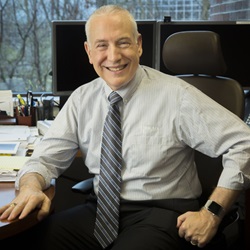 I am privileged to work with a young leader who I accuse of being a millennial; he corrects me and tells me that technically, he is a cusper.
What gives me great satisfaction is that all these millennials and cuspers I get to work with are much smarter and more mature than I was at their age. It is a wonderful sign for St. Luke's future. Despite his youth, Dan is one of the most brilliant strategists I have ever been honored to work with.
Because of his youth, he takes risks that I probably would not, like rafting on water flowing at 50,000 cubic feet per second, which I am sure must be something like Class IV whitewater rapids. On his most recent harrowing adventure, he drew parallels to strategic planning and the journey St. Luke's has been on.
Here is today's guest blogger, Dan Anderson, vice president of Strategy and Planning for St. Luke's Health System.
- David C. Pate, M.D., J.D.
---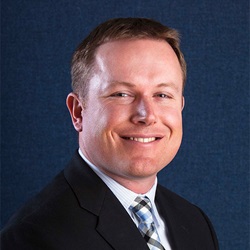 My family and I are thankful to have called Idaho home for more than seven years now. We are all fortunate to live in an environment that lives up to the hype of the many rankings showing Southwest Idaho is the place to be.
And we continue to discover all that it has to offer. This past weekend was no exception. I had the good fortune to join a group of eight friends on a rafting trip through Hells Canyon. It was incredibly fun and exhilarating. I survived.
Rafting through Hells Canyon carries you on a remote stretch of the Snake River that defines the border between Oregon and Idaho, just south of Lewiston.
The water behind the dam at the launch was full and there had been significant rain in the days leading up to our trip. Combined, this meant that the dam was releasing a massive amount of water down the river – 50,000 cubic feet per second, four times the amount that one experiences when navigating later in the summer.
At the base of the dam, the river was a sight to behold: Water ejected out of the spillway near the top of the dam, creating a massive arching stream ultimately filling the river below.
With heart-pounding nervous energy, we loaded our gear and oared off. We were the only group we saw on the river that day, and it felt like a journey into uncharted territory.
We pulled over and scouted the first rapid. There was certainly concern for the safety of our team and we spent a good deal of time considering the best approach to take. It was a lot of water, a lot more than those on my boat had ever experienced before.
My friend Matt, our resident rafting guru, shared that these rapids were as big as those on the Colorado River. Indeed, they were huge and our boats seemed so small. After talking through it, and clarifying our plan of attack with one another, we nervously marched back to the boats. It was going to be a wild ride.
My heart pounded as we embarked. The canyon seemed to deepen, the mountain of the rapid in front of us rose, and the raft ahead of us disappeared over the crest of the first wave. And then we followed. Water crashed over the front of our raft, which somehow managed to stay upright as we continued to course correct to position ourselves for the next onslaught. While sobering, it was simultaneously incredibly fun to ride those waves.
We came out on the other side and celebrated a well-chosen line, successful navigation, and a moment of rest before getting ready for the next big set.
At St. Luke's, there are a lot of parallels that I can draw from my river experience about where we have been and where we're going.
The past three years have been quite the journey. We have had many points where we have looked at a challenging decision ahead, deliberated what strategy we should take to better allow us to fulfill our mission and achieve our vision.
Since 2016, we have made some courageous choices. Implementing an electronic medical record system-wide, taking accountability for the total cost of care for the 34 percent of the population we serve inside of our value-based arrangements with our insurance partners and realigning our organization around population health are just a few examples. Over the same time, we have continued to advance our quality and operational performance.
But the river looms large ahead.
As we floated down the river, there were points where we could peer into aspects of Idaho's past. We walked through the old homesteads/ranches and were able to see how life was once lived. I marveled, for example, at the many kinds of fruit-bearing trees (including cherry, apple, nut and even fig trees) that dotted the historic sites in such a remote area. I strolled fields where former Idaho Gov. Leonard Jordan's family once lived and peered into old barns and restored structures that are now designated as historic sites.
At St. Luke's, we see the rich and deep history in the communities that we serve. At the same time, we feel the effect of the proverbial floodgates opened to many more people moving into the region as word continues to spread about what a wonderful place it is.
I think about those original homesteaders taking up residence on the edges of the Snake River. Their left-behind artifacts paint a rich and sometimes complicated picture of what their lives were like. As a community, we find ourselves wrestling with how to navigate the continuing growth on two fronts: preserve the roots of what makes our communities special and accessible to all, while simultaneously addressing opportunities to ensure that our growing communities continue to remain vibrant.
This leads to the most important parallel with my river trip. Learning where we can best meet the health needs of those we serve means pausing to listen and learn. Much like parking the raft on the riverbank to explore the shoreline, we are building a cadenced approach, pausing to listen to the stories about the lives of those who live around us. This will allow us to improve how we work with the communities we serve to determine how we can optimally design the services we offer.
We recognize that we cannot just "go with the flow" and expect that we will be able to continue to meet our mission. Traditional approaches, anchored in acute care access (think hospitals and emergency departments) will not be sustainable, nor are they optimally positioned to meet the needs of the communities we serve. A much more diverse set of approaches will better meet the health needs of our friends and neighbors.
We have already begun to learn through listening to our communities that when it comes to health, the key things that people are thinking about are often framed by questions like: Am I getting enough sleep at night? Am I eating a healthy diet? Am I getting enough exercise? How do I best manage the stresses of life? How am I going to afford unexpected healthcare expenses?
If we were to just stay in our own flow, we would be fooling ourselves to think that we can be the community's best partner and we would risk missing how we could fundamentally change the design of how we engage with the communities we serve. And if we miss it, someone else will fill in the gap.
This dialogue with the community has just started. We are just beginning to learn how we can deepen the connection with the growing diversity in our communities. We have a responsibility to actively listen, incorporate what we hear and refine the way we optimally meet the health needs of the Southwest Idahoans of today and tomorrow in a manner that ultimately leads to improved health.
No doubt our trip will continue to be full of adventure, and we look forward to charting our course together with the communities we serve.