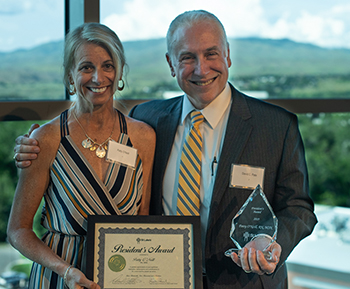 It's said that it takes a village to raise a child.
For Patty O'Neill, her village was St. Luke's.
When she was honored with a 2019 St. Luke's President's Award at a banquet in mid-June, she thought about all the people who've been part of her journey to earn St. Luke's highest recognition.
She thought about Traci McGregor, director of the Boise Emergency Department and the person who nominated her for the award, and about the staff she's worked alongside for the past 30 years at St. Luke's.
She also thought about her daughter, Katie, and her husband, Derrick.
But maybe more than anyone else on that night, O'Neill thought about her father, Dr. Tom Tilden, who sat by her side at the award ceremony.
"I think that's part of the reason I felt proud of the moment, because of my father," O'Neill said.
Dr. Tilden moved his family to Boise in 1972, when he began practicing as a pediatrician. He had a long legacy with St. Luke's until his retirement in the late 1990s.
"He had a strong work ethic, and he was able to realize that I was being identified by this organization for trying to rise above and do a little extra," she said. "It was very cool."
O'Neill said her mother, who was a nurse, and father both influenced her decision to go into health care.
"My dad would bring us when he'd go do rounds," O'Neill said. "I would come to St. Luke's – things are so much different now – but he'd bring me up to the nursery or even the NICU and say, 'OK, I'm going to leave her here while I go do some rounds.'"
All these years later, O'Neill is still walking the halls of St. Luke's.
"I'm the Boise emergency room clinical educator," she said. "I'm in charge of making sure the staff is competent … and that they're kept up to date as far as their educational requirements for St. Luke's."
McGregor, O'Neill's supervisor, has a different way of describing O'Neill's role.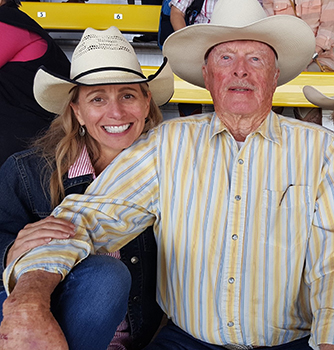 O'Neill and Dr. Tilden at a rodeo.
"She is, hands down, the heart of the unit," McGregor said. "She's completely devoted to the department."
"We've never had an educator like her before, that works the floor, side-by-side with the staff," she said. "They know what she's capable of doing and she's not going to ask anyone to do something that she's not capable of doing herself. That earns her a lot of respect."
It's also resulted in a few memorable moments.
"I helped deliver a baby out of a pants leg once," O'Neill said.
On that shift, she was working in a nearby room when she heard a woman scream.
"Her husband parked in the parking lot, and so she walked to the sliding glass doors, and we hear this 'AAAAHHHHH!'" she said. "I go out to see what's going on and this woman is standing there, and she had delivered the baby. It went right into her pants leg.
"We got her to the closest chair and my co-worker, Eric, came out with some trauma shears, cut the baby out and NICU rushed down and everybody was OK."
O'Neill has plenty more stories in which she's been amazed by her team.
"It's a great team," she said. "We had a brand-new nurse start today, and I told her, 'It's OK, because you're never going to be alone in here.' The teamwork is like no other, and maybe that's what speaks to me, because I've always loved being a part of a team."
For one night, however, O'Neill allowed the spotlight to shine on herself instead of her team.
Indeed, it was a proud moment for her father as she accepted the President's Award.
"We began a tradition of medicine in our family, built on (a) firm foundation of integrity, honesty, hard work and performance of high standards," Dr. Tilden wrote in an email. "I'm very proud of my daughter."