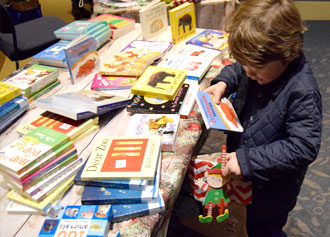 Local families with children in the hospital this holiday season will have quite the surprise when they open the door to "Santa's Toy Box" at St. Luke's Children's Hospital in Boise. The shelves to the secret shop will be overflowing with toys, games, art supplies and stuffed animals thanks to the generosity of the Treasure Valley community.
The Child Life Department at Children's Hospital hosted the first ever "Stock the Box" party this year to say thank you to those who donate toys and games for patients in the hospital. Donors who came with arms and carts full of new, unwrapped gifts were met Monday night with holiday cheer. St. Luke's volunteer pet therapy dogs donned Christmas sweaters, scarves and costumes; Santa spent time taking notes on last-minute gift wish lists; and families snacked on holiday cookies and hot chocolate.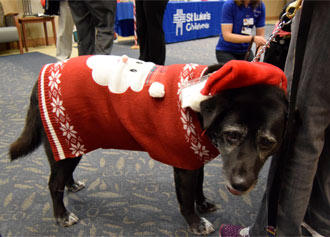 For close to two decades, St. Luke's Children's Hospital has transformed a room on the fourth floor into "Santa's Toy Box." Stressed out parents are invited inside to secretly "shop" for their children for free. They can pick out several gifts for the patient, and for their other children who aren't sick. The room is decorated from ceiling to floor, with Christmas music playing and new toys for all ages stacked on shelves. The gifts that parents select are then wrapped by a team of volunteers and delivered to patients just in time for them to experience the joy of Christmas.
Amy Rohyans is the St. Luke's Children's Hospital Child Life supervisor and started this tradition. Just like the mom and baby profiled last year, she says many families are unprepared for Christmas because their child's illness was unexpected. "We wanted to help reduce that holiday stress and strain and give them one less thing to worry about. Every single member of the family should have a wonderful Christmas, no matter the reason they're with us, or how long they have to stay."
At the "Stock the Box" party, donors also were invited to decorate a Christmas stocking and fill it with toys and books for St. Luke's tiniest patients — newborns. Each stocking was then placed in a box to be taken to one of St. Luke's four NICUs in Boise, Meridian, Magic Valley or Nampa.