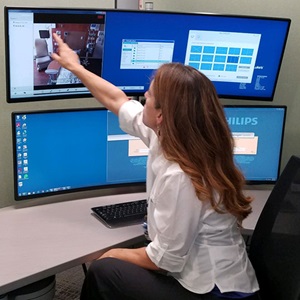 Monday marked a milestone for St. Luke's Health System with the opening of a virtual care center that will serve as a high-tech hub for patient care.
St. Luke's threw open the doors Monday for a community open house, celebrating the decade of programs and initiatives that started with electronic support for intensive care unit patients and providers and now includes capacity and expertise encompassing more than a dozen specialties.
The 35,000-square-foot space brings together all of St. Luke's virtual care services to allow the team to collaborate and coordinate care. It includes:
A centralized medical team with physicians, nurses, allied professionals and IT professionals
A total of 350 team members
More than 60 virtual care stations
The center helps St. Luke's fulfill its mission and commitment to delivering top-quality care and removing barriers to services. Through this single location, virtual care services will be provided 24/7 to patients at clinics, hospitals and homes throughout Idaho and Eastern Oregon.