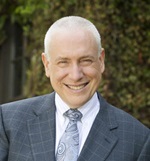 St. Luke's apprehends the significant differences in the need for services and costs among different types of patients and the fact that 5 percent of patients account for 50 percent of health care spending, primarily because they have multiple chronic illnesses and are on multiple medications for control of those illnesses.
These medications are expensive and patients often are challenged by the cost, which means they sometimes go without their medications or do things to stretch out their medication supply, like cutting pills in half and taking less than the amount recommended. When these sorts of situations happen, a patient's risk for admission to the hospital increases, and this can mean worse outcomes and much higher costs.
St. Luke's is able to help some of these patients through the 340B drug program. Here is St. Luke's Communications Coordinator Chereen Langrill with a report.
- David C. Pate, M.D., J.D.
---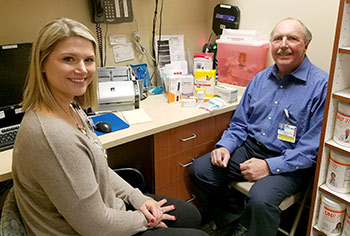 People treating their diabetes with insulin have faced increasingly steep costs, but St. Luke's involvement with a federal program can make the life-saving drug more affordable.
St. Luke's launched a pilot 340B Assist program in August 2015 that helps patients access prescription medication, including insulin, at reduced prices. The St. Luke's program, named for the federal service that makes the support possible, will be implemented throughout the health system in 2018.
The pilot program meets the needs of a significant population, often with complicated health histories and challenging financial situations. Candidates are typically uninsured, underinsured or disadvantaged, making it difficult for them to afford medication. The impact is magnified for people with diabetes, because insulin prices have more than tripled since 2002.
"This is about what happens when you leave the hospital," explained Clementine Mehrens, who manages the 340B program at St. Luke's.
"While you are in the hospital, you don't have to worry about the cost of medication when you qualify for assistance," Mehrens said. "But when you leave, if there is no support for you to manage that medication, you may end up back in the hospital again. That's why we are trying to build a program that ensures take-home prescriptions available for those patients."
As part of the 340B drug pricing program, drug manufacturers are required to provide outpatient drugs at reduced prices to eligible health care organizations, including not-for-profit organizations like St. Luke's.
Through St. Luke's 340B Assist program, patients apply, and once accepted, receive a card that resembles an insurance card that they present to a St. Luke's outpatient retail pharmacy when they fill their prescriptions.
The program can be accessed through three internal medicine clinics, one family practice clinic, one endocrinology clinic and St. Luke's Humphreys Diabetes Center.
But the program is not all-inclusive and is by no means guaranteed.
St. Luke's is facing a costly roadblock that could threaten its program in the future. On Nov. 1, 2017, the Centers for Medicare & Medicaid Services (CMS) issued a ruling that will reduce Medicare Part B drug reimbursement for certain 340B hospitals, effective Jan. 1, 2018. Mehrens estimates that the new policy could cost St. Luke's $4.9 million in 2018.
Mehrens and others at St. Luke's are members of a lobbying group fighting to save 340B. Without the program, some patients would stop taking their medication, which could lead to hospitalization, additional expenses and worsening health.
"This program just can't go away," she said. "It is critical to St. Luke's providing patient-centric pharmacy services and medications. It's not going to be efficient; you would have to expand government programs to help individuals if they take away these safety-net programs."
Since its start, St. Luke's 340B Assist program has helped numerous patients, most who have had diabetes.
Kathleen Cavanagh qualified for the 340B Assist program in October. She has type 1 diabetes and is also on medication for asthma and high blood pressure. She takes a total of 20 different medications and lives on about $1,500 a month, which she receives through Social Security. Without this program, her medication would cost more than $4,000 each month.
The 45-year-old woman cried when she heard she was accepted into the program.
"I couldn't believe it," Cavanagh said. "I got goosebumps. It was such a relief off my back.
"To be able to get my prescriptions is just such a relief," she said. "Sometimes you feel less than human when you have disabilities and don't make a lot of money. This makes me feel like less of a burden."