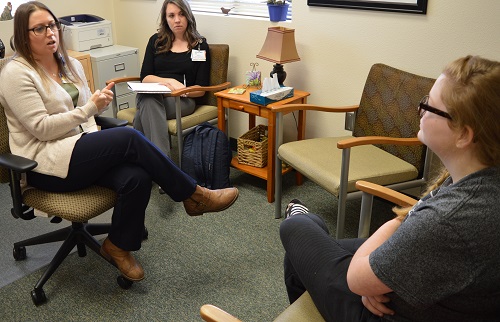 Behavioral Health Specialist Liz Boyno works at St. Luke's Humphreys Diabetes Center, where almost each day includes an encounter with a patient who is reeling from the cost of managing diabetes.
It's not just the cost of insulin, which has nearly tripled in price since 2002. It is also the cost of the test strips, the glucose meter and the nutritious food needed as part of a healthier diet.
It all adds up, and like insulin, the cost of diabetes care is on the rise, increasing by 48 percent in the past five years.
"I always knew diabetes was expensive, but coming in here, I had no idea how expensive it was," Boyno said. "I hear that at least once a day, that people are overwhelmed by how expensive it is."
Part of Boyno's role is to offer patients tips on how to incorporate treatment into their lives and how to cope with depression or anxiety. She refers patients to other resources when additional help is needed (such as counseling for depression or anxiety). She frequently talks with patients about the challenges of managing the costs associated with diabetes.
Patients tell Boyno they skip insulin doses to try and stretch the medication further. Or they use credit cards to pay for monthly prescriptions.
Those tactics aren't sustainable, and skipping doses can be deadly. Insulin isn't optional for people with type 1 diabetes. And people with type 2 diabetes who use insulin need to keep taking it as prescribed to prevent worsening symptoms.
Ultimately, patients who fail to take insulin as prescribed often end up in the hospital. From there, they get caught in a vicious cycle: They were hospitalized because of a medical emergency caused because they weren't taking insulin as prescribed, and now they are faced with a hospital bill they cannot afford.
Boyno tries to keep patients out of that cycle by giving them resources for more affordable medication. If they meet certain qualifications they are referred to St. Luke's 340B Assist Program, which connects patients to medication at reduced prices.
And there are other options. Boyno and others at St. Luke's leave no stone unturned when it comes to finding resources for patients who need support to manage diabetes.
For example, if the medication prescribed isn't included in the patient's insurance formulary, Boyno will work with the physician to see if there are other medications that can be considered.
The tools Boyno provides to patients are designed to be sustainable for patients to learn how to manage diabetes on their own.
"As a social worker, I want to solve the problem, not just patch it up," Boyno said.
Searching for affordable solutions
When patients can't qualify for financial assistance through the options above, St. Luke's helps them find other resources.
Those resources include Walmart, where certain brands of insulin can cost $25 a month.
Traci VanHorn, diabetes care coordinator at St. Luke's Wood River, meets with patients who are newly diagnosed with diabetes or who are about to be discharged from the hospital. Like Boyno, she frequently hears patients explain how they must choose between spending money on insulin or other daily living necessities, such as gas or groceries.
Some patients who have multiple illnesses won't treat all of their conditions because of financial barriers. VanHorn and others try to help patients with multiple conditions by connecting them with coupons or discounts from drug manufacturers, or insulin and diabetes management supplies at reduced prices.
Programs offered in Wood River and the Treasure Valley help reduce readmission rates by educating patients about diabetes management and providing the tools they will need before leaving the hospital:
A meter program supported by the St. Luke's Wood River Foundation is available to newly diagnosed patients and provides them with a glucose meter, test strips, a lancing device and lancets.
St. Luke's Treasure Valley Auxiliary funds a program that educates patients and gives them a glucose meter, test strips and other necessary tools that they need as part of ongoing management.
The St. Luke's Magic Valley Foundation has a fund dedicated to supporting people with diabetes by providing supplies and other services.
Supporting patients in Idaho communities
Diabetes was identified as the top priority in the 2016 Community Health Needs Assessment, a report commissioned by St. Luke's to identify the greatest needs in the communities served by the health system. Improving the prevention and management of obesity and diabetes is a top priority in part because of the cost associated with treating diabetes and the serious health threat it can cause.
To support people living with diabetes throughout Idaho, St. Luke's works with community organizations that serve people who are disadvantaged or have limited income resources. Community health centers and clinics provide another layer of support for people who have diabetes.
The St. Luke's Center for Community Health, with support from the St. Luke's Wood River Foundation, has access to resources that help with the cost of medication and other needed items, such as refrigeration, transport, food and financial assistance.
St. Luke's Magic Valley works with Family Health Services, a community health center with locations in Twin Falls and throughout south-central Idaho. It features a pharmacy that allows people on limited incomes to get medications at a discounted price.
Providers from St. Luke's Magic Valley volunteer their time to treat patients at The Wellness Tree Clinic in Twin Falls. The clinic has received a grant from the St. Luke's Community Health Improvement Fund (CHIF) to support services provided there.
In the Treasure Valley, a CHIF grant was given to Genesis Community Health, which provides health services such as diabetes management and access to insulin.
People who have diabetes can't manage their disease alone. Whether the support comes from family, the community or St. Luke's, it is a critical part of diabetes management.
"I tell everybody this is a family disease, because your whole family has to get on board," Boyno said. "Support is very important."