Coming Soon to a St. Luke's Hospital Near You: A Better Patient Experience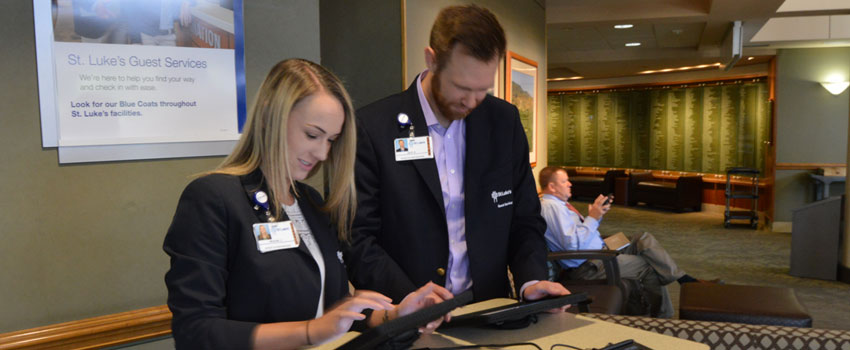 Guest Services specialists Meagan Coppi and Zach Rasmussen are equipped with wireless technology – and friendly smiles – to help patients and guests at St. Luke's Boise. "Our job is to enhance the patient or guest experience," Rasmussen said.
By Chereen Langrill, News and Community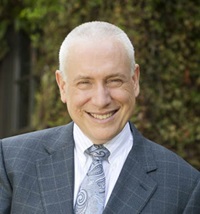 High tech and high touch. These are the ways in which St. Luke's is transforming the patient experience. We are using technology to help patients streamline the check-in process, and our new "blue coat" ambassador program brings the St. Luke's touch to more and more patients and their families in their encounters with us.
Here to describe this approach in more detail is St. Luke's Communications Coordinator Chereen Langrill.
- David C. Pate, M.D., J.D.
---
If you've shopped at Nordstrom or an Apple retail store, you have already seen the future of health care.
Nordstrom and Apple are known for outstanding customer service and anticipating a customer's needs. Whether it's eliminating check-out lines by enabling customers to pay using a mobile device or cheerfully – and patiently – providing technical assistance to a confused customer, both businesses meet customers where they are to help them feel welcome and at ease.
In the same way, improving the patient experience begins before a patient has a medical encounter, and that understanding is at the core of the new Guest Services program at St. Luke's. St. Luke's Patient Access Guest Services Program aims to help patients feel comfortable and cared for the moment they walk through the doors.
The first step is visible at St. Luke's Boise, where two employees wearing blue jackets work weekdays from morning until early afternoon, during the hours when patient flow is heaviest.
The "blue coats" are positioned at the hospital's main entry to help patients find their way to provider appointments or procedures and to feel at ease with the check-in process, according to Tonia Ferguson, director of operations for Patient Access Services.
"They really focus on being that touch point," Ferguson said. "I want our patients to see them when they walk into our building."
Patients can go to the guest services representatives to ask any questions they may have. They focus on anticipating needs; when waits are long at the patient check-in area, they help patients check in using wireless technology. When patients are lost or confused about how to find their destination, someone from guest services will escort them to where they need to go.
The program is meant to complement the services offered at the information desk. The blue coats are more mobile (they can walk someone to the chapel, for example), and can help with patient registration and co-pay questions.
The program will roll out over the summer and fall at additional St. Luke's locations. Next up is St. Luke's Meridian, where at least two blue coats are expected to be in place by late July or early August. St. Luke's Nampa will feature blue coats when it opens in October. The service will also expand to St. Luke's new Medical Office Building in Twin Falls and the Children's Pavilion.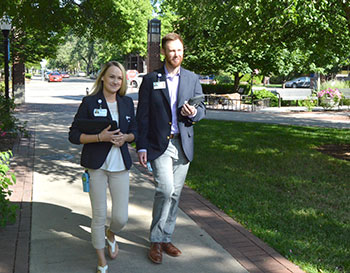 Meagan Coppi and Zach Rasmussen walk through the campus of St. Luke's Boise to help people who need assistance finding their provider's office or have other questions. Because walking is a significant part of their work, they log up to 20,000 steps each day.
Each St. Luke's location has a different focus based on the needs of the communities served. In Boise, the primary need is to help patients find their care smoothly during busy periods. The guest services program will help reduce long lines by helping patients check in during busy times.
Meridian's primary focus will be helping patients navigate the large campus. This means keeping an eye out for people who seem to be wandering or lost, said St. Luke's Meridian Administrator Dennis Mesaros.
"It puts the responsibility on us to welcome patients into the hospital," Mesaros said.
The patient-centered approach that the blue coat program is built around is especially valuable given the circumstances in which many people visit a St. Luke's location, Mesaros noted. People can be consumed with details and worry when they are entering a hospital for treatment. A warm greeting and a helping hand can ease some of that burden.
"When they come to the hospital, they already have enough on their minds," he said.
The blue coats are just the beginning of changes coming to the hospitals under the Guest Services umbrella. The next step will be self-registering kiosks where patients can check in using a tablet docked into a designated station within the hospitals. When patients have challenges using the self-register feature, the blue coats will be on hand to provide support.
The program also is expected to evolve to include a similar check-in option that patients can access from home using myChart and their smart phones. After following a series of prompts, patients will receive bar codes (called a "Patient Pass") they can either print or display on their phone to check in at the hospital, with blue coats on hand to answer questions or offer assistance.
Patient surveys show a direct correlation between that point at which a patient enters a St. Luke's facility and their overall experience, Ferguson said. And while hospitality has always had an important role at St. Luke's, and many St. Luke's locations have made special efforts to support patient and family visits with shuttle transport, help with belongings and directions and other aid over the years, the guest services program is expected to deepen the patient connection and add the convenience of wireless technology.
"Patient access staff are usually the first faces our patients see," she said. "This just ensures that their experience starts on the right foot."