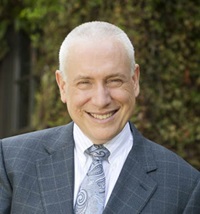 St. Luke's is focused on doing two things: improving healthcare outcomes and reducing the total cost of care.
Telemedicine helps us do both. It also is incredibly patient-centered – we bring the specialist to the patient, instead of requiring a sick patient to have to travel hours to come see the physician.
Now, we are taking it a step further – we are taking technology into patients' homes, enabling us to perform remote patient monitoring. Here to tell you more about our exciting telehealth developments is St. Luke's Communications Coordinator Chereen Langrill.
- David C. Pate, M.D., J.D.
---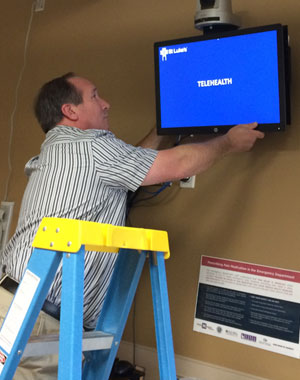 The way patients and providers connect is changing, and at the heart of that transformation is telehealth.
Thanks to telehealth technology, a patient's geographic location is less likely to restrict access to care. This means that someone living in Weiser, for example, can have a post-operative visit with their orthopedic surgeon without driving to Boise.
It saves patients precious money spent on travel and time, and may also prevent them from being readmitted to the hospital because of complications, since they are more likely to keep appointments that are convenient.
St. Luke's Telehealth Services is moving the population health dial by doing the things that make population health possible: Giving people easier access to care, reducing the cost of care, decreasing the inefficiencies of care and helping people take control over their own health.
Instead of using a traditional bricks-and-mortar approach, telehealth harnesses technology to expand a provider's reach, without forcing patients or providers to travel.
"Telehealth is a strategic investment for St. Luke's Health System," said Krista Stadler, senior director of St. Luke's Telehealth Services. "It is a valuable tool that can improve patient outcomes and decrease the total cost of care."
During her six-year history with St. Luke's, Kallie Penchansky has worked in the medical and surgical subspecialty arenas and as a St. Luke's Clinic practice manager. In December, she joined the telehealth team, where she now serves as the clinical program manager.
In her new role, Penchansky will assist clinical and ancillary providers who are incorporating telehealth into their practices. At a St. Luke's clinic, that could mean helping specialists connect with patients who would otherwise travel to Boise or Meridian for care.
Such a visit typically might include a two-way live audio-video encounter in which patient assessments and symptom reviews are completed, imaging and lab results are reviewed and a plan of care is developed and initiated.
"We believe strongly that, regardless of where a patient lives, they should have the access they need to specialty care the same as they would have if they were living in Boise or Twin Falls," Penchansky said.
Telehealth services are in place at St. Luke's clinics in McCall, Baker City, Wood River, Fruitland and Nampa. Patients visit one of those five St. Luke's clinics to access the telehealth service. Vital measurements are taken and then the patient is taken into an exam area where the electronic monitoring equipment is set up. A provider is on the monitor ready to interact with the patient.
For providers, it decreases travel time and allows them to see more patients because they aren't using additional time driving.
"Your primary care physician might say you have a serious kidney problem and you need to see a nephrologist, but if that person is two hours away, you might delay that visit. That could lead to a higher acuity of the disease," Penchansky said.
Remote Patient Monitoring
A new service expected to launch this summer seeks to support people with chronic illnesses.
Remote patient monitoring is the result of a collaborative effort between St. Luke's Health Partners, St. Luke's Post-Acute Care, St. Luke's Clinic, St. Luke's leadership and Telehealth Services to avoid readmissions and decrease utilization of hospital services. Using telehealth's two-way video platform allows care coordinators and other care team members to check in with patients in their home without scheduling an office visit or traveling to visit a patient at home.
"It will reverse the care paradigm, from reactive to proactive," Stadler said.
With a patient's consent, vital information such as weight, blood sugar and blood pressure is electronically recorded and shared with a care provider who watches for subtle changes that could signal the need for additional attention. This is especially valuable for people who have multiple chronic illnesses.
"We are really trying to help people care for themselves proactively," Stadler said. "Many people with chronic illness may not act on subtle symptoms, such as a slight shortness of breath, until the symptoms significantly impact their lives. At that stage of the game, people often require hospitalization."
Recent increases in telehealth staff, including Penchansky, enable the department to work more in tandem with other St. Luke's departments by providing robust support. This improves efficiency for all departments by leveraging existing resources, and also means care that is more patient-centered.
For example, telehealth is working closely with St. Luke's Transfer Center to put processes and technology in place to ensure that patients get the most appropriate care and that unnecessary transfers are reduced.
Stadler believes the collaboration will result in better patient outcomes and a decrease in the total cost of care.
"Telehealth Services is here to support the clinician and the clinical operator's strategy," Stadler said. "If a service line or department thinks there is an opportunity to make care more effective, we are here to help them achieve their goals..."
Always Evolving
The service will continue to evolve. Stadler's wish list includes expanding telehealth to areas such as interpretation, pharmacy services, patient safety attendants and provider subspecialists.
"We have to keep thinking about how we can utilize technology to give every care provider a physical presence for the patient and better leverage that across the geographic region, so that no matter where the patients are located, they have the same access to quality team-based care," Stadler said.