St. Luke's Dr. Marshall Priest: Patient Champion, Quality Crusader, Southern Gentleman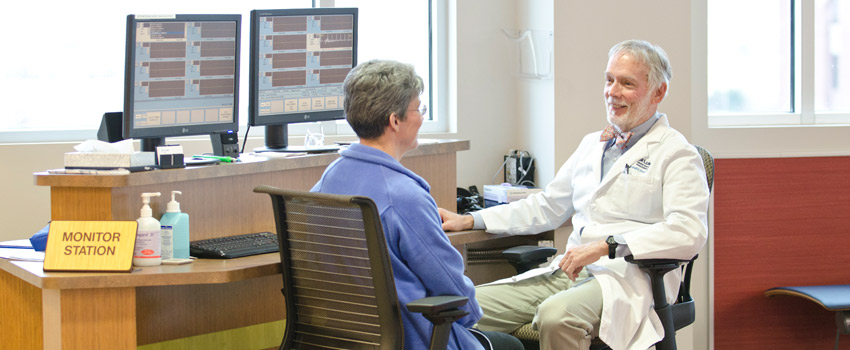 By Chereen Langrill, News and Community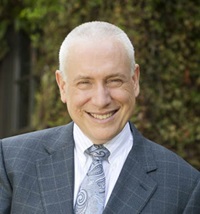 It has been a great privilege for me to know and work with Dr. Marshall Priest.
Every organization owes its success to trailblazers, who had a vision and who laid the foundation for the organization to be what it is. Dr. Priest has been a St. Luke's trailblazer, and the pioneering changes he has led are among our organization's significant achievements.
Dr. Priest and his team have developed world-class heart services at St. Luke's that have received national acclaim and much recognition. Most meaningfully, they have saved many lives, and avoided countless complications that would have occurred absent the high-quality services.
As we mark American Heart Month and Dr. Priest looks to retirement, here is St. Luke's Communications Coordinator Chereen Langrill with a report on the history and accomplishments for which we will always owe a debt of gratitude to Dr. Priest.
- David C. Pate, M.D., J.D.
---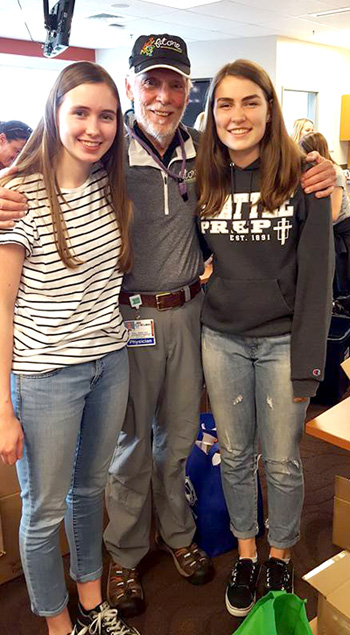 Dr. Marshall Priest and Dr. Priest's granddaughters Davis Pessner and Maslyn Pessner help pack supplies for a medical mission to Honduras.
Dr. Marshall Priest came to Idaho in 1979, when St. Luke's only hospital was located in downtown Boise – and the cause of coronary artery disease had yet to be discovered.
Since that time, there have been extraordinary changes, at St. Luke's and within all of health care, and Dr. Priest has witnessed – and participated in – a technical revolution in the world of medicine.
"The change he has seen is breathtaking," said Dr. Jim Souza, St. Luke's vice president of medical affairs.
When the former head of St. Luke's nationally recognized heart program retires this spring, he will leave behind a legacy that includes a fierce commitment to his patients and to excellence.
Dr. Priest grew up in the South and completed a cardiology fellowship at the University of Alabama, Birmingham. He was considering a move to Knoxville, Tenn., where he planned to join a large cardiology group at the University of Tennessee hospital. His plans took a different turn when two former classmates who had moved to Idaho encouraged him to come west for a visit.
He agreed to visit Idaho and met with Dr. J.W. Smith, Dr. Rodney Herr and Dr. Kirby Orme. After spending a day with Dr. Herr at his ranch and a visit to Sun Valley and Stanley, he was sold.
"If I could write a script, I wouldn't change anything," Dr. Priest said.
Dr. Priest has embraced life in Idaho. He is an avid outdoor enthusiast and enjoys running, snowshoeing, hiking and cycling.
He has led and participated in medical missions to disadvantaged communities where even basic care is severely lacking; in spring 2016, he was joined on a medical trip to Honduras by his two granddaughters.
He is an advocate for St. Luke's when it comes to expanding care and has been a tireless champion for innovation, quality and safety. The programs he has developed have earned national recognition and his passion for St. Luke's has made him one of the organization's best recruiters.
Dr. Priest is a St. Luke's legend.
Leading the transformation of care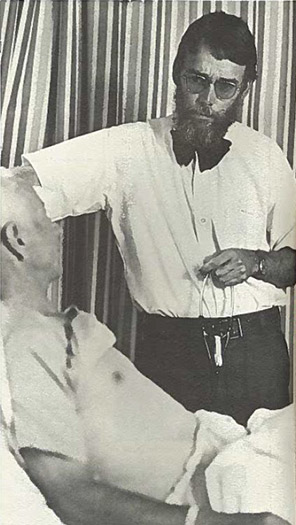 His footprint on Idaho's healthcare history began almost immediately, and it continues today.
"When I came to town there were five cardiologists, and I was the sixth," Dr. Priest said. "Now there are probably 40."
Since Dr. Priest joined St. Luke's, cardiology has evolved from a time when the best way to treat a blocked artery was coronary bypass surgery to minimally invasive procedures that reduce recovery time and give patients the ability to return home sooner. The culture of safety has changed dramatically, and prevention has become a prominent part of care.
"He has transformed along with the transformation of health care," Dr. Souza said.
Here are highlights from that transformation:
Dr. Priest founded the Boise Heart Clinic with Dr. Smith in 1981. He went on to help found Idaho Cardiology Associates in 1994, which became the basis of St. Luke's Heart and a part of St. Luke's Health System in 2007.
St. Luke's Heart has earned St. Luke's Boise and Meridian recognition as a Truven Top 50 Cardiovascular Hospital for nine consecutive years. Top 50 Hospitals are recognized for having higher survival rates, fewer patient complications, shorter average lengths of stay and lower total costs per patient.
In addition to launching the cardiovascular programs in Boise and Meridian, Dr. Priest started St. Luke's outreach clinics in Baker City, Ontario and La Grande, Oregon, increasing access to care for heart patients living in rural areas.
He was instrumental in the passing of Senate Bill 1329 in March 2014, which addresses time-sensitive emergencies and the need for established best practices to deliver better care for patients suffering from trauma, stroke and heart attacks.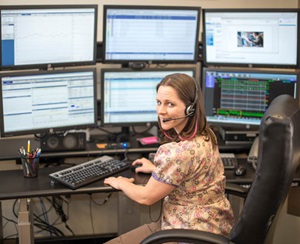 St. Luke's use of teleICU has prevented patient falls, medication errors, and other mishaps, and is helping decrease lengths of stay, among its benefits.
Under his leadership, St. Luke's has successfully completed three Chest Pain Center accreditation designations and Basic Heart Failure accreditation, and has maintained national accreditation of echocardiography and peripheral vascular laboratories.
Dr. Priest witnessed – and facilitated – another significant shift in health care when he worked with Dr. Souza to write the grant that led to St. Luke's teleICU program. That program began in January 2013 and has continued to expand and develop.
In 2012, St. Luke's became the only hospital in Idaho – and one of four in the Pacific Northwest – to perform the Transcatheter Aortic Valve Replacement (TAVR) procedure. This groundbreaking procedure makes it possible to replace an aortic valve without open heart surgery. Because it is less invasive than open heart surgery, patients are usually able to return home on the second or third day following the procedure.
Dr. Priest won't take the credit for the success of today's heart program at St. Luke's. The credit goes to an entire team, and he is a proud member of that team.
"There are a lot of people here who don't get as much recognition as they should," Dr. Priest said.
"I honor and respect those many physicians, nurses, support staff and administrators who have played a critical role in the success of the cardiac programs and the exceptional patient outcomes we have achieved at St. Luke's."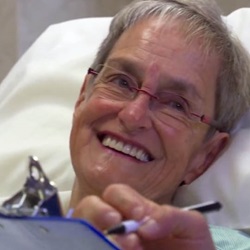 'I am here for you'
Elaine Conway was the first TAVR patient at St. Luke's. She was 43 when she had her first heart attack in 1977. By 1989, she had experienced two open heart surgeries.
Because it wasn't safe for Conway to have a third surgery for valve replacement, she was an ideal candidate for the less-invasive TAVR procedure.
And because of previous positive encounters with Dr. Priest, Conway approached the TAVR procedure with great optimism. At the request of Dr. Priest, she is now on St. Luke's patient advisory committee.
"He is the reason I am here," Conway said. "I absolutely adore him."
Even on her bleakest days, Dr. Priest's presence helped her stay calm, Conway said. He went above and beyond to ensure she felt safe and comfortable.
Conway remembered a time when she needed an angiogram. It was a procedure she dreaded because it required her to be motionless for long periods of time. Dr. Priest called to tell her he needed to have someone else do the procedure because he wouldn't be there. Conway was disappointed.
"I sort of forgot about it, and when I went in for the procedure, he was there," Conway said. "He said, 'Elaine, you wanted me here, so I am here for you.'"
The interventional cardiology program has blossomed under Dr. Priest's leadership. Advances in treatments such as the TAVR procedure have helped position St. Luke's as a leader in cardiac care. For patients like Conway, those advances mean a longer, healthier life.
"He doesn't give up on problems," Conway said. "He just keeps looking at the reasons until he has the answer."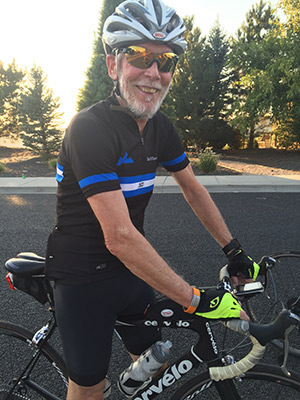 A tenacious problem solver
Patients, physicians, staff members and others whose lives have been touched by Dr. Priest shared similar comments about his tenacity and commitment to excellence. They noted his persistence and drive to find solutions, whether he is searching for answers regarding a patient's treatment or striving to improve quality within a St. Luke's program.
St. Luke's catheterization lab manager Tom Watters said that over the years, he learned that he shouldn't approach Dr. Priest for help with a problem unless he was prepared for fast results. Dr. Priest will dig deep to find a solution.
"He is definitely a man of action and influence," Watters said.
Dr. Priest served as the chair of the STEMI (ST segment elevation myocardial infarction, or heart attack) Committee, Chest Pain Center and Quality committees. The STEMI program, now under the direction of Dr. Nathan Green, has earned national recognition for implementing and achieving specific quality improvement measures for patients who suffer severe heart attacks (known as STEMIs).
"Dr. Priest set the groundwork for the successful STEMI program that exists today," Watters said.
Dr. Priest is thrilled to witness the program's continued success.
"What I'm most proud of is how Dr. Green has taken the STEMI program and blown it way up, leading us to even better patient outcomes," he said.
Cy Gearhard, who served as administrator for heart services when Dr. Priest first joined St. Luke's and is now chief nursing officer and vice president of patient care, said Dr. Priest raised the bar in terms of the quality of care delivered to St. Luke's cardiology patients.
"He was a leader for following metrics, hitting and going beyond national standards," Gearhard said.
At the same time, Dr. Priest has remained devoted to his patients. Gearhard noted his ability to demand the best performance while also demonstrating remarkable compassion to patients and colleagues alike.
"He is a Southern gentleman with high expectations," Gearhard said.
"He's got such a thirst for improving," she said. "He always pushes himself to be his best, and that inspires others to do the same."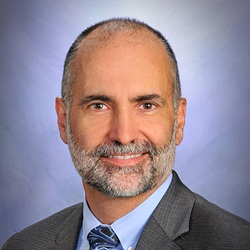 Dr. Jim Souza
---
Three Things to Know about Dr. Marshall Priest, According to Dr. Jim Souza
Adaptability. His medical career started at a time when health care had gone 2,000 years without significant change and transitioned from a physician-centric era to a performance-driven era to a patient-centered era. The ability to adapt the way he has is notable.
Style. "That whole Dapper Dan thing." It is rare to see Dr. Priest on a St. Luke's campus when he isn't wearing his trademark bow tie. His natty appearance demonstrates his respect for his patients.
Curiosity. Dr. Priest is never content to sit back and relax. Some people stop learning, stop wanting to get better. Not so with Dr. Priest.
---