Surprise Gift for an ER Nurse Who Gave Care and Footwear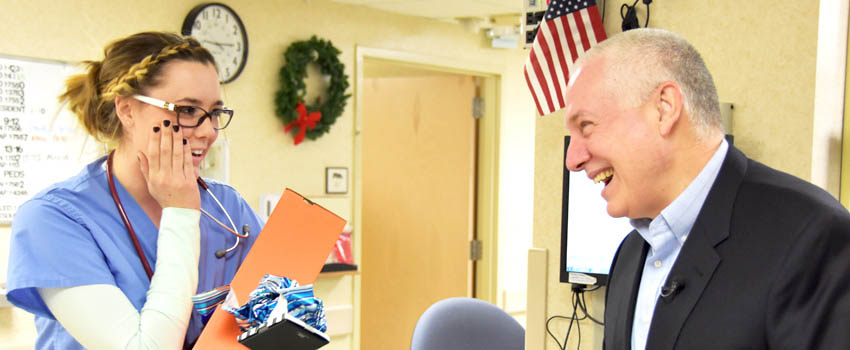 "I know about the great deed you did," Dr. Pate told Meghan before surprising her with a new pair of shoes and a gift certificate to purchase a second pair.
By Brent Boyer, News and Community
The man was wearing only his boxers when paramedics brought him to the Emergency Department at St. Luke's Boise. His apartment had caught fire, and he was experiencing chest pains.
He was put under the care of ER nurse Meghan Caraballo. After several hours of observation, he was declared OK to return home.
But there was no home to go back to. Or belongings. No one was coming to pick him up, either, and he had no clothes.
"He had nothing," Caraballo said.
But she did.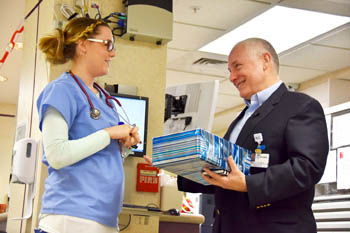 Caraballo grabbed some hospital scrubs and a pair of fuzzy socks for the patient. He told her he wore a size 13 shoe – a little bigger than her own size 11s, but close enough.
She took off her bright pink Nike athletic shoes and helped him lace them up. They agreed the shoes would work.
And then he left, heading out into the Boise morning toward his daughter's home.
Caraballo and other care providers say it's not out of the ordinary for hospital employees to pool personal resources to provide for families and patients who have endured tragedies.
And while that might be the case, Boise ER Director Traci McGregor and St. Luke's Health System President and CEO Dr. David Pate said Caraballo's selflessness was nonetheless extraordinary.
"People here at St. Luke's perform acts of kindness every day, but every now and then, there's not just acts of kindness, but sacrifices made by our employees," Dr. Pate said. "It cost something for Meghan to make that sacrifice."
And so it was that Dr. Pate found himself doing some shoe shopping on a recent Saturday. He picked out a new pair of Nikes – size 11, of course – wrapped them in holiday paper and made a surprise visit to Meghan in the ER Thursday.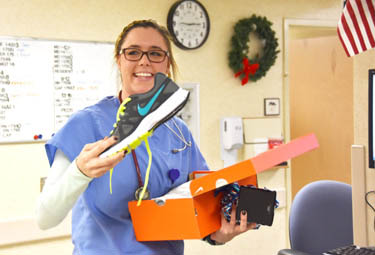 "Given your propensity to give your clothes away, we thought we'd give you a backup," Dr. Pate joked as he handed Meghan the new shoes and a gift certificate for a second pair of her choosing.
Caraballo, 28, moved to Boise in June from North Carolina. Like many of her ER colleagues, she's quick with a smile and likes to amuse – traits that provide levity in the stressful, often traumatic environment of an emergency department.
"She's just one of those exceptional nurses who's always smiling, always happy, always a team player," McGregor said.
Added Dr. Pate, "Yes, we give great care. But it's people who give that care, and those people are what makes the experience at St. Luke's."
Caraballo did her best to shrug off the praise.
"You give what you can," she said. "There's no reason I should have a plethora of shoes when he had none."
So she took off her shoes and gave them to someone who needed them more.
"What a great essence of Christmas and the holidays," Dr. Pate said.