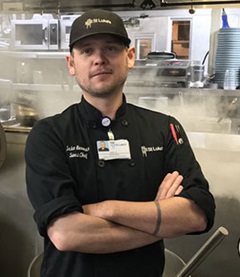 Jake Bowman, Food and Nutrition Services supervisor at St. Luke's Plaza
Jake Bowman knows it will take a leap of faith for some people to put watermelon wedges on their grill.
He's determined to prove the doubters wrong, with the latest entry in our e-cookbook series.
"Grilled watermelon is delicious," said Bowman, Food and Nutrition Services supervisor at St. Luke's Plaza. "It creates a totally different experience. Grilling it caramelizes the sugars in the watermelon, giving it a deep, smoky flavor."
Bowman's recipe calls for topping the grilled watermelon with a sweet cashew cream.
"Cashew cream is super versatile," he said. "You can change a few simple ingredients in this recipe, and it can be used as a replacement for sour cream, cream for pasta dishes, veggie dip or salad dressing."
As for choosing a watermelon, Bowman recommends looking for a big yellow spot.
"The yellow spot appears when the watermelon is resting on the ground," he said. "If the spot is white, it's not ready. Once you find that yellow spot, give it a little tap on that spot. A ripe melon will sound deep and hollow."
A final suggestion from Bowman: Clean your grill.
"It's important to keep those grates clean and smooth," he said. "After each use, scrub the grates with a wire brush and wipe some oil on them. Another thing that helps is spraying the watermelon with a little pan spray oil."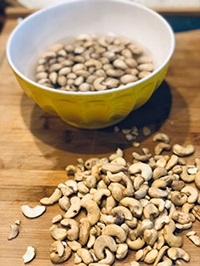 Grilled Watermelon with Sweet Cashew Cream
Ingredients:
1 cup raw cashews
¼ cup water (don't use the water previously used for soaking the cashews)
¼ cup orange juice
1 tablespoon maple syrup
1 teaspoon vanilla extract

1 mini watermelon, sliced into 1 ½-inch-thick wedges
2 tablespoons granulated sugar
½ tablespoon ground cinnamon
Instructions: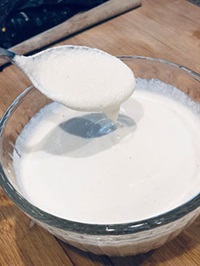 Soak raw cashews in water for at least two hours, then drain. In a blender or food processor, add cashews, water, orange juice, maple syrup and vanilla extract. Blend till smooth, stopping and scraping the sides with a spatula occasionally if needed.
Preheat the grill to a high heat. In a small bowl, mix the sugar and cinnamon together and sprinkle onto the watermelon wedges. Grill the watermelon for two to three minutes on one side, flip, then grill an additional two to three minutes.
Place grilled watermelon on a plate and drizzle with the cashew cream sauce.
Nutrition facts: 165 calories, 4.5 grams fat, 3 mgs sodium, 3 grams protein, 2 grams fiber