The leaves are turning, signaling the return of fall, and fall's cooler nights call for the comfort of warm soup.
For this installment of our e-cookbook series, St. Luke's chef Jake Bowman dishes up just such a comforting recipe: Roasted Red Pepper and Black Bean Soup.
"Every place, every cuisine, every class of people enjoy soup," said Bowman, Food and Nutrition Services supervisor at St. Luke's Plaza. "Soup is also the lifeblood of a good cook. It teaches basic skills important to all styles of cuisine."
This recipe essentially comes together in two stages. First, red peppers are broiled in an oven. Then, a wide variety of spices, vegetables – and even a little tequila – come together to make the savory soup. Bowman won't hold it against you if you omit the tequila or substitute some ingredients or spices.
"When I have taught classes, one of the most important points I make is you don't have to follow my recipes to a T," Bowman said. "I write recipes more as a guideline for people.
"Food should be a form of self-expression, and I hope that people who use my recipes will take them with a grain of salt. Pun intended."
Want to take the heat factor up a notch? Add more than a pinch of cayenne. Wonder if a dollop of sour cream might be a good topping?
"Top away!" Bowman said, adding that he might use Greek yogurt instead of sour cream.
As for a side dish, Bowman suggests a grilled cheese sandwich on crunchy rustic sourdough.
But don't forget your greens.
"Serve it with a leafy spinach salad to increase vegetable intake and get an extra dose of vitamin C and iron," said Laura Boquette, St. Luke's Children's clinical nutrition manager.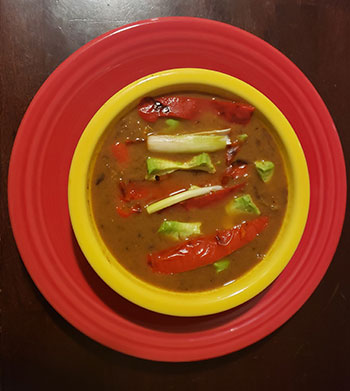 Roasted Red Pepper and Black Bean Soup
Ingredients:
2 red bell peppers
2 tablespoons grapeseed oil (plus a little more to coat the red peppers)
2 medium yellow onions, diced
4 large garlic cloves, diced
2 carrots, peeled and diced
2 celery stalks, diced
2 15-ounce cans black beans, drained and rinsed
5 cups low-sodium vegetable broth
1.5 ounces blanco tequila
¾ teaspoon oregano
1 teaspoon ground coriander
1 ¾ teaspoons ground cumin
1 tablespoon ancho chile powder
1 pinch cayenne
1 teaspoon salt
1 tablespoon fresh lime juice
1 avocado, sliced
2 stalks of green onion, sliced
Handful of fresh cilantro, chopped
Directions:
Roasted red pepper: Turn oven on to broil. Cut peppers in half and remove stem, seeds and white membrane.
Lightly coat bell peppers in grapeseed oil and flatten the pepper halves. Place directly on the top rack with the skin side facing up and broil. Carefully watch and broil until skin is charred and black.
Remove from oven, let cool slightly and then place inside a gallon zipper-sealed bag for 15 minutes. Remove pepper from bag, peel the blackened skin off, then julienne (or cut into thin strips). Set aside.
Soup: Add grapeseed oil to pot on medium-high heat. Add onions, carrots and celery and cook until onions are translucent, about 8 minutes. Add garlic and stir for 30 seconds. Add tequila to deglaze, stir, then add oregano, coriander, cumin, ancho chili powder, cayenne and salt.
Add one can of black beans along with half of the vegetable broth and bring to a boil, stirring occasionally. Blend ingredients together using a hand blender. (You may also transfer the contents of the pot to a blender. Do not fill the blender too full and make sure the blender is vented).
Add the final can of black beans and the remaining vegetable stock. Bring to a boil. Using a hand blender, give the contents a couple pulses. Add lime juice and stir into soup.
Serve in bowls and top with sliced avocado, green onion, cilantro and roasted bell pepper.
Makes four one-cup servings.
Nutritional information per serving: 323 calories; 14g protein; 52g carbs; 15g fat; 2g saturated fat; 1,650 mg sodium; 9g sugar