If you have never had hearts of palm, Jake Bowman thinks you should give them a try.
Bowman, the Food and Nutrition Services supervisor at St. Luke's Plaza, dishes up the latest recipe in our e-cookbook series, featuring the unique ingredient.
This versatile vegetable, harvested from the core of some types of palm trees, is a food chameleon in ways such as cauliflower and tofu can be.
"Those new to hearts of palm generally turn away from them until they sample them," Bowman said, adding that once they're introduced to this crunchy, substantial meal-time mainstay, "people love them!"
And what's not to like? Hearts of palm are a good source of nutrients, high in fiber and vitamin C. They also contain vitamin B6, calcium, niacin, phosphorous and zinc. Hearts of palm are high in protein as well, and are only about 50 calories per serving.
Bowman has been making creative use of hearts of palm in a variety of dishes over the years.
"We offer this as a topping for our ancient grain bowl," Bowman said. "People try it once and they are hooked forever."
Bowman's recipe can be used in many ways.
"It's great as a rice or noodle topping," Bowman said. "I've even used it in lettuce wraps and Vietnamese spring rolls."
One caveat before you buy — you will want to be aware of the sodium content in canned hearts of palm.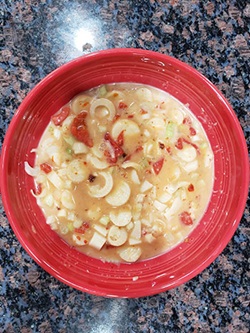 After all the ingredients are combined in a bowl let them marinade for two hours before simmering for 15 minutes.
Coconut Curry Hearts of Palm
Ingredients
1 14-ounce can hearts of palm, drained and chopped
1/2 cup coconut milk
1/4 cup roasted red bell peppers, diced (canned roasted peppers can be used)
1 tablespoon agave syrup
1/4 cup Mae Ploy sweet chili sauce
1 teaspoon grated ginger
1 tablespoon tamari or coconut aminos
1/4 cup green onion
1 teaspoon red curry paste
Mix all the ingredients together and marinate for two hours. Simmer on medium heat for 15 minutes.