Coffee shops are selling pumpkin spice lattes. Bakeries are offering pumpkin bread and pumpkin muffins with chocolate chips.
It's definitely the season of the pumpkin right now, through Thanksgiving – and beyond.
In that spirit, Brandy Simons offers her recipe for pumpkin pie bars, the latest entry in our e-cookbook series.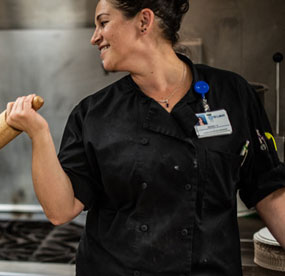 St. Luke's pastry chef Brandy Simons
"To me, pumpkin bars are easier and cleaner to eat than pumpkin pie," said Simons, the pastry chef at St. Luke's Plaza.
Simons makes another recipe – gluten-free pumpkin bread – for her family every Thanksgiving and Christmas. St. Luke's registered dietitian nutritionist SeAnne Safaii-Waite is a fan of including pumpkins in any recipe.
"Pumpkin brings home the brain boost needed to lessen your risk for inflammatory diseases such as Alzheimer's, heart disease and diabetes," Safaii-Waite said. "Also, because of its high-fiber content, pumpkin keeps you fuller longer and it's a low-calorie superstar."
Safaii-Waite said a half-cup of pumpkin puree provides .5 grams of fat, 1 gram of protein, 10 grams of carbohydrates, 5 grams of sugar, 3 grams of dietary fiber and 250 percent of the daily value of vitamin A.
She gets the final word of advice about the mighty pumpkin.
"Don't forget about the seeds!" she said.
"The seeds may be small, but they're packed full of protein, zinc, iron, phosphorous, magnesium and other antioxidants."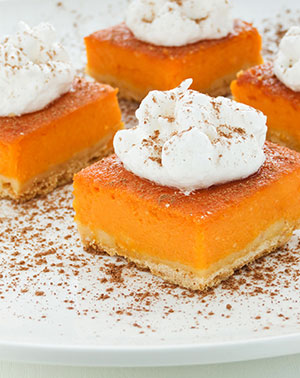 Pumpkin Pie Bars
Ingredients
Shortbread crust
1 cup unsalted butter
½ cup sugar
2 teaspoons vanilla
½ teaspoon salt
2 cups + 2 tablespoons all-purpose flour
Pumpkin filling
¾ cup granulated sugar
1 teaspoon cinnamon
½ teaspoon salt
½ teaspoon ground ginger
¼ teaspoon ground cloves
2 eggs
15 ounces pumpkin purée
12 ounces evaporated milk
Instructions
For the crust: Mix all ingredients together, then press the dough into a 9x13 greased pan. Bake the crust for 15 minutes at 350 degrees.
For the filling: Combine sugar, salt, cinnamon, ginger and cloves in a small bowl. Beat eggs lightly in a large bowl. Stir in pumpkin and sugar-spice mixture. Gradually stir in evaporated milk.
Add the filling to the prebaked crust and bake for 40 to 50 minutes or until a knife inserted near the center comes out clean. Cool on a wire rack for two hours. Serve immediately or refrigerate. (Do not freeze as this will cause the crust to separate from the filling.)