Editor's note: Every other week in this space during 2020, you'll find recipes and tips from St. Luke's chefs and dietitians to help you cook healthier at home.
---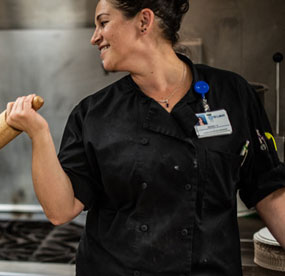 Brandy Simons has a go-to recipe when she is preparing a dessert, one she's generous about sharing.
And while her vegan brownies skip some ingredients that most people likely think of when they think of brownies – namely, eggs and butter – Simons has found this formula to be a crowd pleaser, again and again.
"Most people don't even realize they're vegan," said Simons, the pastry chef at St. Luke's Plaza. "I'm always told that they are moist and have a great flavor."
Simons likes to use quality ingredients in her recipes, so she uses a Dutch cocoa powder when she makes these brownies at home.
"That can be a little pricey, so Hershey's cocoa powder also works," she said. "I've also used their special dark chocolate cocoa powder in this recipe."
Mexican vanilla is another upgrade over artificial vanilla extract – and Simons isn't afraid to experiment a little with her recipes, including this one.
"I have added a half-cup of lightly toasted walnuts, and I've even added Oreo cookies," Simons said.
For the final touch, she might add some sliced strawberries as a topping.
"My nephew is dairy-free, so for him I use a coconut whipped topping that I buy in the freezer section," she said.
Amanda Humphries, a St. Luke's registered dietitian who works in Meridian, appreciates the universal appeal of the brownies.
"These vegan brownies are hypoallergenic (no dairy, soy, eggs or nuts) and will definitely satisfy your sweet tooth!" Humphries said.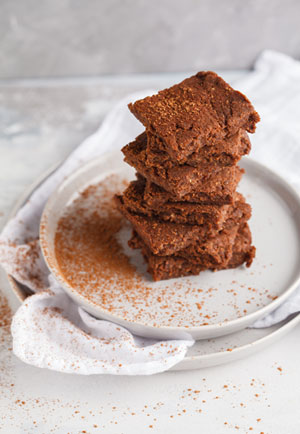 Vegan Brownies
3⅓ cups all-purpose flour
4½ cups granulated sugar
1 cup cocoa powder
1¾ teaspoons baking powder
1 tablespoon salt
2¼ cups water
2¼ cups oil
2 teaspoons vanilla extract
Instructions:
Spray a 9-by-13 pan with no-stick cooking spray.
Mix all the ingredients together until moistened.
Add to prepared pan and smooth the top.
Bake at 350 degrees for 30 to 40 minutes or until a toothpick comes out clean.
Yields: 18 servings
Nutritional information per serving: 540 calories, 28 g fat, 390 mg sodium, 4 g protein, 74 g total carbohydrates