Editor's note: Every other week in this space during 2020, you'll find recipes and tips from St. Luke's chefs and dietitians to help you cook healthier at home.
---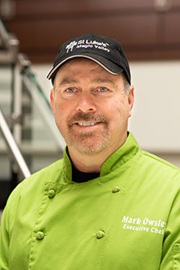 It's safe to say we all are looking for a little comfort right now, and this take on minestrone soup from St. Luke's Magic Valley Chef Mark Owsley is sure to hit the mark.
Healthy, hearty and packed with oodles of flavor, this soup is also easier to make than it might seem, looking at the ample list of ingredients.
"This soup has an abundance of vegetables," Owsley said. "It's a nice protein source and has some good fiber."
You can cut up the vegetables the night or morning before cooking to trim down your prep time during the dinner hour. With so many simple steps, this is the perfect recipe to keep your kids active in the kitchen while teaching them about slicing and dicing, using spices and following directions. Plus, the soup is nearly foolproof and appeals to a variety of palates.
"If it turns out too thick, you can always add a little water," Owsley said. "This filling soup can also be served as a main entree. It's a good vegan recipe, also."
Owsley does offer one note of caution.
"Make sure not to overcook the shell pasta," he said. "That way, it will hold its shape when added to the soup."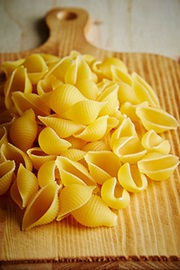 The soup is a good source of fiber and plant-based protein, and Meridian Clinical Dietitian Kristine Schmidt also appreciates that it is rich in vitamin A and folic acid. She adds a suggestion for those watching their sodium intake.
"This soup is perfect for a meal on a cold day," Schmidt said. "To reduce the sodium content, use a low-sodium vegetable soup base, low- or reduced-sodium canned tomato paste and low-sodium canned kidney beans."
Owsley sometimes uses fresh oregano and basil instead of the dried versions in this recipe. Another Owsley tip? Mix it up with different toppers.
"A nice garnish for the soup is to top it with fresh grated parmesan cheese."
Minestrone Soup
Makes about 4 large servings; Chef Mark Owsley says that this soup freezes well, too! And you can experiment with your choices of pasta, beans and vegetables as well.
4 ounces of whole grain shell pasta
2 tablespoons of olive oil
1 medium onion (diced in quarter-inch pieces; you want about 3½ ounces of onion)
About 2 small carrots (diced in quarter-inch pieces; you want about 3½ ounces of carrot)
About 2 medium stalks of celery (diced in quarter-inch pieces; you want about 3½ ounces of celery)
1 small fresh zucchini (diced in half-inch pieces; you want about 5 ounces of zucchini)
1½ tablespoons of fresh garlic, minced
2 tablespoons of vegetable base
1 1/3 quarts of water
12 ounces of canned diced tomatoes
3 tablespoons of tomato paste
8 ½ ounces of canned kidney beans, rinsed and drained
Salt and pepper to taste
1 teaspoon oregano
1 tablespoon of dried basil
1 teaspoon of fresh Italian parsley
3 cups of fresh spinach (chopped into 1-inch pieces)
1 teaspoon sugar
3 tablespoons of corn starch
1 cup of water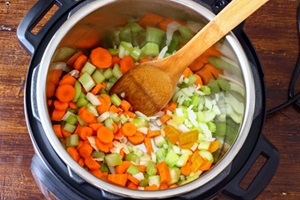 Directions
Prepare the whole grain pasta:
Bring 1 quart of water to a boil.
Add the pasta and reduce heat.
Simmer 5 to 7 minutes until tender.
Drain and "shock" under cold water to discontinue the cooking process.
When cool, drain and set aside.
To make the soup:
In a heavy bottomed pot, heat the oil over medium heat.
Add carrots, celery and onion. Cook until the vegetables are soft.
Add garlic; continue to simmer 2 minutes.
Combine vegetable base and the 1 1/3 quarts of water. Add to the soup with the tomatoes and tomato paste.
Bring to a boil, and simmer for about 10 minutes
Add kidney beans; continue to simmer for 10 minutes.
Add zucchini, spinach, oregano and basil. (You use fresh basil and oregano if preferred).
Simmer 10 more minutes.
Mix the corn starch with the 1 cup of water until well-mixed. Slowly add this mixture into the soup. (You may not need all the mixture. You want just enough to slightly thicken the soup.)
Add sugar, salt and pepper to taste.
Add pasta shells and parsley and mix.
Turn off the heat.
Ladle into bowls, add your choice of toppers (if desired) and serve.
Nutritional information per serving: 289 calories; 7.8 g fat (1.0 g saturated fat); 890 mg sodium; 990 mg potassium; 49 g total carbohydrate; 10.8 g fiber; 9.2 g protein