St. Luke's chef jazzes up coconut chia pudding with a dash of love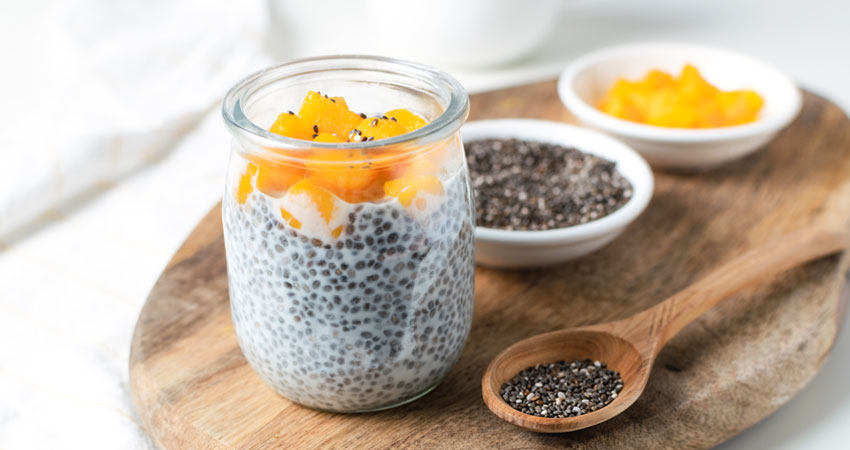 By Holly M. Anderson, Health and Wellness
Editor's note: Every other week in this space during 2020, you'll find recipes and tips from St. Luke's chefs and dietitians to help you cook healthier at home.
---
Chef Jake Bowman has two philosophies about food and cooking.
The first: "Food is love. Any time you cook anything, cook with love," said Bowman, a Food and Nutrition supervisor and sous chef at St. Luke's Plaza in Boise. "I believe the most beautiful thing you can do for another soul is to cook for them. When you cook for someone, you are giving them your love. This goes for yourself as well. When you cook anything, make sure that you feel it. Love it. Put your soul into it."
The second: Don't be afraid to experiment in the kitchen – particularly if you are just learning to cook or if you are trying to adapt recipes to your family's tastes and needs.
"Think about cooking like jazz. Good jazz music is spontaneous, impromptu and from the heart, rather than the brain," Bowman said. "I believe we should use the same method when it comes to cooking."
Bowman recommends reading a recipe over a few times first. Next, practice to get the method down (like a jazz musician learns how to play his instrument, Bowman says). Then, play with it!
"Start with some basic recipes, maybe some soups, to learn some basic skills. Then apply those skills to the music of your own dishes," Bowman said.
"With that, don't let food be intimidating. Any successful and honest chef will tell you that they have made mistakes and ruined dishes. This is the only way to learn why ingredients do what they do."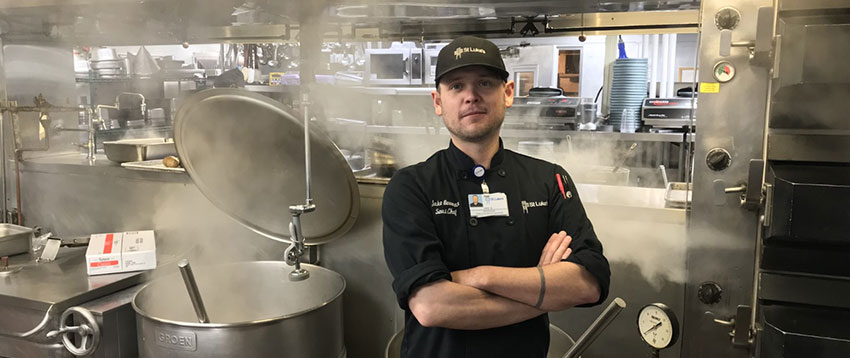 At St. Luke's, chef Jake Bowman has found a niche in helping to teach cooking classes offered by Food and Nutrition Services. "It fills my heart," he said. "It is so much fun." Learn more about the various classes offered by St. Luke's Health System here.


Bowman joined the St. Luke's team about four years ago after nearly 15 years of cooking at fine-dining establishments, including Bella Aquila, the noted Italian restaurant in Eagle. The longtime culinary pro isn't afraid to practice what he preaches when it comes to switching it up in the kitchen – at work and at home.
Bowman's menus at St. Luke's Plaza's Café 720 feature a range of options each day for vegetarians, vegans and those just looking to try more plant-based choices. Diners rave about the café's sweet potato and black bean chili, the cavatappi and vegan Bolognese and the grilled pineapple salad.
Jackfruit is considered an emerging food trend, but Bowman started incorporating the tropical fruit into his home cooking a couple of years ago. He now serves the vegan meat alternative in the café, too. (If you like pulled pork sandwiches, Bowman says you'll be amazed at what jackfruit can do in the starring role!)
Bowman's easy take on coconut chia pudding will satisfy any sweet tooth – once someone gets over the dessert's appearance.
"People aren't usually super excited to try it at first because it looks odd, like little frog eggs," Bowman said. "But once they taste it, they are all about the 'cha, cha, cha, chia!'"
Like Bowman, St. Luke's Clinical Dietitian Betty Trounson, RD, says home cooks shouldn't be afraid to modify recipes for their needs.
"I have made chia pudding with unsweetened almond milk with a tablespoon of maple syrup," Trounson said. "Overall, I feel like it is healthier."
And while this recipe says it makes two servings, cutting down on portion size will help with calorie and sugar control, too.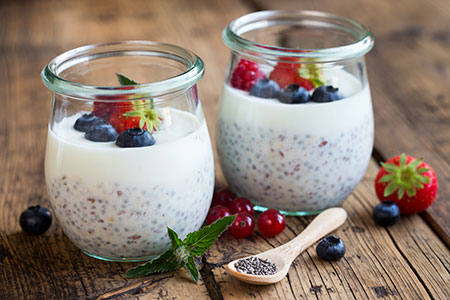 Coconut Chia Pudding
Makes two servings
1 cup coconut milk, unsweetened (use refrigerated coconut milk, not canned coconut milk)
½ cup orange juice
½ cup pineapple juice
¼ cup agave syrup
1 teaspoon cinnamon
½ teaspoon vanilla
½ cup of chia seeds
Directions:
Whisk all ingredients (except the chia seeds) together.
Add chia seeds, and stir.
Leave for five minutes, and stir again to break up any clumps.
Cover with wrap, and refrigerate at least four hours.
Top with fresh fruit, chocolate shavings or shredded coconut!
Nutritional information per serving:
420 calories; 61 g carbs; 15 g fat; 13 g protein; 22 g sodium; 38 g sugar.