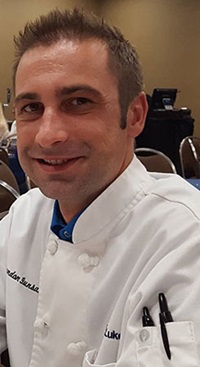 Brandon Gusaules
The weather is heating up, but asparagus is still with us. What better time to showcase this versatile veggie in a cool summer salad?
For this e-cookbook entry, Brandon Gunsaules, food services operations manager at St. Luke's Nampa, offers up his Shaved Asparagus Salad.
This salad's a little more work than opening a bag of greens – but with a big payoff. And Gunsaules has tips to speed you along.
"It can definitely take some time to shave down all of the asparagus," he said. "I would use the larger-sized asparagus as it's easier to handle than the thin stuff.
"As long as it's sharp, any vegetable peeler should work fine."
Although it could be served as a light entrée, Gunsaules has primarily used the salad as a side dish.
"The last time I used it was as a starter for an osso buco main dish," he said.
Gunsaules said sorghum looks and tastes like baby popcorn, and while it doesn't add much flavor to this recipe, it does give it a little crunch. After all, there are plenty of other flavors bursting through in this recipe.
"The shallots, lemon and chives add a great fresh flavor to the dressing," Gunsaules said. "And the chevre adds some rich creaminess."
Chelsea Schoenfelder, a St. Luke's registered dietitian, said this dish presents an opportunity to get the family together in the kitchen.
"Get the kids involved by tasking them with the vegetable peeler," she said. "They will also have fun watching the sorghum pop!"
Schoenfelder said she might be tempted to add a ¼ cup of chopped pistachios to this recipe, and suggested that white wine could be substituted for champagne vinegar in a pinch.
"This salad is bursting with flavors," she said. "It's the perfect side dish for a spring or summer dinner."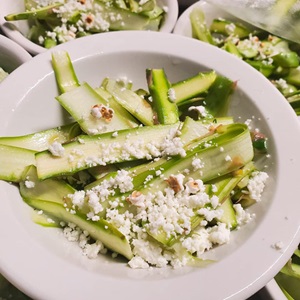 Shaved Asparagus Salad
Makes four servings.
Ingredients
1 medium lemon, used for zest
2 teaspoons freshly squeezed lemon juice
2 teaspoons champagne vinegar
1 tablespoon shallot, minced
Pinch of kosher salt and freshly ground black pepper
¼ cup sorghum, popped
1 pound asparagus spears, tough bottoms removed, tips reserved for another use
½ cup fresh chevre
1 tablespoon olive oil
2 teaspoons fresh dill
2 teaspoons fresh chives
Directions
Pop the sorghum in a medium frying pan over medium heat, stirring often, until popped, about 5 minutes. Remove to a small bowl to cool.
Combine the lemon zest, lemon juice, vinegar, shallot and a pinch of salt and pepper in a large bowl. Whisk well to combine.
Using a vegetable peeler, thinly slice the asparagus lengthwise into strips and place in the bowl with the dressing. (If you have trouble peeling the final portion of the asparagus spear, it helps to set it on the side of a cutting board.)
Toss the asparagus with the dressing and allow to sit for 10 minutes. Taste and season with additional salt and pepper if needed.
Sprinkle popped sorghum over the salad. Top with dollops of chevre, dill, chives and additional lemon zest if desired. Drizzle with olive oil and serve.
Nutritional information per serving: 203 calories, 10 g protein, 13 g carb, 12 g fat, 3 g saturated fat, 356 mg sodium, 3 g fiber, 3 g sugar