Grilled veggie pizza explodes with flavors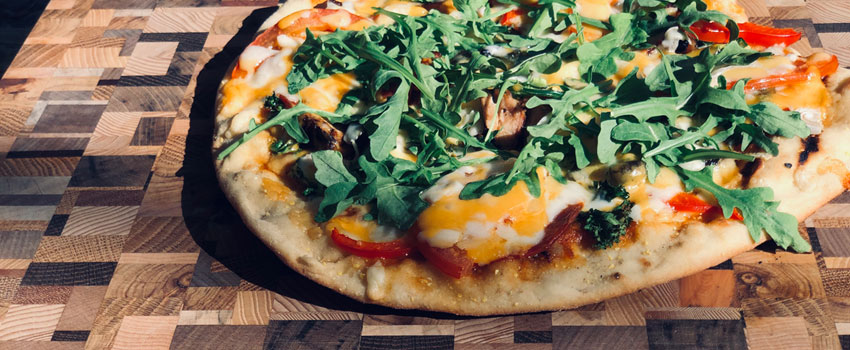 Variety is the name of the game when it comes to pizza. In this photo, Jake Bowman omitted the cabbage in his recipe for Pizza with Chipotle Garlic Shredded Jackfruit and Honey Roasted Red Peppers and added arugula after taking it off the grill.
By Chris Langrill, Health and Wellness
Hankering for a family pizza night but not the oven heat along with sizzling summer temperatures?
Then it's time to take that Italian food festival outside.
For this e-cookbook entry, Jake Bowman offers a recipe that's sure to please everyone: Grilled Pizza with Chipotle Garlic Shredded Jackfruit and Honey Roasted Red Peppers.
If that sounds like a mouthful, you're right. It is.
"I sometimes use a three-cheese blend of cheddar, mozzarella and Parmesan," said Bowman, a Food and Nutrition supervisor and sous chef at St. Luke's Plaza in Boise. "For this recipe, I chose gorgonzola to mellow out the spicy jackfruit and complement the honey-roasted red peppers."
Bowman is a huge fan of jackfruit and its many uses.
"It does an excellent job of being a culinary chameleon," he said. "It can mimic pulled pork or shredded shellfish."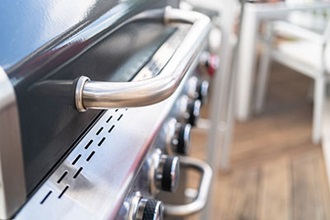 Bowman's recipe is loaded with ingredients. His opinion? Pizza should fuel chefs' creative sides.
"Pizza is one of those creations like tacos and sandwiches," he said. "The opportunities are endless. What you top or fill them with is a direct reflection of your soul, mood and demeanor."
To that end, St. Luke's registered dietitian Danielle Nebeker might substitute whole-wheat flour for all-purpose flour.
"It adds an extra boost of nutrition," Nebeker said. "What a great way to get some extra fiber while still enjoying a delicious pizza."
NOTE: Bowman said this recipe also can be prepared in the oven (on those cooler nights). Heat the oven to 500 degrees with a pizza stone or an upside-down sheet pan. Either way, it goes in the oven cold, during the preheat.
---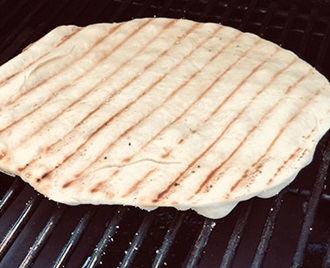 Pizza dough is like a blank canvas for an artist, allowing for any number of creative toppings - including Jake Bowman's Chipotle Garlic Shredded Jackfruit and Honey Roasted Red Peppers.
Pizza dough
Makes eight small pizzas
Ingredients:
1 2/3 cups water
1 teaspoon active dry or instant yeast
5 cups all-purpose flour
¼ cup olive oil (more for greasing pan)
2 teaspoons kosher salt
Add water and yeast in bowl and slightly mix. Allow to stand for a few minutes until yeast is dissolved. Stir olive oil into liquid. Add flour and salt and mix with wooden spoon. Knead dough for 8 minutes or until a smooth ball is formed. Divide into 8 portions. Place into baking pan greased with olive oil and turn the dough balls to coat with olive oil. Cover with plastic wrap and refrigerate for 24 hours.
To grill pizza: Remove dough from refrigerator and let sit at room temperature for 1-2 hours. Preheat grill for 15 minutes on high. Turn HALF of the burners to very low. Make sure grill is clean and greased. Remove one dough ball and carefully pull and work into a round disc. Place on HOT side of grill and close grill. Dough only needs approximately 3 minutes on first side. Flip dough onto COLD side of grill, quickly top with toppings, close grill and cook for another 3 minutes. Repeat with remaining pizzas, slice and enjoy.
Nutritional information: 100 calories, 20g carbs, 1g fat, 3g protein, 582mg sodium
---
Pizza toppings (in order of layer, per pizza)
Ingredients:
3 ounces shredded cabbage
3-4 ounces Chipotle Garlic Shredded Jackfruit (recipe below)
1 ounce sliced green onion
1 ounce honey-roasted red pepper
½ - 1 ounce chopped cilantro
2-3 ounces gorgonzola cheese (adds 38 calories, 3g fat, 2g protein, 143mg sodium)
---
Chipotle Garlic Shredded Jackfruit
Ingredients:
2 14-ounce cans of jackfruit in brine (Jake Bowman is a fan of Native Forest brand or Trader Joe's brand, but any brand will work.)
1 small onion, chopped
1 chipotle pepper
½ tablespoon adobo sauce
4 tablespoons ketchup
2 teaspoons ancho chili powder
8 garlic cloves
½ teaspoon black pepper
1 teaspoon cumin
1½ teaspoon coriander
1 teaspoon oregano
3 cups water
Salt to taste
Heat oil in a sauce pan or skillet on medium heat. Add onions and pinch of salt. Blend chipotle peppers, garlic, adobo, ketchup, black pepper, coriander, ancho chili, cumin, oregano and one cup of water in blender until smooth. Add blended sauce to onions and stir, cooking for five minutes. Drain jackfruit, shred with a fork and add to sauce with remaining water and cook on low for 15 minutes, tossing and stirring occasionally.
Nutritional information: 51 calories, 11g carbs, 1g protein, 286mg sodium, 2g sugar
---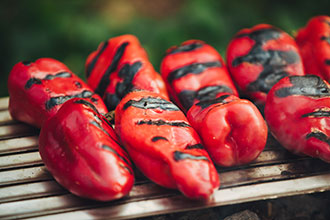 Honey Roasted Red Peppers
Ingredients:
3 red bell peppers
3 tablespoons honey
3 tablespoons olive oil
2 limes
Rub bell peppers with olive oil and place on hot grill for 15 minutes, turning occasionally. Once charred on all sides, place in sealed plastic bag for 20 minutes. Remove from bag and peel off charred skin. Remove stems and seeds, julienne roasted peppers and place in mixing bowl. Add honey and juice of two limes and mix.
Nutritional information: 90 calories, 11g carbs, 5g fat, 1g protein, 5mg sodium, 10g sugar