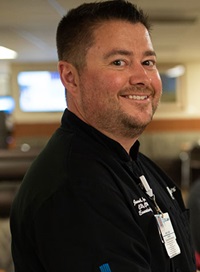 Oh, to be sitting on a tropical island, enjoying a refreshing dessert.
Most of us can close our eyes and imagine this scenario. Jason Jones, St. Luke's Boise chef manager, brings it home, no passport or sunscreen needed.
His Pina Colada Parfait is our e-cookbook entry for this recipe series, delivering a taste of tropical paradise from the comfort of our homes.
Not surprisingly, pineapple gets a starring role. And no worries if you can't find the perfect pineapple in stores.
"Canned pineapple works great," Jones said. "Canned is often more consistent and processed at the height of ripeness. Just make sure to get canned pineapple with 'no sugar added' or 'in natural juices.'"
That said, a ripe pineapple will take this recipe up a notch.
"I prefer fresh for a firmer bite," he said. "Look for fresh pineapple with green leaves. Smell the bottom of the pineapple. It should have a fresh, sweet aroma.
"Also, gently squeeze the fruit. The flesh should be firm, but not hard. If it has soft spots, that will translate into bad spots."
While you're in the fruit section, don't forget to pick up a lime. Jones has words of wisdom for those who might be new to zesting.
"If you don't have a zester, you can use a vegetable peeler to get the green part of the peel," he said. "Make sure not to get into the white pith, because it can be bitter.
"You can also use a cheese grater (make sure not to press too hard and get into the white pith). Once peeled, you can mince the rind with a knife."
Ideally, Jones said, this recipe should be refrigerated before serving.
"That will allow the yogurt to set back up," he said. "It will also give the flavors time to meld together."
After refrigerating for a short time, it's time to dish up – and imagine yourself on a sunny beach.
Oh, and there's no need to feel guilty about this indulgence.
"The Greek yogurt in the recipe is a great source of protein," said Sara Tikker, a St. Luke's clinical dietitian. "There is also a large amount of Vitamin C in pineapple that can increase immunity and help increase iron absorption."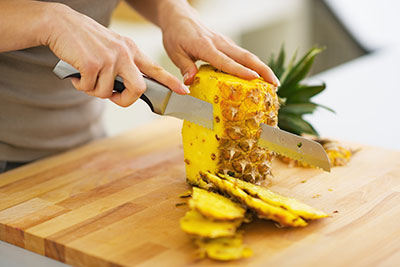 Pina Colada Parfait
Makes four servings.
2 cups of diced pineapple
2 cups of vanilla Greek yogurt, nonfat
1 lime, zest and juice
4 ounces shredded coconut
4 mint sprigs
Peel, core and dice pineapple and set aside. In a bowl, mix the yogurt, lime juice and zest. Toast the coconut in a 350-degree oven until golden brown (about 5 to 10 minutes). Let cool.
In a parfait cup, layer a quarter cup of yogurt mixture, pineapple and one tablespoon of coconut. Repeat the layering step and finish with a mint garnish.
Nutritional information: 182 calories, 25g carbs, 5g fat, 10g protein, 39mg sodium, 17g sugar