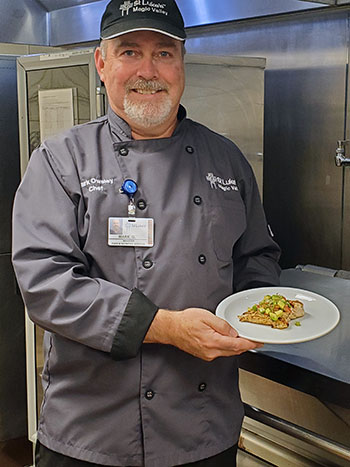 Bland and boring.
That's no way to eat a chicken breast.
Thanks to St. Luke's Magic Valley Chef Mark Owsley, bland chicken breast is now in your rear-view mirror; his flame-broiled citrus chicken with avocado salsa, the latest recipe in our e-cookbook series, is anything but boring. This dish is brimming with flavors. Think lemon, lime, garlic, scallions, avocado and more.
Owsley recommends searching for the freshest chicken available, and making sure the breasts aren't too big.
"Some of the bigger chicken breasts will be a little tougher, in my opinion," Owsley said. "If you do get bigger breasts, cut them down so they are only ½-inch thick, and then the marinade will help with the tenderness."
Owsley suggests pairing the chicken with grilled asparagus if you want to make it a meal utilizing the grill. If you want to branch out into the kitchen, consider a rice pilaf or an herbed linguine.
As for the avocado salsa, it's very versatile. Try it with tortilla chips, baked pita chips – or on its own, by the spoonful. But it's certainly also a perfect complement to the marinated chicken.
"Topping a lean chicken breast with an avocado salsa is a great way to boost fiber and healthy fat," said Sarah Seppa, a registered dietitian and clinical nutrition manager with St. Luke's.
One last tip from Owsley before you start grilling.
"I like to season my grill a bit with some cooking oil," he said. "And make sure to preheat your grill. If you put the chicken on a cold grill, it might stick."
Flame-Broiled Citrus Chicken with Avocado Salsa
Ingredients:
4 4-ounce skinless chicken breasts
Marinade
2 tablespoons olive oil
1 tablespoon chopped garlic
1 tablespoon finely chopped oregano
1 teaspoon lemon pepper
One-half fresh lemon zest and juice
One-half fresh lime zest and juice
Mix all ingredients together. Add chicken (thawed) and marinate in a refrigerator for at least three hours; overnight is OK.
Preheat your barbecue. Pull chicken out of marinade and broil for two minutes, rotate chicken about 45 degrees and broil two more minutes.
Turn over and repeat process. Cook until internal temperature of chicken is 165 degrees.
Pull off the barbecue, top with avocado salsa and serve.
---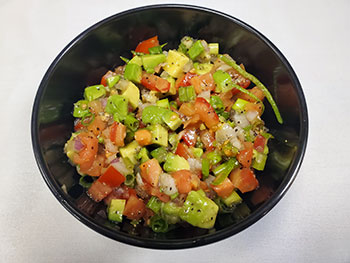 Avocado Salsa
Ingredients:
1 tablespoon honey
1 tablespoon finely chopped shallots
2 tablespoons diced scallions
3 limes
1 teaspoon finely chopped garlic
¼ teaspoon salt
¼ teaspoon pepper
2 tablespoons olive oil
1 avocado (¼-inch dice)
1 ripe tomato (¼-inch dice)
Zest/grate the limes, squeeze out the juice and add zest and juice in a bowl. Combine all other ingredients in the bowl.
Nutritional information: 317 calories, 8g carbs, 22g fat, 23g protein, 149mg sodium, 5g sugar