Research shows that people who eat home-cooked meals are likely to have healthier overall diets. Sometimes, that's easier said than done.
St. Luke's chefs and dietitians are here for you, though, with a yearlong series devoted to healthy eating at home. We'll feature recipes, many of them plant-based, that are fun, easy to make – and did we say, incredibly tasty? They're also a family affair; getting children involved in meal planning and prep early on is a great way to build healthy habits for a lifetime.
Every other week in this space during 2020, a St. Luke's chef will share his or her secrets. Our dietitians will offer sage advice as well. At the end of the year, you'll have a pantry-full of new recipes and great family cooking experiences.
"We welcome the new year with enhanced health, boosted energy and improved knowledge on nutrition!" said Sherri Nelson, RDN, LD, and a St. Luke's clinical nutrition manager. "As dietitians, we cherish new recipes and love to provide tips to make the dishes even healthier."
St. Luke's has superstar chefs on staff, many of whom who got their starts in some of the top restaurants in the Northwest. They now are finding a passion for "food as medicine."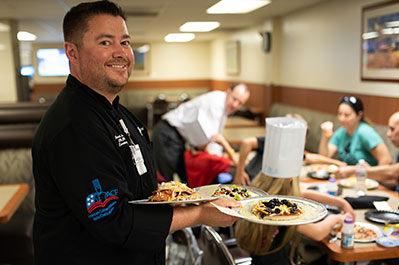 First up: Boise Chef Manager Jason Jones, with his butternut squash and cauliflower soup – perfect for wintry days.
Jones began working in restaurant kitchens as a teenager. After stints at acclaimed Treasure Valley establishments such as Asiago's and Bella Aquila, he joined the team at St. Luke's and now oversees many of the logistics in the Boise kitchen.
"Food in general is special," he said. "It brings family and friends together and can give you comfort when you're feeling down.
"Working at St. Luke's takes that to the next level," Jones said. "I am able to give vital nutrition to our guests and be part of their healing."
Food for thought? Don't let your rushed lifestyle deter you from cooking, Jones said.
"I know we are all busy, and we are all short on time," he said. "Try to prep food up the night before, so when you get home you can start cooking to speed up the process.
"Involve the whole family and assign tasks. Have your kids wash and peel vegetables, wash and put away the dishes."
Jones, who serves as president of the Idaho Chefs de Cuisine culinary organization and is a past recipient of the chapter's Chef of the Year Award, still enjoys mixing it up in the kitchen whenever he can. This soup is one of his favorites.
"I love butternut squash. I often cook with it at home and substitute it for the starch in recipes," Jones said. "I also enjoy roasted butternut squash tossed with olive oil, thyme and salt and pepper. Fun fact: The squash skin is very tender and good to eat."
Our dietitian has a hack you can try as well.
"This is a fabulous recipe, and by substituting light coconut milk for regular coconut milk, you can reduce the calories, fat and saturated fat by half!" Nelson said.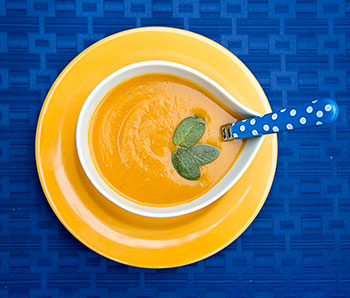 Butternut Squash and Cauliflower Soup
Makes six 12-ounce servings
1 tablespoon olive oil
1 small onion, chopped
2 cups butternut squash, diced
3 cups cauliflower florets
3 cups vegetable stock
1 can coconut milk
1 teaspoon salt
1 tablespoon fresh thyme
Directions
Heat olive oil in a soup pot, and sauté onion until it is translucent.
Add butternut squash, cauliflower and vegetable stock.
Bring to a boil, and reduce to a simmer.
Simmer for about 20 minutes. (Vegetables should be soft.)
Add salt, thyme and coconut milk.
Puree and serve.
Nutritional information for each of the six servings
185 calories
14 g carb
14 g fat (12.5 saturated fat)
3 g protein
422 g sodium
4 g sugar