Add more fun, flavor to family pizza night with this cauliflower crust recipe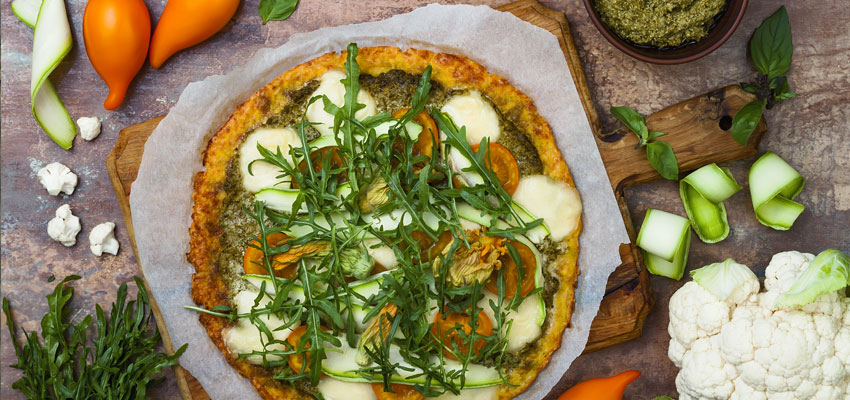 By Holly M. Anderson, Health and Wellness
Editor's note: Every other week in this space during 2020, you'll find recipes and tips from St. Luke's chefs and dietitians to help you cook healthier at home.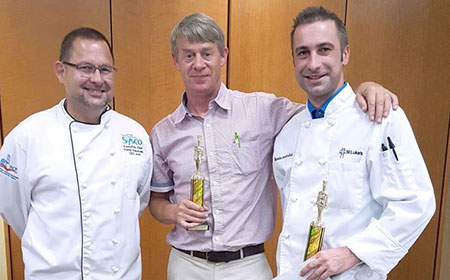 Whether it's in his work at St. Luke's Nampa as a food service operations manager or when cooking at home, chef Brandon Gunsaules is always up for some kitchen creativity.
"Trends and the next big thing are always exciting to me," Gunsaules said. "I'm currently enjoying working with new vegan alternatives as well as classic French and modern Asian fusions."
Gunsaules' take on one of those trends – the cauliflower pizza crust – will be a welcome addition to home pizza nights.
"I like this recipe because it's easy to do at home," he said. "You don't have to have special equipment, and it's a great way to get your kids involved in making the meal."
Gunsaules, who recently was honored as Chef of the Year by Idaho's chapter of the American Culinary Federation, is known for his drive and initiative in the kitchen.
"He is always analyzing processes and procedures and finding ways to be more efficient," said Jason Jones, St. Luke's Boise chef manager and president of the Idaho Chefs de Cuisine, Idaho's ACF chapter.
Gunsaules' key tip for making this cauliflower pizza crust focuses on the process.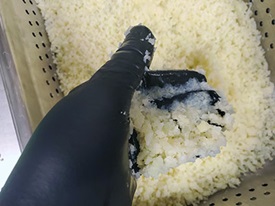 "Squeezing as much moisture out of the cooked cauliflower as possible before adding it to the remaining ingredients is crucial," Gunsaules said.
Versatility is one of the reasons he likes this crust option.
"Any kind of sauce goes great in this pizza, and if you wanted more of a flatbread experience, an olive oil drizzle would work great," Gunsaules said.
He's not the only fan.
"This crust is a great alternative to the typical refined white flour pizza crust," said Charmin Aschenbrener, R.D., L.D., a St. Luke's clinical dietitian in the Treasure Valley. "Using this recipe, you will get more fiber and much more flavor! Top this crust with some pesto and load it up with your favorite veggies for a delicious, nutritious and colorful meal."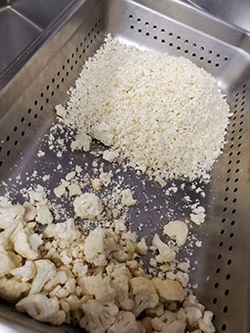 Cauliflower Pizza Crust
Makes five crusts; each crust is one serving
3 pounds of ground cauliflower florets
½ cup of shredded mozzarella
¼ cup of parmesan, grated
½ teaspoon dried oregano
½ teaspoon salt
¼ teaspoon garlic powder
2 large eggs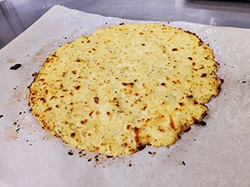 Directions
Preheat the oven to 400 degrees.
Line a baking sheet with parchment paper.
Grind cauliflower in a food processor until fine.
Steam the cauliflower in a steamer basket, and drain well. (Note Gunsaules tip in the story above about getting out as much moisture out of the cauliflower as possible in this step. "I like to put it in cheese cloth in small batches to get all the moisture out," he says.)
Let cool.
In a bowl, combine the cauliflower with the other ingredients.
Divide into five portions. Spread each portion into a circle, resembling a pizza crust.
Place crusts on baking sheet.
Bake for 20 minutes.
Add your choices of toppings, and bake an additional 10 minutes. (Note: There is cheese in the crust, but Gunsaules also adds more cheese as a topping – just like traditional pizza – when he makes this dish. It's up to you to decide, based on your dietary needs and your taste buds, how much more cheese you'd like to add to your own pizza!)
Nutrition information per serving of crust (before toppings added): 140 calories; 12g pro; 15g carbs; 5g fat; 3g saturated fat; 459mg sodium; 6g sugar