Flourless brownies are a chocolaty treat with some surprise ingredients
St. Luke's Plaza FNS supervisor and chef Jake Bowman, left, jokes around with pastry chef Brandy Simons. All kidding aside, Bowman is in awe of Simons' baking talents – particularly when it comes to gluten-free options.
By Holly M. Anderson, Health and Wellness
Editor's note: Every other week in this space during 2020, you'll find recipes and tips from St. Luke's chefs and dietitians to help you cook healthier at home.
---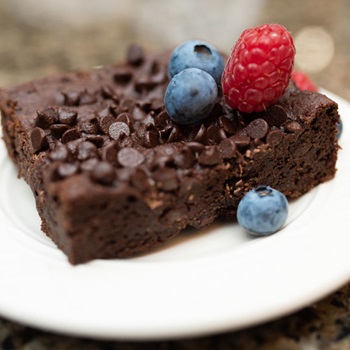 If you're looking to serve up something special for Valentine's Day, St. Luke's Plaza pastry chef Brandy Simons' sweet take on brownies could be just the thing.
Surprise ingredients such as avocado and almond butter give the brownies a rich texture – as does the absence of flour.
"I like this recipe because you cannot tell that there is avocado in it, and it is not overly sweet," Simons said. "Whether you are on a normal diet, low-sugar diet, Paleo or Keto, this recipe can work for all lifestyles."
Simons, a graduate of the California Culinary Academy who baked for Apple Inc. in northern California before joining the team at St. Luke's Plaza in Boise about a year ago, specializes in alternative baking methods, which means her customers are treated to a wide range of desserts that fit many dietary needs.
"Here at St. Luke's, I find that I make more vegan desserts and try to make healthier options," Simons said. "I pay closer attention to the sugar content in desserts."
Simons' baking talents and thoughtful nature have earned her rave reviews.
"Brandy is the heart of the team here at St. Luke's Plaza," said Jake Bowman, Simons' Food and Nutrition Services supervisor. "She has blown me away with the overall goodness that she instills in her sweets and breads, particularly the gluten-free options."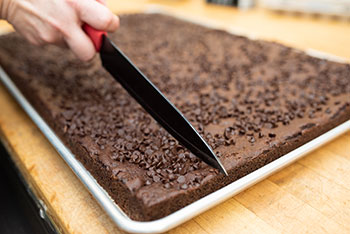 Simons often dresses up her desserts with fruit, and says these brownies are perfect for that.
"I also tend to add the mini-chocolate chips to the top to give the brownies a better look overall once they are baked," Simons said. "I sometimes serve these brownies at home with vanilla ice cream on top."
Simons recommends using a monk-fruit sweetener when making this brownie recipe; Barb Smith, a St. Luke's clinical dietitian in Meridian, notes that this type of sweetener can be as much as 300 times sweeter than sugar.
The cocoa in these brownies is a rich source of antioxidants, but it's the almond butter and avocado in the recipe that will capture hearts.
"Almond butter is the best source of vitamin E among the nut butters," Smith said. "And the avocado is virtually the only fruit that contains heart-healthy monounsaturated fat – good fat.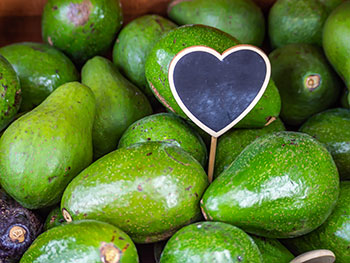 Flourless Avocado Brownies
Makes 16 servings
2 eggs
1 medium avocado (about ¾ cup mashed)
¼ cup avocado oil (Simons says that you can use ¼ cup of melted ghee or coconut oil instead of the avocado oil, but note that the calories will differ from the nutrition information listed below.)
4 tablespoons almond butter
½ teaspoon baking soda
¼ teaspoon salt
1/3 cup of monk-fruit extract powdered sweetener. (Lakanto is Simons' suggested brand of choice for monk-fruit sweetener. You can also substitute your preferred brand of granulated sweetener, but the calories will differ from the nutrition information below.)
1/3 cup of cocoa powder
1 teaspoon vanilla extract
2 tablespoons of plain gelatin
½ cup of mini-chocolate chips (Simons often uses low-carb chocolate chips when making this recipe.)
Directions
Pre-heat oven to 350 degrees.
Line a small baking dish (about 8x8 inches) or a loaf pan with pan spray.
In a bowl or a food processor, combine all the ingredients except for the chocolate chips.
Blend on medium (low power) until just smooth. This should take no more than 30 seconds.
Top with chocolate chips.
Bake for 25 minutes, or until the edges begin to separate from the sides.
Cool for 15 minutes. Remove from pan to cool completely.
Cut into 16 pieces. Serve with fruit or other toppings.
Nutrition information per serving:
122 calories; 8g carbs; 10g fat; 3g protein; 86mg sodium; 4g sugar