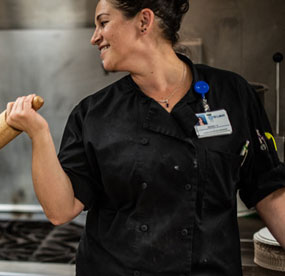 Think of angel food cake as a blank canvas for bakers.
Topped perfectly, it becomes a masterpiece.
"Topping the cake is typically done with strawberries or fresh berries or a berry compote," said Brandy Simons, the pastry chef at St. Luke's Plaza who submitted the latest recipe in our e-cookbook series.
"I've also done an easy glaze over the top using powdered sugar and lemon juice or powdered sugar with almond extract and milk. I've even poured a chocolate ganache over it."
This ethereal creation is said to have originated in the United States, becoming popular in the late 1800s. Because it's made without butter and relies on whipped egg whites for its unique structure, "angel cake" is fluffy and light, perfect for the hottest part of the year.
Simons advised not to overmix those egg whites.
"That's the most common mistake," she said. "We want a 'firm peak,' which means that when you lift the whisk attachment, the tip of the peak stands straight up."
Flipping a cake after baking it isn't very common, but it's an essential step in bringing this one to perfection. Helpful tip: Hang the cake, still in the special angel food cake baking pan, upside down from an empty glass Coke bottle.
"Turning it over helps keep it from deflating," Simons said.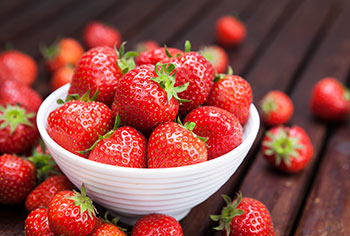 Topping it with berries will elevate your summer dessert game.
"The cold berries added to it make it really refreshing on a hot day," Simons said.
And you certainly can't go wrong with the tried-and-true tradition of strawberries.
"Angel food cake is one of my favorites!" said Sherri Nelson, a St. Luke's clinical nutrition manager. "Adding fresh strawberries provides an excellent source of vitamin C, manganese and also decent amounts of folate and potassium."
Angel Food Cake
Ingredients:
2 cups egg whites (about 15 large eggs)
2 ¼ cups granulated sugar
1 teaspoon cream of tartar
½ teaspoon salt
2 cups cake flour
¾ teaspoon almond extract
¾ teaspoon vanilla extract
Instructions:
Preheat oven to 350 degrees.
Sift cake flour and salt together. Set aside.
Whip egg whites with sugar and cream of tartar until peaks form.
Fold in a third of the flour mixture. Add one-third more, and then the remaining.
Fold in extract flavorings.
Pour into ungreased angel food pan, trying not to get any on the sides or in the middle.
Bake at 350 degrees on the lowest oven rack for 25 to 30 minutes, or until the top is lightly browned and looks dry.
Remove the pan from the oven and immediately invert the pan, standing it upside down; an option is to use three glasses that are equal in height for support.
Allow the cake to cool upside down for one hour, then slide a knife around the sides and center of the pan to loosen the cake.
Remove the cake to a plate and serve with desired fruit or topping.
Servings: 12
Nutritional information, per serving: 238 calories, .3 g fat, 138 mg sodium, 54 g carbohydrates, 7 g protein.