Switch up your snack game with healthy chips and dip
By Holly M. Anderson, Health and Wellness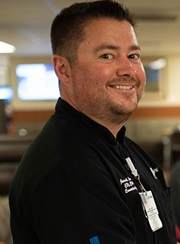 Searching for some better snacking options right about now? St. Luke's Boise Chef Manager Jason Jones is here to help with recipes for edamame guacamole, parsnip chips and kale chips.
For those who haven't tried edamame, these soybeans are harvested when they are young and green so they have a soft texture that's great for dips and other dishes.
"Edamame is packed with protein, and it has fewer calories and fat than a traditional guacamole," Jones said. "And nutrient-rich parsnips and kale are way underused in home cooking."
"Plus, all of these recipes are easy to prepare and don't take a lot of time."
The dip and chips could also make great additions to your stay-home Cinco de Mayo menu. (Come back to this site April 28 for recipes for tofu tacos and jackfruit tacos.)
Jones has a couple of other suggestions for healthier snacking:
Buy more fruits and vegetables when shopping for easy grab-and-go snacks. Mandarin oranges, apples, berries, celery and carrots are good choices. (Many stores are well-stocked with produce right now, so you're in luck.)
Prep items beforehand. You are more likely to grab a celery stick or carrot stick from the fridge if it's peeled, cut and ready for munching.
---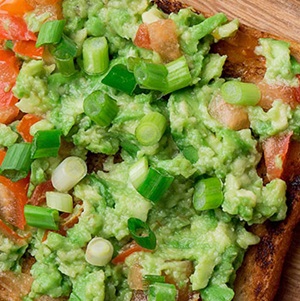 Edamame Guacamole
This recipe earns a big thumbs-up from St. Luke's Meridian Clinical Dietitian Emily Cook.
"This version packs about half the calories and three times the protein as regular guacamole with avocado," she said.
Makes six servings of about ½ cup each
2 cups shelled edamame
1 ounce of lime juice (Note: 1 ounce is equal to about two tablespoons.)
2 tablespoons chopped garlic
¼ cup diced red onion
¼ cup diced tomato
1 jalapeno, diced
½ bunch cilantro
2 green onion stocks, sliced
1 ounce of olive oil
Salt and pepper to taste
Directions
Put the edamame in a bowl and mash with a fork.
Add lime juice and olive oil, and mix.
Add diced onions, tomatoes, jalapeno, garlic and green onions. Mix well.
Season to taste and serve with veggies and the chips below.
Nutrition information per serving: 113 calories; 6 g fat (0.6 g saturated fat); 7.5 g total carbohydrate
1 g fiber; 7 g protein
"You can try adding an avocado to this recipe, too," Jason Jones said. "This dip also makes a great spread for a burger or veggie wrap."
---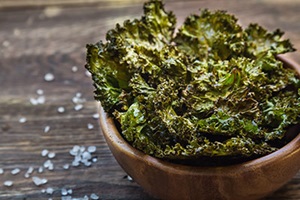 Kale Chips
St. Luke's Treasure Valley Clinical Dietitian Josie Read has high praise for kale.
"Dark leafy greens are the most nutrient-dense food we can get in the diet," Read said. "One serving of this recipe will provide you with the two daily servings of leafy greens recommended for optimal health. Kale is an excellent source of calcium and vitamin K, which are important nutrients for bone health."
Read also notes that you can stir in ¼ cup of nutritional yeast when making these chips to add some cheesy flavor as well as a vitamin B12 boost.
Makes about four servings
1 bunch kale (stems removed and torn into chunks)
1 tablespoon olive oil
½ teaspoon of salt
Directions
Preheat oven to 350 degrees.
Place kale on a sheet pan. Drizzle with olive oil and sprinkle with salt.
Bake for 10 minutes. Stir kale for even cooking.
Place in oven for about another 10 minutes. Remove once kale chips are brown and crispy.
Chef Jason Jones says to keep an eye on the chips while they are in the oven. "They can go from perfect to burnt in no time!"
Nutrition information per serving: 39 calories; 3.5 g fat (0.5 g saturated fat); 300 mg sodium; 0.6 g protein: 5 g fiber
---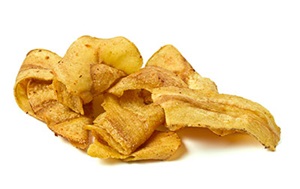 Parsnip Chips
St. Luke's Nampa Clinical Dietitian Isaac Wright has recently discovered the wonders of parsnips and has been using them in his cooking.
"Parsnips are a root vegetable, which means they are high in dietary fiber, enhancing the digestion process," Wright said. "They are also packed with many vitamins and minerals, such as vitamin K, C, E, folate, magnesium and thiamine, to name a few. Additionally, they are a very versatile food; their sweet flavor can be implemented in a variety of dishes."
Makes four servings
2 parsnips, peeled and sliced into 1/8-inch rounds
1 tablespoon olive oil
Directions
Preheat the oven to 350 degrees and spray a baking sheet with cooking spray.
In a bowl, mix parsnips and oil to coat well.
Spread on the baking sheet in a single layer.
Bake 10 minutes.
Stir parsnips to ensure even cooking.
Place back in oven for 10 minutes or until golden brown and slightly crispy. (Remember to watch for burning.)
In addition to making a great snack, parsnip chips are great toppers on salads.
"They add a nice crunch and a little bit of sweetness," Jason Jones said.
Nutrition information per serving: 87 calories; 3.6 g fat; 14 g carbohydrate; 3 g fiber; 1 g protein