The St. Luke's STAR (Supporting Transitions and Relationships) Nurse Residency Program supports nurses as they transition from the academic setting to functioning as independent, competent St. Luke's nurses.
The transition shock of the first year of professional nursing practice can be daunting for new graduates. STAR Nurse Residency provides a community and environment for new nurses to learn, discover, reflect, and share the experiences unique to a nurse in the first year of practice. This program empowers nurses, improves confidence and job satisfaction, and fosters retention in the profession of nursing.
Through an evidence-based, interactive, year-long program, nurse residents gain knowledge, practice skills, and develop relationships with their peers that help to smooth the transition of the first year. Reflective practice, guest speakers, case studies, simulations, and group activities provide an opportunity for new nurses to practice effective communication, collaboration, critical thinking, stress management, resource utilization, time management, delegation, and self-care.
We're Committed to Your Growth and Development
At the conclusion of STAR Nurse Residency, new nurses will have increased confidence and comfort in:
Communicating with patients, their families, and interprofessional colleagues
Prioritization, delegation, and time management
Practicing as a member of a team that includes patients, families, and interprofessional colleagues
Utilizing resources
Applying reflective techniques to practice experiences
Performing self-care
For more information, please email us.
How to Apply
If you're graduating and would like to apply for one of our open positions, visit our Careers page and search positions categorized as Nursing – Graduates/Apprentices.
Create a profile and upload your resume.
We will present your profile and resume to the hiring managers in all of our departments, starting with your top choices.
Finally, we'll be in contact with you about timing and a potential interview.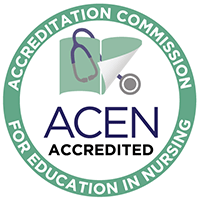 Accreditation
Effective February 1, 2022 the STAR Nurse Residency transition-to-practice program at St. Luke's Health System located in Boise and Twin Falls, Idaho is accredited by the Accreditation Commission for Education in Nursing.
Accreditation Commission for Education in Nursing (ACEN)
3390 Peachtree Road NE, Suite 1400
Atlanta, GA 30326
404-975-5000