Kid for a Night, St. Luke's Children's annual fundraiser, recently demonstrated the impressive generosity from our community, raising more than $808,000 that will go toward expanding and enhancing pediatric programs and services to continue delivering the highest quality of care to kids.
Among the opportunities to give was the option to purchase a "Miracle Bear" that would ultimately be donated and specially delivered to a child in St. Luke's care. From mummies to scarecrows, this year's Miracle Bears were dressed in the event's theme, A Halloween Hullabaloo! Many of the bear costumes are hand crocheted by community members while other bears donned princess costumes and Hawaiian shirts, and many even represented Idaho colleges and universities.
On June 15, the bears were hand-delivered to kids being cared for at St. Luke's Children's Hospital in Boise by volunteers with the Kid for a Night Planning Committee and smiles were plentiful.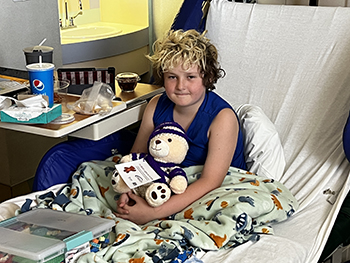 "This is such a special opportunity for our community to contribute to St. Luke's Children's that in turn truly puts smiles on the faces of kids in our care and makes a valuable impact through the programs and services offered at St. Luke's Children's," said Jenna Landman, manager of special events for St. Luke's Treasure Valley Foundation.
"Being in the hospital is never an easy time for children and their families and these bears are such a bright spot for kids, no matter their age."
A total of 46 Miracle Bears were sold at Kid for a Night, raising $6,900. Event sponsorship included a Miracle Bear donation, which increased the total to $9,900 raised solely through the Miracle Bear Program. The Miracle Bear Program has existed since the inception of Kid for a Night in 1992.
"We look forward to the Miracle Bear delivery every year and our volunteers love it," Landman said. "They get to see how a small act of kindness of someone purchasing and donating a bear back to the hospital makes a huge impact on kids at St. Luke's. It's always a heartwarming day."