Ghostbusters, goblins, groovy friends and guests celebrated Halloween in June, all the while helping out the kids and programs at St. Luke's Children's Hospital.
On Friday, June 2, nearly 900 attendees came together at the Boise Centre on the Grove for Kid For A Night: Halloween Hullabaloo, the latest installment of Children's premier fundraising event since 1992.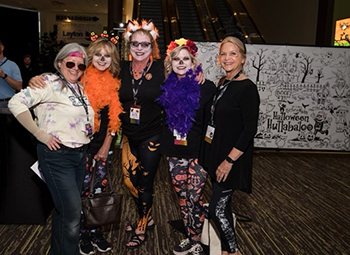 A total of $808,126 was raised — a new record — bringing the total since the event's inception to nearly $11.5 million.
"It's truly amazing to see our community rallying together with unwavering dedication to support St. Luke's Children's," said Jenna Landman, St. Luke's special events manager. "I mean, who wouldn't want to rock Halloween costumes in June for such an extraordinary cause?
"Huge shoutout and major appreciation to our awesome community members, sponsors, volunteers and hardworking staff. This event wouldn't have been such a massive success without their incredible support and hard work. We're beyond grateful for all they've done to make a real difference."
The event included 66 volunteers and 68 event sponsors, with a silent and live auction, Halloween-themed games and inflatables, a live band and dessert food trucks on the plaza, plus a surprise "Thriller" flash mob to start off the program.
Part of the wicked good time (pun intended) was, of course, to benefit St. Luke's Children's and the pediatric patients we see every day. The fundraising efforts helped to fund a handful of programs, including:
Increasing kids' access to mental health care services by assisting the efforts to expand the St. Luke's Children's Center for Neurobehavioral Medicine in Boise. Their goal is to support the growing wait list of over 500 children in need of mental health care by expanding existing space and adding eight mental health professionals including therapists, neuropsychologists, psychologists and psychiatrists.


St. Luke's recently opened a new pediatric rehabilitation clinic, our fifth pediatric clinic in the Treasure Valley. Further investment with help from fundraising will help outfit the clinic with the latest therapeutic equipment and increase accessibility to the growing number of children in need of rehab services.


Updating essential medical equipment to keep up with the evolving needs within pediatric health care, such as cardiac imaging and urodynamic testing machines. The latest equipment will allow providers to deliver the highest quality of care to patients.
If you were part of the fun and want to be a part of it again or if you missed out and want to take part next year, mark your calendars — the next Kid For A Night is set for Friday, June 7, 2024!